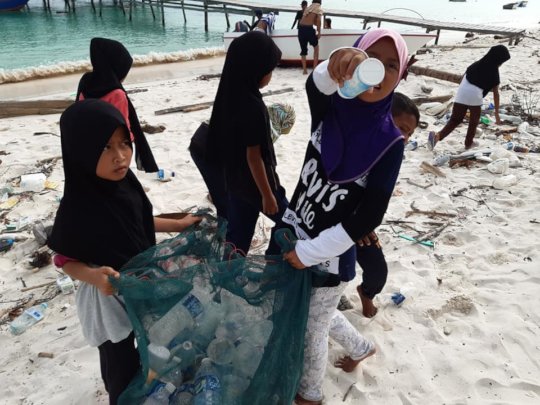 Small, underserved island communities around the world often do not have waste management system in place. The Malaysian Borneo island of Mantanani in Sabah faces similar issue, as well as the problem of marine debris and plastic pollution. There are two villages on the island – Padang Village (population of 864) and Siring Bukit Village (population of 110). We have been working on the island since 2014, initially monitoring reef health around the area and subsequently, establishing community programmes to advocate for the establishment of a marine protected area. The typical waste disposal method for most islanders were illegal dumping into the ocean or along the shorelines.
In November 2018, we implemented a trial waste management system in the smaller village of Siring Bukit. We installed separate bins for food waste, PET bottles, tin, glass, and other trash outside each household in Siring Bukit Village, educated every household on how to segregate their waste, and conducted daily waste collections. In 7 months (November 2018 – May 2019), we collected 3407.8kg of food waste, 455.05kg of other trash (mostly plastics), 103.4kg of PET bottles, 54.9kg of tin, and 16.2kg of glass. We successfully diverted 4037.35kg of waste from the ocean or leaking into the environment. All waste except for food waste were transported to the mainland. General trash are sent to the local council, 'Majlis Daerah Kota Belud' landfill, while recyclables such as PET bottles and tin are collected by a recycling company in the city of Kota Kinabalu. Food waste are composted on the island.
The success of our trial has been well-received by the District Officer and local council based on the mainland. Reef Check Malaysia is still seeking for funding to scale our trial and implement a similar waste management system in the larger village of Padang. We have conducted a waste audit of PET bottles from Padang Village from January – June 2019, totalling approximately 1000kg. We anticipate that an integrated waste segregation at source and daily collection from the large village will substantially reduce marine pollution from the island domestic waste. Along with the local villagers, we will also involve the marine tourism industry on the island, specifically the scuba diving and snorkelling operators based on Mantanani Island. We will introduce the waste segregation system to all other stakeholders, such as the local school, resort operators, and tourists. We are hoping to reduce plastic pollution and promote ocean literacy and stewardship among all islanders.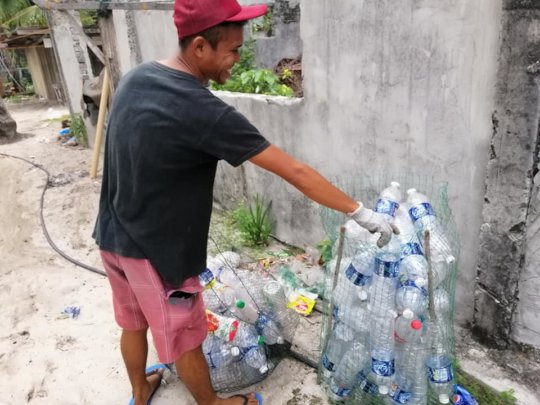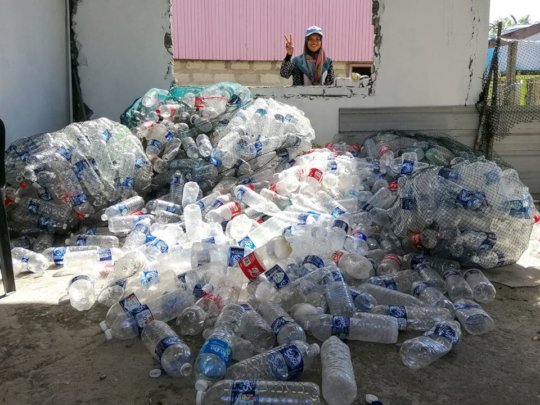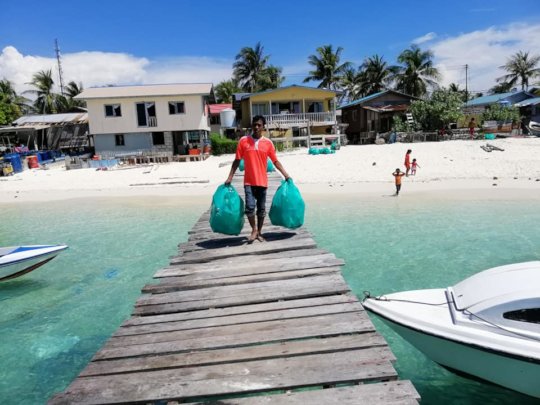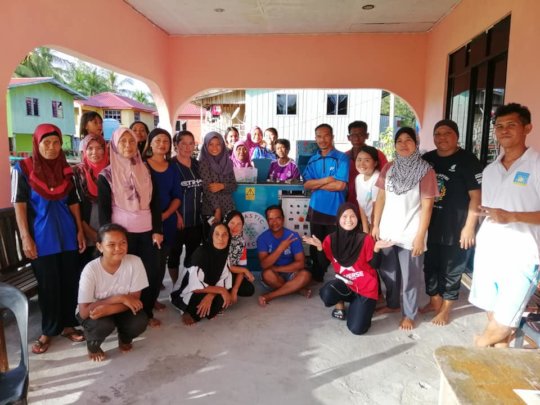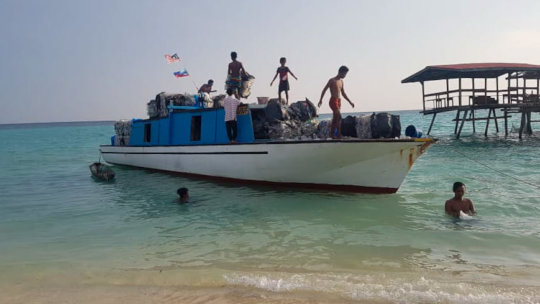 It's a wrap!

A few weeks back, our mission to send 880 kg of plastic bottles from Mantanani Island to Rampayan Laut, Kota Belud (mainland) was successful! The plastic bottles were compressed using our baling machine on the island to enable more bottles to be sent out on each cargo barge - more cost effective!

These plastic bottles will be sent directly to the GNC Inanam Recycle Center for the next process. Thank you to GNC, especially Mr. Randy for collecting these bottles behind their very busy schedule. Don't forget tothank the village chief of Mantanani Island, Tuan Haji Boy for the transportion of these bottles and to everyone else who helped!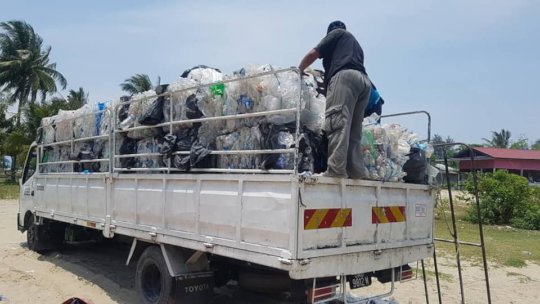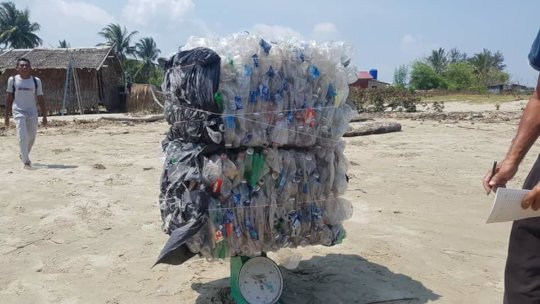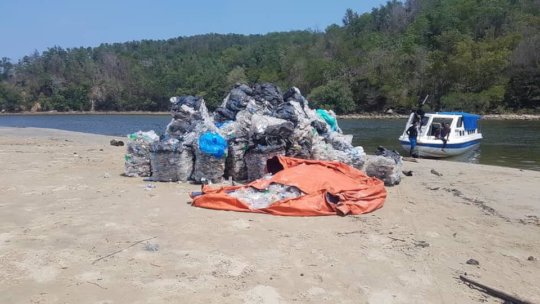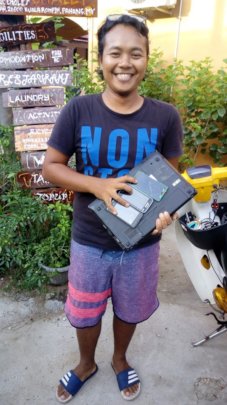 In addition to our current glass, plastic, aluminium, and cardboard recycling programmes on Tioman Island, we have recently partnered with an electronic waste recycler to collect e-waste on the island.
We collect the following used electronic items at Reef Check Malaysia's office on Tioman Island:
Mobile phone
Satellite TV decoder
TV remote control
Modem
Laptop
Camera
Instead of disposing these items in the trash which the island's incinerator cannot process and burn, we have encouraged the local islanders to recycle electronic waste too.
Since July 2019, plastic bags have been banned on the island on Saturdays and Sundays. All retail shops on the island will not be giving out any plastic bags and local islanders have to bring their own reusable shopping bags.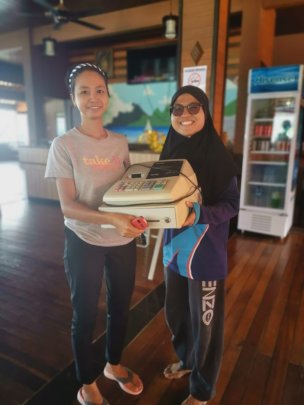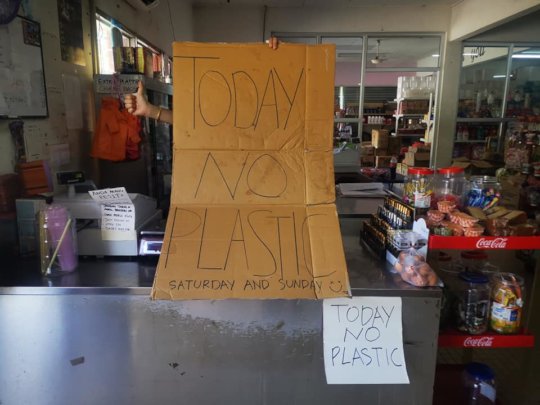 WARNING: Javascript is currently disabled or is not available in your browser. GlobalGiving makes extensive use of Javascript and will not function properly with Javascript disabled.
Please enable Javascript
and refresh this page.