The 2019 school year at Tsharka School in Dolpo, Nepal, is almost half finished. The new classrooms are largely complete. Students now have better conditions in which to study and learn. The school campus is being transformed!

Tenzin, the only student to have started his education at Tsharka School and completed tenth grade in Kathmandu, returned to Tsharka to teach for two months during his summer vacation. He plans to complete his education and become a government-qualified teacher — and hopefully return to teach at Tsharka School.

A generous donor provided school uniforms of blue fleece jackets and track suit pants for the students.

ICDF remains committed to paying the salaries of our energetic School Coordinator Samdup and excellent long-term teachers Tse-Wang and Thupten. They provide the foundation for the education of our students: the interaction between teachers and learners.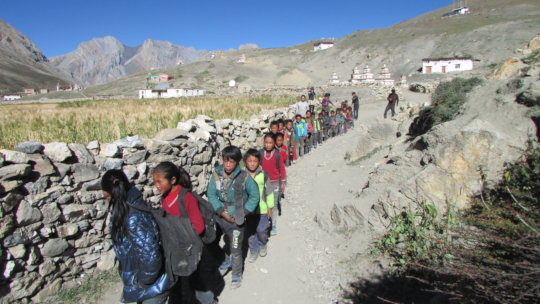 In April, the families who spent the winter months in Kathmandu, or elsewhere at lower elevations, returned to Tsharka. Our School Coordinator, Samdup Tsering, bundled up all the school supplies for the coming school year so they could be transported on horseback from Jomsom, over the high passes, to the school. At the beginning of May, the students returned to school for this school year, which will go through the end of October. Because the school term is shorter in Tsharka than elsewhere in Nepal, the students have to cover more material each day. Despite this, our students have been showing good progess on the standardized tests they take at the end of each year. This year, the students will enjoy studying in the new, bright classrooms that were completed last year. With more students enrolled this year than ever before, the school is bustling with activity!
Sent from Yahoo Mail for iPhone
Begin forwarded message:

On Thursday, February 21, 2019, 11:12 AM, Barbara Euser <bjeuser@yahoo.com> wrote:
This is the winter season in the high Himalayas. Tsharka village is covered in snow and the high passes that one must cross to reach the outside world are impassable. Many of the villagers and their families move to lower elevations during the winter months. Our School Coordinator Samdup Tsering spends the winter with his family in Kathmandu, preparing for the next school year. He must collect all the materials that students will need in the upcoming year — textbooks, notebooks, pens and pencils, art materials, sports equipment, and everything else — and package it for horses to carry. In April, he and the other villagers will return to Tsharka and get ready to start school at the beginning of May. In the photo, you can see that at the end of the school year in October, snow has already started to fall.




WARNING: Javascript is currently disabled or is not available in your browser. GlobalGiving makes extensive use of Javascript and will not function properly with Javascript disabled.
Please enable Javascript
and refresh this page.