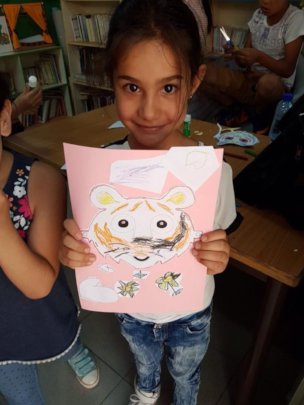 A PROGRESS REPORT FROM AFSCCF
The American Friends of the Spafford Children's Center thanks you for your past support and asks you to be generous again to provide summer activities for children who live in East Jerusalem and the West Bank. Make your donation go farther by donating on the GlobalGiving BONUS DAY, July 18th! Donations made that day will be matched at 50% as long as the matching fund lasts so donate early! Please contribute to AFSCCF through GlobalGiving at: https://goto.gg/31839.
The Spafford Children's Center is dedicated to providing children with the building blocks of a good education. They know that children learn in different ways—some learn best by seeing something new, others by hearing new material, and some need to experience the new content. The SCC plans for all the ways children learn and, in the summer, there is the opportunity to mix learning with dance, music, handicrafts, art projects, and cultural activities plus outdoor games and sports. SCC summer camp is a unique chance for children who live in crowded homes with multiple generations, who travel through streets with police, military personnel, and armed activists, and who have witnessed and experienced trauma to come together as children and have fun. This summer the camp will be in July and early August in both East Jerusalem and Bethany in the West Bank; over 100 children will participate.
Every year the SCC celebrates small successes that are big advancements in the life of a child. One example from the past illustrates the importance of the individualized approach SCC takes even in summer activities. An 8-year old boy with developmental and behavioral problems spent the first week of camp sitting silently in a chair. Working together, the social worker and the camp leaders devised a plan to engage him by assigning him specific tasks and responsibilities. They focused special attention on him, offering encouragement and inviting him to join the other campers.
One day, he shyly entered a sports competition. When he lost, he became angry and a tantrum followed. Program staff calmed him but saw this brief participation as a breakthrough. Staff worked closely with him to explain that losing is part of the experience and is an opportunity to learn how to do better the next time. The main thing is to join the activity and have fun.
This loss proved to be a turning point for this young camper. He began to participate in all the activities and responded positively to the encouragement of peers as well as adults. His parents happily reported that he also showed progress at home.
Help other children experience the fun and games of summer and a respite from the conflict-affected areas in which they live. Support the American Friends of the Spafford Children's Center through GlobalGiving: https://goto.gg/31839.
Remember to donate on Bonus Day, July 18th!
With thanks from the AFSCCF, the SCC, and all the kids!!!!