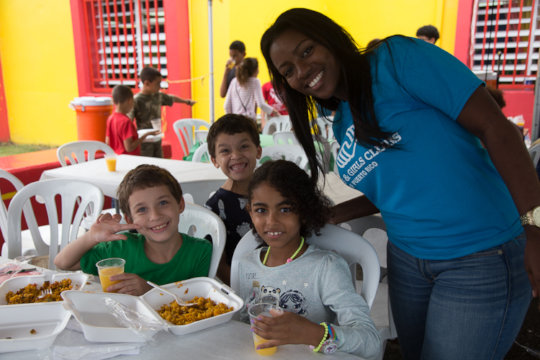 YOU'RE MAKING IT HAPPEN!!!
You are part of a very special group of friends who have contributed $19,686 to Boys & Girls Clubs of Puerto Rico's 20,000 Hot Meals Project. Our goal is to serve a hot meal to every kid who attends our educational program. At a rate of $5 per hot meal, you have provided 3,937 hot meals!!! The total daily attendance to our 13 clubs is 1,300, so you have provided a hot meal to 1,300 kids for three days!
THANK YOU!!!
Why is your contribution so important?
Our clubs are located in many of the most vulnerable communities in Puerto Rico and 90% of our participants live on households with incomes below the federal poverty level. We know that, for too many of our children, the meal we give them while they are with us is the last one of the day. Without it, they would go to bed hungry. Education is at the core of our services at Boys & Girls Clubs of Puerto Rico, and scientific evidence shows that hungry brains show poor learning outcomes.
In their review paper Food insecurity and hunger: A review of the effects on children's health and behavior, published in 2015, Dr. Elizabeth Ford-Jones and Janice Ke summarize many studies that show the effects of food insecurity on learning outcomes. Two different studies on iron deficiency (ID) describe how ID has been associated with difficulties in language comprehension, which makes it difficult for a child to follow instructions. A study in Canada relates food insecurity to hyperactivity and lack of attention. Often, children living in households with very low income will have easier access to processed food, which is cheaper and easier to prepare than the healthier alternatives, but is high in calories and sugar and/or fat and low in iron. One of the studies reviewed by the authors relates this to hyperkinesis, lack of attention and poor memory.
Now, thanks, to you, our kids are getting the hot nutritious meals that will get them closer to their educational goals. On behalf of all of us, our Board, Staff, Volunteers, but most of all, all the kids you have helped, receive our deepest gratitude.
We hope that you will continue to support our efforts to ensure the wellbeing of our kids, and invite you to spread the joy.