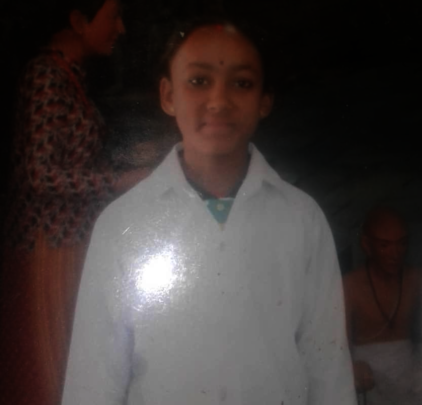 We thought for this report we would tell you story of one of our teachers, also one of our earliest students. This is because we thought it would explain the amazing difference supporting Freedom to Learn can make, not only to an individual, but the 'ripple effect' that can have on a whole community. This is the story of Bina.
Bina was one Freedom to Learn's first students in Nepal. She is from a poor family in a rural village in the Himalayan foothills, the eldest of 4 siblings, 3 sisters and 'only one a boy'. In Bina's community this was regarded as extremely bad fortune. Back in 2011 at the age of 12 she was not regularly attending school and had fallen far behind, destined as so many of her peers to leave school within the next year and be readied for marriage. As a young girl she was expected to carry out the chores at home; cooking, cleaning and looking after smaller children. Her family didn't regard school as important for girls, so neither did Bina.
As part of our Act on Education Programme Freedom to Learn teachers spent a few weeks visiting Bina's family, slowly persuading them that if she could get an education and pass her exams she could help her family much more in the long term. They finally agreed Bina could join the newly set up 'Act on Education' classes at school, supporting Bina with her self-confidence, catching up with school work and engendering the feeling that she belonged to the school community again… despite "being a girl!".
She continued on the Act on Education Programme for 2 years, her confidence flourished and her learning excelled. Attending school regularly at this point, she passed all of her exams in 2016, and was accepted to do a Bachelor's Degree in Education in 2017. At the same time, Freedom to Learn set up their Model School Programme at Kushadevi School where Bina began working as a teaching assistant earning a reasonable wage and gaining valuable work experience. Qualifying this year she has now joined Freedom to Learn's team as a primary school English Teacher.
She is hard working and committed, understanding more than most the difference an education can bring. Her qualifications and job has of course brought home more money, which has eased the family's financial situation and taken the pressure off the younger sisters to work so that they too can now get an education. It has also served to change her parents', and their neighbouring families', perspective of school, as they have watched Bina flourish into a successful young woman.
We asked Bina to write a few words to you, she says, "I love the children at school, I can understand the families here as I am from the same community, the same background. I can relate to the parents and show what their children coming to school will do, not only for the children, but for the whole family"
Kushadevi's headteacher says: "Bina has a number of skills and knowledge particularly in how to encourage children and staff to work together, to be loving and help each other. I think this was learned directly from Freedom to Learn's Act on Education workshops. It means she has been a boon to the team. I remember her as a girl, my goodness, she is very different now!"
Thank all of you for your suport through global giving to Kushadevi School.