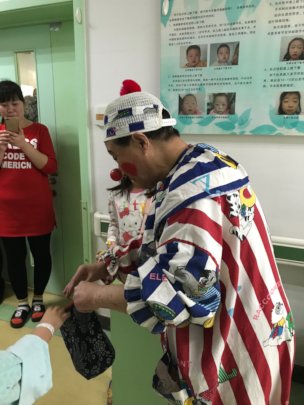 Dear Magic Hospital friends,
first of all Thank you very very much again for giving so generously to Beijing's clown project. Our turn to tell you about the past months:
Your donations: The total amount collected to date is 1884,60 USD gross. You have grown into a community of 35 kindred spirits. Six have chosen to remain anonymous.
Award: You may have joined us only since this year, so Welcome! We want to share with you too that in December 2017 we received an award from the Beijing Children Hospital as Outstanding Voluntary Service Group.
Surprise: We joined the Global Giving 5-week accelerator program in November as complete crowdfunding luddites. Normally a threshold of 40 donors and USD 5000 donations during this 5 - week program has to be passed to become a Global Giving partner organisation. Some weeks ago we received word from Global Giving that we nevertheless have been eligible for partnership, we are now a permanent member of the GG community. We are thrilled, as we can now continue to raise much needed funds on this platform, plus we would have not met some of you!
Your donation at work with whirling and magic tricks:
November: 12 # clowns visits - 10 visits Beijing Children Hospital, 2 visits Beida University Hospital
December: 9 # clowns visits - 7 visits Beijing Children Hospital, 2 visits Beida University Hospital
January: 7 # clown visits - 5 visits Beijing Children Hospital, 2 visits Beida University Hospital
February: 3 # clowns visits - 3 visits Beijing Children Hospital
The hospitalized children thank you for 31 wonderful clown visits!
General setup: The nursing staff decides in which wards the clowns will entertain, usually in different ones to spread the joy as much as possible. After each visit, time sheets (see attached samples) are signed by respective the hospital liaisons. They send them every 2 months to our accountant, who calculates the fees and sends the documents to us.
Mr. Liu and Ms. Dong, our kind clowns have been phenomenal, visiting the hospitals like clockwork, and they have been doing so for many years.
A challenge: It's common that during Chinese New Year things slow down a bit. When we recently received the time sheets for January and February 2018, however, we saw that Ms. Dong has stopped visiting the hospital. We also learnt that she can no longer serve as a weekly hospital clown.
What do we learn from this? Even a well-oiled setup can hit obstacles. In future, we will keep a more frequent contact with the clowns and ask the hospitals to inform us should an absence occur. We are now scouting for her replacement. We will of course stay in touch with our kind long-term colleague Ms Dong, to see for the occasional clown visit.
...and meet our new clown program coordinator: Clare Anne Holstein. She officially started her role last week. Quite some timing! Clare wanted to share a first-hand account of a hospital visit and her impressions about the program with you:
" I visited Ertong hospital on January 17 and met with Mr. Liu, who has been working with Magic Hospital for 15 years. On this particular Wednesday, we went to the ophthalmology ward, where there were about 10 children waiting for the clown. Mr. Liu interacted with the children in a way that mirrored their current states, he was calm and grounded, and most importantly, funny. Though most of the patients were fatigued and in pain, he was able to elicit smiles and laughs from them, and generated lots of interest. After a short "show", Mr. Liu began interacting with the children one at a time, creating balloon animals and, if appropriate to the child's energy level, asking for assistance with his magic tricks. The kids seemed happy and relieved and although low energy, excited by the presence of the clown" According to me, a healthy sense of humor is paramount to a healthy lifestyle, and I try and laugh as much as I can. I laugh with people, and at myself, sometimes I even laugh for no reason. Of course, at times, it can be harder to find humor in the little things. Take stress, for example, or extreme boredom, or pain. Pain seems like the antithesis of laughter, which must be why they say 'laughter is the best medicine'.
At Magic Hospital, I've seen a group of people who truly believe this, and are dedicated to bringing this medicine to the children who need it most. Children in hospitals are often anxious, fatigued and hurting. They spend their days facing challenges I couldn't imagine; but once a week, they get to take a break. A character in a silly costume pays special attention to them, plays with them, makes them gasp in wonder and most importantly, laugh. And when they laugh, they forget the monotony, they forget the pain, and for just a moment, they forget the burden, and this is why I truly believe in this work and am happy to have joined the team."
Please also have a look at the 20-second sneak impression of Mr. Liu that Clare filmed during her visit. You can hear the children laugh but not see them. The Beijing Children Hospital has a strict policy concerning photos and visitors, getting regular images is hard to come by. We hope that we can take photographs when handing over some ABC books.
We thought you may like to have our annual report 2016 which you find attached. It gives you additional insights into the clown program you support. You will be the first to receive our annual report 2017, we are only waiting for our balance sheet to come back.
Now let us wish you a wonderful start of the week. Thank you very much for your time, your kindness, your support, trust, and confidence. You are so encouraging. If you have any questions, suggestions, comments please do get in touch: claudia.vogg@magichospital.org
With gratitude,
Claudia Vogg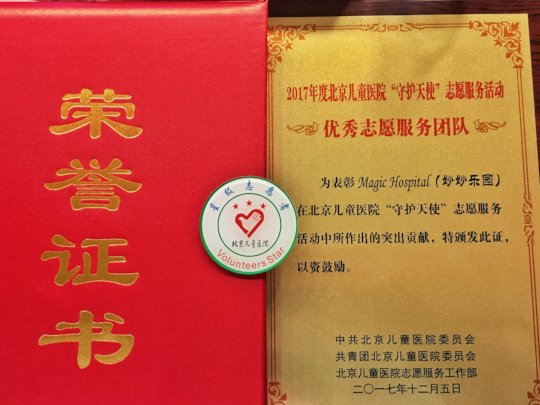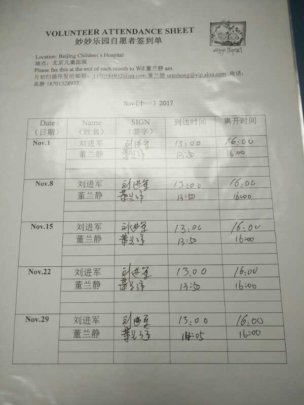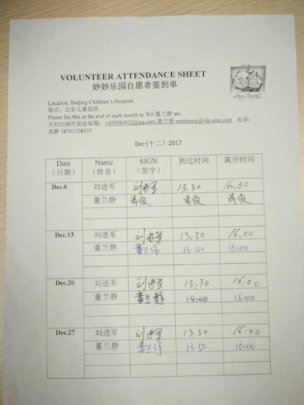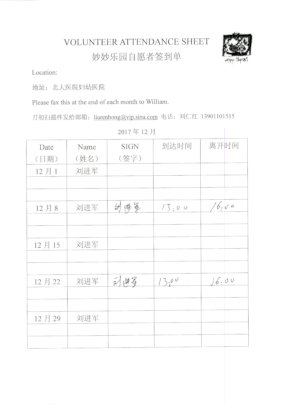 Attachments: