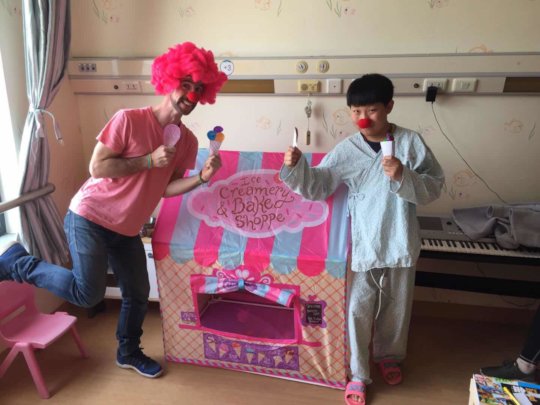 Dear all,
we hope this finds you well, thank you so much for all your steadfast loyalty, now up to you to enjoy the fruits of your support:
1. Clown program
The program works like a clockwork every week at the Beijing Children Hospital, and every 2 weeks at Beida, ensured by Masterclown Mr. Liu.
Our French clown, Jean, visits regularly the Huaxin Hospital. Huaxin hospital is smaller and the interaction with the children is on a much more intimate scale, we never really know how many children are present, it can range from 2 - 15.
Impact does not necessarily always stand for a large number of children reached. We like the smallness of the Huaxin hospital, and the extra sensitivity required. Contrary to the vast corridors and large wards of the Beijing Children Hospital, Huaxin has only small play room. It comes alive every saturday when our volunteers from Playtime program go to play with the children, often flanked and supported by Jean. Here some impressions.
Unfortunately Jean will be going away for some travel after summer. We hope he will be back to China afterwards, in the meantime he's thinking to get some training done. The development of a quality training program remains our challenging top priority.
2. Abracadabra
Some years ago we ran a program, called Abracadbra, our Make-a-wish program, to fulfil the heart's desire for hospitalised children. We are now reviving it ,and received the first donation from the Beijing British Club.
3. Dulwich College Beijing approves students' choice
The Y 10 - 13 senior school students of f Dulwich College in Beijing (already a generous supporter) have chosen Magic Hospital as charity of the year 2019/2020! The students are particularly interested to support the Abracadabra program, and will also participate in our activities under the Playtime and Outdoorsy Day program.
4. Sit less play more - recommendations from the WHO
We thought you may be interested in the latest recommendations from the Wolrd Health Organisation, about the importance of play activities for children. https://www.who.int/news-room/detail/24-04-2019-to-grow-up-healthy-children-need-to-sit-less-and-play-more
5. Other recent activities
- Team building activities for migrant worker children at Keystone Academy, our third amazing collaboration with Hotchkiss School Alumni club: fun jog chase game, teams competing in jump rope, push up, sprinting, and squats. Everybody just had enough time to catch their breath for the second part: Sharing wisdom. Modeled after "Are you smarter than a 5th grader?", and "Jeopardy", the kids shared the stage with the adults answering some of the most interesting questions for ex. What was your biggest fear growing up, and how did you overcome it? Feedback from one of the students:
"Today was the most rewarding experience because I got to share my opinion on things, and truly spoke up for myself. Adults could benefit from listening to kids more because we also have interesting things to say ".
- Thanks to the Beijing Guoan football team the kids from Gucheng migrant school had an amazing experience at the stadium in May: VIP seats, original Jerseys with autographs and of course yummy dinner before the game made it an unforgettable event
- and the team from MH Outdoorsy Program organised a zoo visit for the children from the Gucheng migrant school, a fun day for 21 children from Gucheng Migrant school…
In the next report we hopefully can tell you also more details about the Magic Beans project and the new Excelerator project...
If you have questions, comments or ideas or simply want to drop a note to say Hi, my mailbox is litterally open 24/7 for you: claudia.vogg@magichospital.org
None of this would be possible if it weren't for people like yourself, so Thank you for being there.
Have a wonderful week!
Gratefully
Claudia