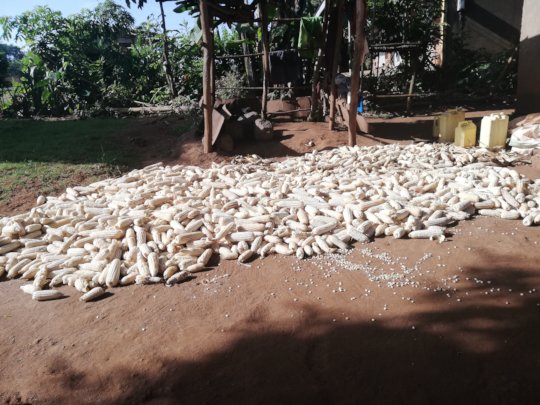 After 12 months, the food security project started in Baitambogwe, Mayuge district among 16 families has had a great impact.
Majority of the beneficiaries have been able to improve on their food security. Many of the OVC caregivers report having enough food to feed their families. Between January and December 2018, caregivers harvested more food stuffs such as soya, maize and Orange Fleshed Sweet Potatoes (OFSP) and beans.
There have also been increases in saving due to improved household incomes from sale of surplus produce which have facilitated business initiation and growth.
In addition, 9 caregivers have noted that they will be getting other gardens to replace the gardens rented for them by CCUg. This is because the land owners need to utilize their land. Furthermore, 3 caregivers have indicated that they will pay rental fees for the land they are using so as to continue using it.
"For me, I used not to be able to afford to buy food most of the time but I'm glad I no longer have to buy food, at least I can get it from the garden that community Concerns Uganda rented for me. Because I was saving some money, I will be able to retain the piece of land by paying the owner more money."
"Now that Community Concerns Uganda will not hire for us any more land, I'm glad I have been empowered economically and will be able to pay more money to hire the piece of land."
Some of the other beneficiaries have been able to use the project to support their families and also pay school fees for their children.
"I'm so happy that I was able to harvest 300kgs of maize which I sold and earned Ugsh 200,000. I'll use this money to pay part of the school fees for my child who is joining secondary school. I'm still eating the sweet potatoes and the cassava is still growing. At least the interest I earned out of my savings, I will be able to pay more money to the owner of the land."
The whole of last year another community was expectant that we would hire for them land and be able to give them seeds so that they can grow food but due to the unlimited resources, it was not possible but this year we told them that it was going to be possible, this brought joy to them.
"I'm so grateful that community Concerns will be hiring for us land so that we can grow food for our families and be able to sell the surplus."