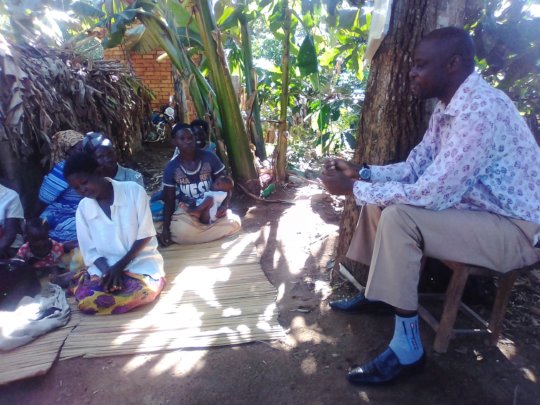 Acknowledgement
I would like to thank the entire team of Community Concerns Uganda for the great work delivered during this first quarter of the year. We thank our partners and donors who have made it possible for the projects to be implemented. Without the money that you contributed, nothing much would have been achieved, so thank you very much for your generosity and keep up with the spirit of giving. I thank the Executive Board of Trustees for the advice and follow up on our work; we are indeed grateful. Not forgetting the members that we are serving, thank you for being available and allowing us to serve you.
Nakirya Brenda Doreen
Managing Director
Orphans and Vulnerable Children Sponsorship Project
We have a total of 60 children who are under our sponsorship program. 50 of these are sponsored through a partnership with Community Concerns Uganda and Waterloo foundation, and the 10 others are solely sponsored by CCUg and through Individual Donors. This program also includes empowerment of the OVC care takers through Group Saving and loaning.
Achievements
Out of the 60 children who are sponsored, 8 completed their Primary level and these all passed well, 2 with first grade and 6 with second grade results.
Those who received 1st grade results were taken to the best secondary school in Jinja; Busoga College, Mwiri. Others were taken to good schools in Iganga and Mayuge Districts.
All the OVC caregiver groups have been saving and they have shown good progress.
Group Saving for OVC caregivers.
Group saving programs are conducted among 5 communities that host sponsored children. This project empowers caregivers to save, borrow and earn interest. Money loaned to members is used to provide for their children and invest in their businesses to increase their household income potential.
Challenges
Decline in performance for some students in their first tests due to the long holiday and the fact that they have joined new classes and others are in new schools.
Change of schools without Notification.
Parents are still very slow in checking on the academic progress of their children.
Solutions to the Challenges
Continue to monitor the children and encourage them to increase their effort. Also encourage parents to help their children perform better.
Encourage the parents to improve their communication skills.
Continue to stress to parents that the children are their full responsibility and they need to be available to provide for their support and encourage them to perform well in school.
Continue to reinforce the idea that the role of CCUg is to assist – not replace – the role and responsibility of the parent.
Sexual Reproductive Health and Rights
Last year in November, CCUg was given an opportunity to have two of our staff members attend a 5-week training program in Sexual Reproductive Health and Rights at Nsamizi Training Institute. the goal of this training was to strengthen the knowledge of SRHR and augment our ability to train others in this key area of concern.
The Managing Director was the first to attend followed by the Programs Associate, who completed the course in early March.
The training was organized by Nsamizi Training Institute of Social Development, Rutgers and Makerere University-School of Public Health, among others. This training will be very beneficial to CCUg in improving our programming and implementation of SRHR projects.
Menstrual Health Management Project
During 2017, CCUg conducted a baseline MHM survey in 18 schools in Mayuge and Jinja District with support from Amplify change. Most schools (15 out of 18) did not have Washrooms where girls could change used pads and clean themselves during menstruation. A considerable number of girls (11.8%) were not cleaning themselves, while (15.6%) were not changing pads. Less than half (41.6%) or 4 out of every 10 adolescent girls missed school due to menstruation. One of the reasons was lack of a place to change used menstrual sanitary materials and clean (34.2%) during menstruation. Based on the above evidence, we wrote a proposal to Associated Country Women of the World (ACWW) who funded construction of 6 sanitary facilities for three schools in Mayuge District and Jinja. The schools selected were Wabulungu Primary School, Mayuge District, Nalinaibi Primary School and St. Matia Mulumba Primary School, both in Jinja district. Funding became available in late 2018.
With support from ACWW, we completed the construction of the 6 washrooms in each of the schools. These will be used by 940 girls.
Afterwards, a 9-member Sanitation Committee was established, comprised of 2 pupils (including the female sanitation prefect), 4 parents from the Parent Teacher Association (PTA) and School Management Committee (SMC), and 3 teachers, including the Senior Woman and Senior Man Teachers.
The main aim of this Committee is to ensure proper maintenance of the constructed washrooms, whilst advocating for more resources at home and school to ensure proper MHM.
Later, we educated pupils about MHM and implored girls to properly use the constructed washrooms to support proper MHM.
Pupils, teachers, PTA and SMC members were very thankful to CCUg for constructing the washrooms and educating pupils about MHM.
Achievements
Six washrooms were constructed in 3 schools which are Wabulungu Primary School in Mayuge District, Nalinaibi Primary School and St Matia Mulumba Primary School in Jinja District. These washrooms will help the female students in maintaining proper menstrual health and hygiene.
We conducted Sexual Reproductive Health and Rights education with an emphasis on menstrual health management among 1,500 students in Wabulungu Primary School, St Matia Mulumba Primary School and Nalinaibi Primary school.
Senior women and men teachers from the three schools were trained in proper management of menstrual health among the students at school.
Challenges
During the construction, water was a challenge since it was a dry season. This delayed the work somewhat and may keep the tanks without water some days.
Food Security Program
Achievements
We received additional donations and another community (Bukatube) was able to benefit from this project.
We were able to hire land for growing food in the new community.
The Bukatube community beneficiaries were trained in proper agricultural practice especially in regards to growing soya and ground nuts.
The Bukatube beneficiaries also received seeds which will be planted.
Challenges
Delayed rains led to a delayed start of the first season for planting, which will result in delayed income earnings.
Change in seasons also affected the yieds
Imbalance of seasons where there was alot of rain and alot sun shine yielding to poor crop yields
Group Saving
This project consists of 3 groups from Nakalanga (80), Magamaga (26) and Wairaka (20). All these groups are comprised of women only. They save and are able to borrow from their savings to provide support for their families and fund small loans to inject into their businesses. Their savings earn interest and at the end of the year, they are able to withdraw these savings and interest.
Achievements
The groups added more members, Nakalanga had 70 members and grew to 80 members, Magamaga group had 15 members and grew to 26 members and Wairaka group increased to 20 members from 10.
Challenges
A few members are not able to save the maximum monthly amount of 5,000 UgX.
The farmers in these groups have been affected by the changes in seasons so their savings have also been affected.
Recommendation
Encourage members to engage in other income generating activities to spread financial risk and improve cash flows.
Provide further training on financial management.
Community Resource Centre
The Community Resource Centre enrolled 18 students this year for the first intake. Among these, 9 enrolled in hair dressing, 7 enrolled in tailoring and 2 enrolled in computer studies. As of the end of the first quarter, 12 students are enrolled: 5 in computer, 6 in hairdressing and 6 in tailoring (some students are participating in more than one course of study).
English and Math
Of the 18 students, 13 needed to improve their knowledge of Math and English and 4 didn't know Math or English at all. By the end of the two months, 3 of these were able to improve in English and Math, however, one student failed to make progress and eventually elected to drop out. Math and English skills are needed to help students understand training in computer and tailoring skills.
Computer
Initially 2 students enrolled for computer classes. However, one dropped out after failing the first test. One remained and was later joined by 7 students from the other classes who were also interested. Later, two of these students dropped out because they feared assessments leaving 6 students who are consistent in their attendance and are making progress in learning the skills.
Hairdressing
Nine students initially enrolled in hair dressing, however 4 subsequently dropped out due to indiscipline and lack of commitment. The remaining five students are making progress in their studies.
Achievements
Students have learnt how to wash hair.
They can retouch and do treatment of hair.
They can plait braids and weaves.
They are perfecting pencil styles and learning hair styling for brides-to-be.
Tailoring
Seven students enrolled for this class, however, 1 dropped out because she didn't want to study personally, and was being forced by her guardian.
Achievements
This class is very committed, and even after they are taught, they come back when they have time to keep practicing.
They have learnt measurement of different clothes.
They have learnt how to sew a dress, skirt, nickers, blouse and a pair of shorts.
Parenting
All 12 students are studying parenting. It's an interesting class that no one ever wants to miss. They would like to have more classes, but time will not allow.
Achievements
Students have finished classes on anger management, menstruation, sexual intercourse and sexual dysfunctional.
They are very active and ask questions.
Challenges
Late arrivals
Inconsistency in attending their classes especially computer due to personal issues.
Low levels of literacy
Recommendation
Continue to encourage them to be consistent in attending their classes for better learning.