Since launching Mano a Mano para el Desarrollo in April, we organized a series of workshops to respond to the educational needs behind the program. Since then, every two weeks, we do a special activity with the children, siblings, and nieces or nephews of our artisan associates. José meets with the kids in the office of Cojolya every second Sunday, and conducts an educational workshop for about 2 hours. Every week is different, as we alternate the style of the classes every time between informative classes on more traditional academic subjects, thematic playful art classes, and dynamic group reading activities.
We try to respond as much as possible to the interests of the children and to their academic deficiencies at their respective schools. Many children do not have access to individualized attention nor do their schools prioritize the importance of creativity through art or creative writing.
The reading activities have so many positive impacts on the way our students relate to learning. Aside from helping them practice reading, they learn new words, open up their imaginations, work on their concentration skills, develop their capacity for empathy, improve their ability to enunciate, expand their knowledge about the world, and (hopefully) make them think of reading as a fun activity to pursue in their own free time!
We orient our groups' developing reading skills on two phases. Level 1 consists of students in first, second, and third grade of primary school focuses on basic reading, and Level 2 works on reading and writing skills for students in the fourth grade and up. In our last reading activity, we not only wanted the texts to be dynamic but also specifically chose writings that would help our students in both reading groups feel represented.
The students in Level 1 read the text "Let's go to the River," and their goal was to help the characters named Pepe and Tita clean the contaminated river in the text--a topic close to home considering the pollution of Lake Atitlán. The objective of this activity was that the students identified problems narrated in the text and came up with possible solutions. After identifying problems such as people throwing their garbage in the river, our students Hadasa and Diego offered their points of view surrounding how to best care for the environment and wrote down their ideas for how the characters Pepe and Tita could clean the lake. After finishing their analysis of this text, our Level 1 students read poetry written by indigenous media collectives that discussed themes such as nature and womanhood.
The kids in Level 2 focused on the perspective of the narrator in an activity called "What is the author telling me?" The name of the text was "Olympic Medalist," which was about Erick Barrondo--Guatemala's first Olympic medalist and most famous athlete of indigenous descent. Each student read Barrondo's inspiring story silently, then all together, and then each student read a certain part of the story aloud on their own for one minute in an activity we call the Reading Pyramid. Through the Reading Period, we evaluate their individual ability to read fluidly according to their level in school. The Reading Pyramid activity makes practicing reading aloud into more of a game for the students, and they have a fun incentive to perform well and reach the top of the pyramid.
During the second part of this activity, we discussed the text as a group to ensure that the students had a thorough understanding. Our goal was that the students learn to think critically while reading in order to reflect on author's intention in different kinds of texts so that they can develop key reading skills such as discerning nonfiction from fiction. At the end of the activity, one of the students was still not in agreement with her classmates about the key message and purpose behind "Olympic Medalist" as she believed the text was more creative than informative. While she ultimately agreed with her classmates that the author intended to inform the readers, this discussion was an important part of recognizing different perspectives which touches upon the critical thinking and development of empathy that we prioritize in our reading activities. Something that we see in our students during all of our workshops is that each mind holds an entirely different world, and we will each leave a text we have read with different conclusions or points of view.
In all of our reading lessons across this school year, we could not afford to provide individual books for each of our students. In spite of this difficulty, we had sufficient motivation to look for ways to have reading materials for this activity. As you can see in these images, we could only use paper booklets, but we are convinced that these workshops provide key support to the students. According to our observations and the results we have seen in the students' progress, many of them need to have their reading skills reinforced and developed with more individualized attention.
Providing each student with their first individual book that suits their reading level--likely the first they ever owned-- would be an incredible gift. As of now, we have only been able to provide half of the resources we need in our academic center, but we are motivated by the fact that we have helped our weavers' families save $6,513 Quetzales ($844.47 USD) through our center's Computer Access Program.
We remain committed to our work. Please consider donating so that we can continue improving our educational activities, and offer our hardworking students all the learning materials they deserve!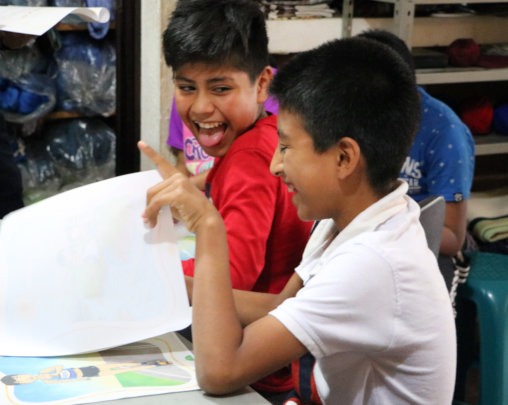 Links: