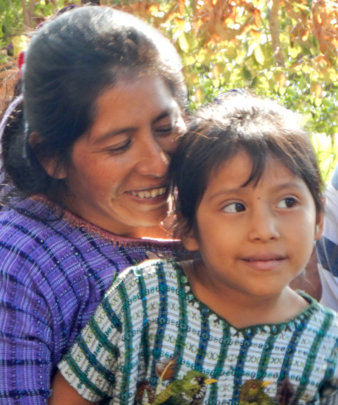 Dolores is an intelligent, curious, and cheerful ten-year-old girl from our town of Santiago Atitlán. Her favorite things in the world are books, her family, English class, and chocolate.
Dolores comes from a family of artisans and farmers with very limited financial resources, and she is the youngest of her sibilings. Her two brothers are eighteen and twenty years old and are currently working on the family's farm. Her three sisters, who are eleven, thirteen, and fifteen years old, and they dedicate their time to making Mayan artisan crafts to help support their parents.
Dolores is one of the most faithful participants in Cojolya's activities, to which she always comes to participate with her mother who is an artisan for the organization. Dolores says that she has learned a lot at Cojolya and feels like she is a part of the association. Moreover, she loves the camera and adores being photographed during our special events. She is a very curious and participative child, actively engaging in our extra-curricular activies as much as she engages in her schoolwork.
Sadly, Dolores's family does not share her opinion about the importance of education and, as a result, prevented her five older siblings from going to school. It is an unfortunate reality that the value of education is not universally accepted, especially in the most rural parts of Guatemala. The decision to push children to work instead of furthering their education has a practical rationalization as most families struggle to find the economic resources to send their kids to school.
As an association, we do not want to judge these hard choices that families make for their children, as we understand the systemic economic barriers that burden so many of the disempowered, indigenous families in Santiago Atitlán. The mentality has been this way for generations, but a majority of families are not beginning to change their views about the importance of education, putting the town on a path toward great development.
Nonetheless, we believe that Dolores's future can be different. With the right help, she could be the first in her family to complete her school curriculum, and therefore break the barriers that have prevailed in her family for many generations. We believe that working together, there is still time to work with her and her mother to set a shared goal for her future.
The intention behind the Mano a Mano Para el Desarrollo Program is, in part, to offer a platform where we as a community can reflect upon and be more aware of the value of education as a key to grow toward social mobility.
With your generous DONATION, we could afford to continue our work and help Dolores and many other young girls in her situation continue to go to school.