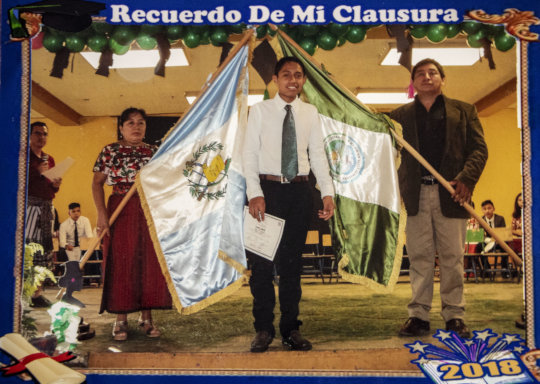 The average family in Santiago Atitlán has about 3 - 5 children, and the Pablo Ajcots are no exception with a 14 year-old son, Israel, a 10 year old daughter, Hadasa, and a 6 year old daughter, Damariz. Their father, Salvador, is Cojolya's Master Tailor and a member of our entirely Tz'utujil Board of Directors, and his hands craft our woven fabric into every final piece. Their mother, Sara, occasionally makes some güipiles but mainly tends to the home. Though the two of them only reached the 1st grade, they want their children to focus entirely on their studies instead of working while outside of school, which is the only option for many students in Santiago Atitlán who need to pay for their studies.
As an organization that has supported social mobility in Santiago Atitlán for 35 years, we often assess educational opportunities through a generational lens. Reflecting on this community development on a familial level, we wonder--what if parents here had enough neighboring role models to value education and encourage each one of their children to pursue their passions? What changes can we make so that the eldest sibling did not always need to sacrifice their schooling so that their younger siblings could maybe afford to have an education? This is particularly true for girls who are not encouraged to remain in school as much as their male peers.
The Pablo Ajcots live off of Salvador's wages, which, though higher than most tailors' pay in Atitlán, just barely support a family of 5. Every quetzal is saved for necessities- food, shelter, education. In spite of their limited schooling funds, Israel has accomplished his initial goals in the Mano a Mano program and can thereby set an example for his younger sisters. Israel is a driven dreamer who hopes to become a mechanic and have the opportunity to travel the world, and he is the first in his family to graduate from middle school. After years of quiet diligence, never missing a class, Israel's achievement is a huge honor for his family. Our intergenerational relationship with our artisans and their families make these celebratory moments all the more fulfilling.
The personal, intentional work within our small program makes us attuned to how we can best support each individual artisan family. Hadasa, much like her brother, is introspective, thoughtful, and a dreamer, often found quietly humming Tz'utujil songs and drawing during our workshops with the students. When suffering a life-threatening virus two years ago, she missed enough school to remain was far behind her classmates but now hopes to become a pediatrician so that she can prevent the suffering of other children in her community.
In Santiago Atitlán, childhood dream jobs often do not come to fruition for reasons that transcend outgrowing them. As Hadasa has two other siblings, her parents are unable to afford to send her to school past sixth grade. The academic opportunities for Damariz, the youngest sister, is all the more uncertain as she is so young and her parents' artisan incomes depend heavily on sales and commissions.
While we support the sons, brothers, and nephews of our artisans in the Mano a Mano, as an organization primarily dedicated to empowering indigenous women, we make a concerted effort to keep the daughters and sisters of our associates in school due to gendered cultural norms that do not prioritize women's education. Though Salvador believes both boys and girls should have a right to education, we have faith that Israel's accomplishments will motivate his parents to try their best to give their daughters the same opportunity. However, as you can see through Israel's success, the financial burden is eased through your support. We hope that our families' stories demonstrate how your contributions' seemingly small, local change can have a powerful impact across generations in our community.
Consider donating to our project during these end of year celebrations so that we can support Israel and his little sisters' educations during the following Guatemalan schoolyear. Mano a Mano wishes you a happy almost holidays!