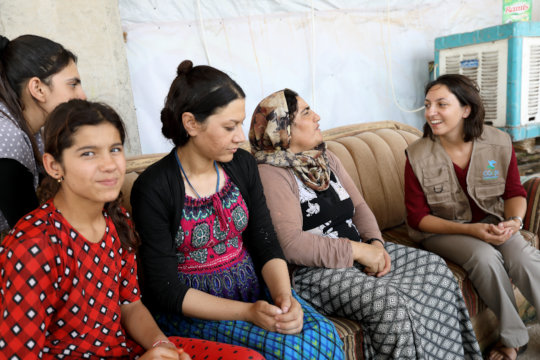 Interview with Francesca, Project Manager in Iraq
This is the story of Francesca, Project Manager in Mosul, Iraq, who has just come back from the field.
She wanted to tell us the challenges she faced and the goals she achieved during her time in Erbil, where COOPI has its local headquarter, and where we completed the first project dedicated to those children who lost the chance to study because of the war.
Our second project has recently started and it will bring 3750 children back to school.
Can you describe the situation in Iraq when you arrived?
The area south of Mosul had been cleared for about a year, but the roads were deserted. It took a very long time for the families to return home and take charge of their lives. After a year, Qayarah has gone back to life. Now there are 25.000 citizens, if you walk around you can see them shopping at the local market, women putting their washing out..
What do you think has been the greatest achievement?
To see boys and girls going back to school after what they've been trough is a huge achievement. During the war, girls were not allowed to study, they couldn't go to school, they could only stay home and learn how to become housewives. Boys, on the contrary, continued going to school but the only subject they were being taught was the war: how to use a gun or a rifle for example.
Drawing, singing, playing, just using your own imagination as a common child would do was prohibited. These kids have been indoctrinated in the fighters' ideology: war and terror. When you're aware of this, and then you see them in art class, or theatre class, sport lessons, all the problems, difficulties, every effort is paid off.
And what does the project need now?
There are still so many children who don't go to school; we need to face this problem with urgency because those children who don't have a place to be during the day end up on the streets and are exposed to so many risks like child labour and crime in general. I've seen so many of them on every street corner, selling water or sweets..
COOPI is now working on a second phase of the project because the local community asked us to continue working on this issue. We'll build other 3 schools and try to save 3750 children from the streets, these "little warriors" need our help.