Hi, I am Marco and I am responsible for COOPI projects in the Middle East.
Recently I was in the Mosul Region where we want to build 3 more schools for children who are victims of the Iraq war.
But I want to tell you better about our schools and my visit.Younger children attend mixed classes, while the older ones are divided into male and female classes. All our students are helped and followed psychologically and participate in the recreational activities organized by COOPI.
Schools are equipped with bathrooms (and this helps a lot girls who have special needs and not always in their homes have a real bathroom) and heating.The lessons are divided into morning and afternoon shifts in order to give the opportunity to study to all the children of the area. All new schools are located about 25 km from Mosul. Before these schools the children had to pay public transport to reach the nearest one and for this reason many gave up because they could not afford it. Now, thanks to you, they have an alternative next home and in the coming months many other students will be able to return to school. Thanks for being by our side.
Do you know that besides school, we encourage our girls to try other activities to develop more skills?
School is a priority for them, and after handing out the new uniforms the girls feel all set to go to class and do their best to achieve new goals. Sometimes it's tough to think about the future, that's why they understand the importance of their education and work hard to get the highest marks.
However, for the young women welcomed in the Centre, we try to let them develop other skills that could be useful: some of them decided to organise a special course of arts and crafts, willing to realise some special bags only made with intertwined ribbons which were then sold in the market. Needless to say, it was a success!
We give our greatest thanks to you and we invite you to spread the word to continue helping our girls!
Keep bringing young people back to school is fundamental to their future and their safety.
Boys who do not study risk being recruited and girls being abducted and enslaved.
Schools in the Mosul region are not just a return to normality, they are safe places to prevent new tragedies from happening.

These are the words of the young Ahmed, 20 years old: "...when the war started I was attending the last year of high school. My dream was about to happen: go to university, study and get a job.Then the bombs arrived and teacher voices have been replaced by soldiers' voices. For four years my dream was interrupted. Now I feel reborn, I have the chance to study again, I can see a future different from war and poverty, so... Thankyou for your support"
What are we doing together?
we are building 3 schools in the region
we are bringing back to school 3750 children and young people
we are eliminating the debris around 5 schools
we are distributing school kits
we are training 50 new teachers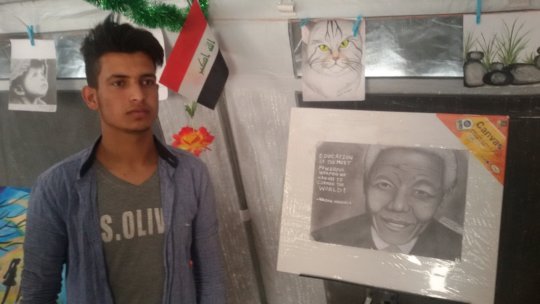 WARNING: Javascript is currently disabled or is not available in your browser. GlobalGiving makes extensive use of Javascript and will not function properly with Javascript disabled.
Please enable Javascript
and refresh this page.