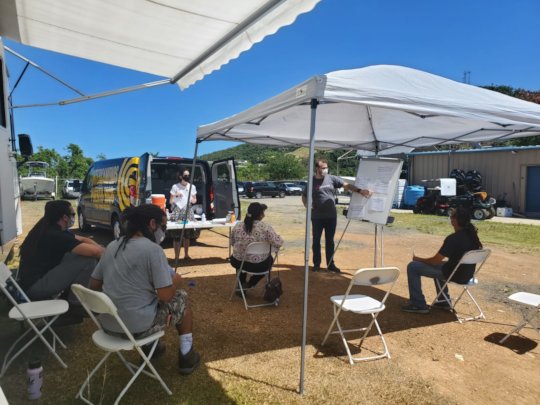 The last three months have been extremely challenging for everyone around the globe. In Puerto Rico, as, in much of Latin America and the United States, the reality of a COVID-19 pandemic hit us in march 2020 as we heard about the first reported cases, and by March 15th the governor of Puerto Rico had issued an executive order instituting a mandatory curfew from 7pm thru 5am, which stayed in effect until just a week ago. That is almost three months, where all government operations came to a stop and everyone was mandated to stay at home with very few exceptions for essential services. The process for defining essential services in Puerto Rico was fraud with errors and lack of careful understanding of the social/health dimensions of this crisis. For example, the Department of Health failed to name Syringe Exchange, Homelessness and HIV services as essential services. The executive orders were vague in their definitions, and the department of Health was not proactive in ensuring service provision to most vulnerable communities. Most syringe exchange programs interrupted their services in the first days of the curfew, however Intercambios Puerto Rico led the way by keeping its mobile services up and running with all necessary precautions despite risking being subject to arrests and towing of its vehicles. Our staff understood that our participants were ever most vulnerable to this pandemic than others giving their living conditions (a large number lack proper access to housing and cleaning/hygiene facilities), have multiple health conditions and as visible drug users are bound to receive poor health care or be deemed less worthy of health care if resources are scarce. Our organization pushed the administration to name syringe exchange and HIV health/housing services as essential services and advocated with other syringe exchanges that they could/should continue provision of services despite the vagueness of the executive order on this respect. Our team did not stop providing services even for a week. We have been on streets providing services and advocating for those who most needed since day one of this epidemic.
We are excited and want to thank our new partners in health, Doctors Without Borders. The internationally renowned health organization, Doctor Without Borders, decided to begin working in Puerto Rico because of the new COVID-19 pandemic. They felt their expertise could be of use in the island. Intercambios PR was selected as one of its partners in the island and feel honored to have access to their expertise and partnership. In the last two months, Doctors Without Borders already trained all our staff in COVID-19 PPE measures and protocols, helped designed our COVID-19 intervention and personal safety protocols, and trained our staff as Teacher of Trainers. Intercambios PR is now able to multiply this COVID-19 safety knowledge by providing "Teach the Trainers" workshops for community-based organizations, besides proving accurate COVID-19 safety information to our participants. In addition to the sharing of safety and hygiene knowledge, Doctors Without Borders is helping us upgrade our mobile units with hygiene stations that include access to hand washing and showers for our participants, many of whom are homeless individuals or don't have adequate access to clean water and soap. Furthermore, this partnership is working to implement access to medical doctors (in partnership with Doctors Without Borders) via telemedicine through our mobile units and when possible in person.
Other news we wanted to share with you, our donors and partners, is that we recently recruited an additional staff member that is going to provide services' participant navigation in order to reduce the high threshold for access to services that faces our population. Our participants face discrimination and poverty everyday which makes accessing adequate health and social services more difficult. The island privatized and bureaucratic health system places a high threshold for accessing services to individual who most needed. Our staff member, a social worker, will be able to help our participants navigate these hurdles and increase their chances of meeting their immediate health and social needs.
These are extremely challenging times. As the pandemic continues, we know that consequences of business closings and increasing unemployment will exacerbate the already thin support systems in place for those without means. Your help and that of our partners will be even more important as the emerging social consequences of the COVID-19 pandemic become more visible. We count on you to be able to be there for our participants every day, pandemic, or no pandemic.
A heartfelt Thank you and hoping that you are well. Stay safe and protect yourself and others.