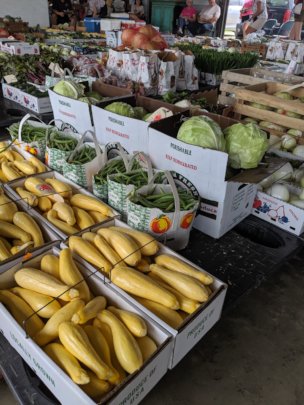 The Donation Station at Community Food Initiatives in Athens, OH, is in the midst of yet another busy season! We're at our local farmers market every Wednesday and Saturday, and at a local produce auction every Monday and Thursday, which means that we're spending the majority of our time out gathering produce to distribute to people in need. Just last week we received nearly 2,000 pounds of produce at the produce auction alone, enabling us to distribute more than a ton of fresh, local, food to pantries and other organizations working to fight food insecurity in southeastern Ohio.
While we love to highlight our wonderful staff and volunteers, during the summer, we are especially grateful for the abundance of local produce that goes through our hands. During this time of peak produce we distribute twice weekly, and we have some special pickups during the week for programs like the Athens County Children Services (ACCS) PB&J Project, which helps provide meals to children in need when school is out of session. ACCS staff member Diane Stock comes to the Donation Station to add produce to the peanut butter and jelly supplies they already distribute: "To have fruit and vegetables to go with that [the PB&J] makes us feel like we're providing more whole nutrition to children and families."
Throughout the growing and harvest season, we provide a variety of produce based on what is seasonally available. But, if there is one crop that is a staple for us this time of the year, it's summer squash. We often have plenty of this easy-to-use, familiar, and versatile yellow veggie to distribute each week. The produce we provide to ACCS and other partners most often starts at the stalls of the Athens Farmers Market or on the floor of the Chesterhill Produce Auction (CPA), like these summer squash.
We purchase bulk lots of produce at the Morgan County-based CPA every Monday and Thursday afternoon. After these squash were purchased last Monday, our staff weighed them in to track how much we distribute and transported them to a large cooler space at our offices in Athens. This squash was set aside for the special pickup by ACCS on Wednesday afternoon, so it was repacked in their coolers that afternoon before going out to families in need in our area!
This example of the Donation Station in action is just one small way your donations positively impact food access in our area. Providing healthy, local produce to supplement non-perishable items typically available in food pantries, we can build healthier communities! As Diane said, "Families get excited and line up because we have a limited supply of produce to go with what we are able to provide. The fact that we get this [the produce] at no cost is the only way we can provide this service to the community. We wouldn't have the funding otherwise."
You can help us increase our buying power at the CPA and be able to provide increasing amounts of produce to our community partners by making a donation today. We distribute around 1,000 pounds of produce each month just to the PB&J project. We are on our way to hitting our target of 100,000 pounds distributed in 2019, and your donations during this busy time of year will help ensure we get there!