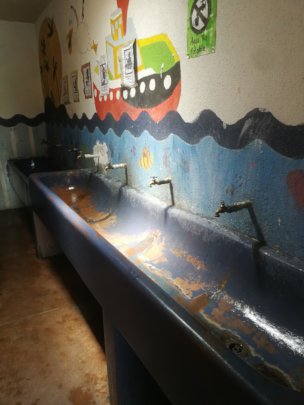 This week, our students are back from a week-long mid-year break. Luckily our teachers and staff were able to take the week to recuperate - because now that the students are back, the excitement and energy is palpable!
There are lots of exciting things happening at The School of Hope in Jocotenango, Guatemala. We're preparing to say farewell to our current school director and co-founder, Sophie McKee, who is leaving the daily direction of the school to others but will always be an important member of the EFTC family. After dedicating so many years of her life to EFTC, we wish her well and we're excited to see what comes next for her! One fantastic way to thank Sophie for her years of service would be to make a donation to the foundation in her name, which I hope you'll consider.
Sara Miller, our current Director of Development and former Volunteer and Visitor Coordinator, will be stepping into the role of directing the school. We're incredibly lucky to have Sara taking the helm and leading us into the future! She brings with her years of experience with The School of Hope, as well as time in Guatemala as a Peace Corps volunteer.
In addition to welcoming Sara as our new director, The School of Hope is in the process of making some much needed repairs. We've just started a campaign to raise the funds to repair the school's bathrooms, and I hope you'll take the time to learn more about this here: https://www.globalgiving.org/projects/its-time-to-upgrade-our-bathrooms-eftc/. We're also painting all of our classrooms and interior patio walls, and we're all proud of the gorgeous new sky blue paint recently applied to our exterior walls. Finally, we hope to have the funds and support to replace the school's roof soon. We love our school building and it has served us well...but 10 years of hundreds of students takes a toll, and the building is in need of some tender loving care. I hope you'll consider how you might be able to help us with these repairs and maintenance, and get in touch with me (brien@eftcusa.org) so we can talk more about it!
With all the talk about new leadership and building repairs, I don't want us to lose sight of the reason why we do all of this. Ensuring that our students receive a high quality education so that they can provide better, healthier lives for themselves and their communities is the motivation behind our work. Nothing we do here at The School fo Hope could happen without the generosity of you, our supporters and friends. Thank you for everything you've already done for the students! And, please, consider doing just a bit more today by making another donation.
Links: