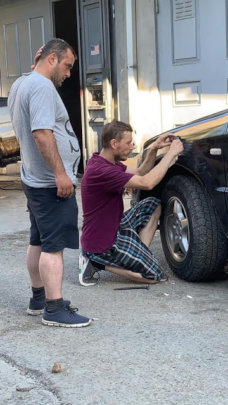 The quarantine conditions in Tbilisi are being eased, but just as around the world, there is no easy return to how things were. Many of our residents do not have jobs to go back to. However, life is a little easier than it was. Our printer cartridge refilling business has partially reopened. It now brings in 3,000 Lari (about $969/£770) a month, half of what it did before the pandemic hit. Meanwhile, some of the kitchen cupboards and part of the roof need replacing.
We do of course have plans to help our residents. We intend to buy more silver-working equipment so that more residents can earn something making jewellery. We also hope to set a resident up with an online shop.
You can help by donating next week when GlobalGiving will be adding a 50% bonus to all donations up to $50/£37*. The bonus week starts on Monday 14th September at 9am EDT (2pm for our UK supporters) and runs until midnight on Friday 18th.
In other news, Pavel, our former protege, has also reopened his garage. You may remember that he has been very generous in offering training to other young people who share his difficult start in life. One of these young people is Dato (not his real name). Dato's story is not a happy fairy tale at all. He was a little boy when his father walked away from the family and left him with his young mother. It was the early 90s, one of the hardest times in Georgia. Unemployment, poverty, crime and violence prevailed in the country. The teenage mother wasn't able to look after Dato, and at 6 years old he found himself living on the streets of Tbilisi. He had to beg, steal and fight in order to survive. His violent life led him several times to prison while he was still very young. This continued until he met Pavel and told him his life story. He said that he wanted to escape his criminal and brutal life but thought that with a criminal past and no vocational education he had no chance of a job. Pavel decided to take him on at his car repair workshop and teach him the trade. He introduce Dato to us and asked us to give him a home.We wish Dato well as he starts his new life.
So we keep on hoping, and working to make that hope a reality. We are very grateful to all of you who join us in our hope and help to make stories like Dato's possible. If you'd like to help, make a note to donate on Monday for an added 50% on your donation.
*terms and conditions apply