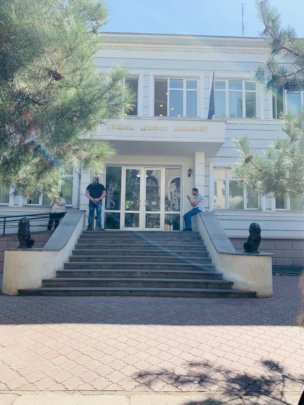 We have reported before on the extreme economic hardship that the pandemic has brought to our city. Recently, we have also been in a position to help a man facing prison and a fine he could not afford because of covid. Our legal service for homeless and vulnerable people was able to save a family from ruin.
It all started when Demetre's pregnant wife got toothache one evening during the Covid curfew (from 9pm to 6am at the time). They rang the doctor and discovered that she needed a painkiller that they didn't have at home. Demetre popped out to the pharmacy.
On his way home, Demetre saw police. He hid between two parked cars. The owner was on a nearby balcony, thought Demetre was trying to rob his car and started shouting. Demetre panicked and ran away. The police caught him and tried to arrest him. He tried to explain, but it seemed like his word against the car owners. Again he tried to escape. Eventually, he was arrested for breaking the curfew, attempted theft and resisting arrest. Demetre was facing 3 years in prison and a fine of 300 Lari (approx $900/ £700).
Fortunately, our lawyer was able to turn the story around. First, they requested the car be fingerprinted, which showed no evidence that Demetre had touched the car. The charge of attempted theft was removed. Then the doctor confirmed the phone call, and the pharmacy CCTV and receipt further corroborated Demetre's story. The fact remained that Demetre had broken the curfew and he was given a fine he could not pay. Our intervention meant that this was reduced to a verbal warning in the end, much to the relief of Demetre and his wife.
This is just one of the extra challenges we are facing because of the pandemic. We are facing increased need in our community just at a time when our income from our social businesses has been halved. We are so grateful to all your support. If you'd like to help us get through and recover from this community in 2021, do give today. The wonderful people at GlobalGiving are adding a bonus to every donation made today, Giving Tuesday. It's a great chance to make your gift go further.
Thank you in advance!
So at last our Club has been able to meet in person with all the necessary social distancing and hygiene measures. It's not quite the same, but after the long months of isolation, our families are delighted to be back together. Our two groups are getting together weekly with 12 families in total taking part. We have kept our Whatsapp group too for families who aren't ready yet to come back to group activities.
We see just how important the group is when we see Svetlana and her daughter Olya flourishing. The family joined our Club about a year ago. Olya has a genetic disorder called Waadenburg Syndrome. This affects her hearing and also gives her distinctive facial features. The stress of the diagnosis had really got to Svetlana. She was constantly watching the other children and comparing them to her child, to the point where she found it difficult to pay her own daughter attention or to praise her.
We gave her a great deal of reassurance, and the other mums were brilliant. Masha, whose son Fedya was talking before Olya was a great support and also shared how she helped Fedya progress. Now, a year on at just over 2 years, Olya is making fantastic progress, and her mother can see it. We are so pleased to see her rejoicing in her daughter's achievements. We used to reassure her that Olya would say her first words, and now she has. Olya plays well both independently and with other children. She is very observant and will copy adults and children. She even imitates us: opens her eyes wide, shows surprise, and helps lay the table for our tea time. Her mother is so much more affectionate, shows her daughter how to do things, and praises her frequently. Both mother and daughter are a great deal happier than when the started coming to the Club.
You can help us continue this important work into 2021. Remember it's Giving Tuesday, which means that the wonderful people at GlobalGiving will add a bonus to every donation made today!
Thank you so much.
Attachments: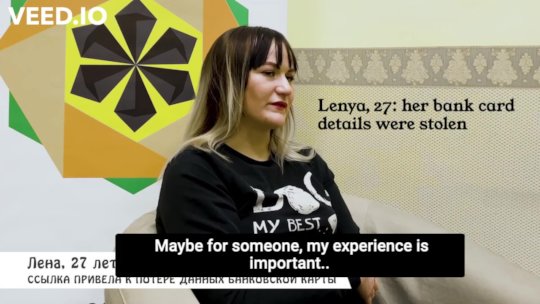 Our project is 10 years old and in that time we have helped more than 250 young people transition from children's homes to independent living.
And what a year our tenth year has been. It has been a huge challenge, but it has also confirmed our belief in our approach. Our orphanage-leavers need resilience more than hand outs. Yes, food parcels have been part of our response when group members were left without any income at all, but that cannot be all we offer. We have all had to be resourcesfull to get through this year, and we want our young people to have the skills and confidence they need to cope with whatever life throws at them. We are bursting with pride that even in the midst of such difficulties those who have been with us a while are still desperate to help others. They are our partners, mentoring the younger ones and supporting each other.
So, we wanted to share a short video with you (see link below). In it, some of our young people talk about what they think young people in children's homes need. It's impressive stuff.
None of us know what 2021 will bring. Even if the pandemic is beaten we will still need to cope with the pscyological and economic fall-out. If you would like to help those who have lost jobs find new ones, and to help them all rebuild relationships, please donate on Tuesday 1st December. On Giving Tuesday GlobalGiving will be adding a bonus to every donation, so your gift will go further.
Lastly, a big thank you to everyone who have helped us get to this point. Some of you have been with us for many of the last ten years. You have helped us develop from a little pilot project into a well-respected programme supported by children's homes and other institutions in our city. We could not have done it all without you.
Links:
WARNING: Javascript is currently disabled or is not available in your browser. GlobalGiving makes extensive use of Javascript and will not function properly with Javascript disabled.
Please enable Javascript
and refresh this page.