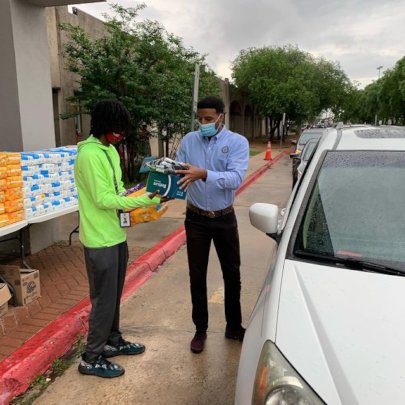 Throughout the COVID-19 pandemic, TXDB never closed its doors or turned away families seeking assistance. Instead, staff quickly adapted to the constantly changing situation while closely adhering to all CDC safety guidelines.
When store shelves were left bare at the height of panic buying, TXDB maintained constant contact with manufacturers and distributors. Through these connections, TXDB was able to procure enough supplies to meet growing local demand and the rise in requests for goods from the organization's 40 partner agencies. In addition to diapers, wipes, period products, and other healthcare items, TXDB procured limited quantities of cleaning supplies. These were distributed to low-income families, particularly those with small children and elderly at home.
Flexibility, adaptability, and creative solutions meant TXDB overcame obstacles thrown in its way. In 2020, TXDB provided unimpeded access to healthcare supplies for 75,000 individuals.
Just as families started to get back on their feet, Winter Storm Uri blasted Texas in February 2021, causing power and water outages statewide. TXDB immediately began delivering diapers, wipes, incontinence supplies, and period products to San Antonio warming centers. Additionally, TXDB hosted drive-through distributions of the items mentioned above and hygiene items such as soaps and shampoos, socks, blankets, along with adult and children's winter coats. Throughout the storm and its aftermath, TXDB impacted 12,450 individuals, distributing 128,000 diapers, 1,750 winter coats, and 600 hygiene kits.
Texas faces a lengthy recovery period from the COVID-19 pandemic and Winter Storm Uri. TXDB is dedicated to assisting families as they find their feet again. Families will need assistance in the months, and possibly years, ahead as they rebuild their lives.