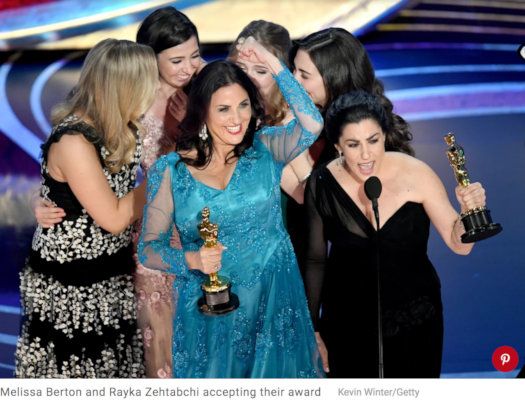 Dear Supporter of Women and Girls' Rights in Burkina Faso,
During the Oscars telecast this past Sunday, there was a great moment for girls and women around the planet when the director of the Oscar-winning documentary about menstruation said, "A period should end a sentence, not an education!"
In fact, the timing of this award couldn't be better, because today, February 28th @ 9am, begins GlobalGiving's Girl Fund Campaign. BARKA Foundation was one of the few organizations selected to participate in the 2019 Girl Fund Campaign, and we will use this amazing opportunity to raise financing for the next phase of our Menstrual Hygiene Management (MHM) program, which you helped to launch in 2017.

This new chapter of BARKA's MHM program officially began just last week. BARKA's 5 inspiring project leaders will sensitize 5000 people including girls, boys, teachers and parents at high schools in Fada N'Gourma. We are laying the groundwork to absolutely revolutionize the experience of menstruation for high school girls, making it possible to break the silence of this taboo subject, lifting the stigma associated with it, and providing resources at school such as MHM-adpated latrines in 2 schools this year to provide physical resources for girls to better manage their own menstrual hygiene.
THIS IS HOW WE CREATE EMPOWERMENT! THIS IS HOW WE ACHIEVE MENSTRUAL EQUITY!
YOU CAN JOIN US BY SUPPORTING THE 2019 GIRL FUND CAMPAIGN WITH A DONATION, NO MATTER HOW BIG OR SMALL...
The top four projects with the most unique donors at the end of the campaign will earn a spot in the Girl Fund and receive support for the next full year! We came really close to being one of the 4 winners in 2017 when our MHM project launched. This year, with your help, we know we can win!
We thank you for your support of girls and women's sexual health and rights in Burkina Faso.
Together we will make a difference!
Barka.