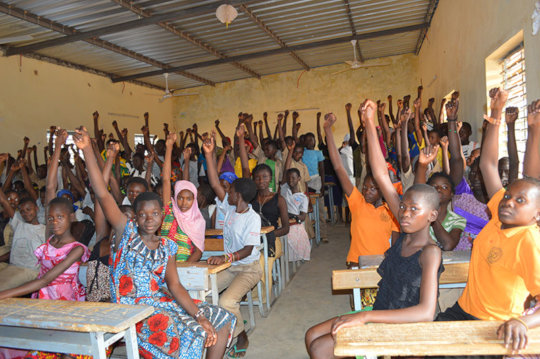 Dear Friend of BARKA Foundation,
Today is Giving Tuesday, and we'd like to take this opportunity to express our gratitude to you for your support of BARKA's Menstrual Hygiene Management project.
Together in 2019 we took great strides. Thanks to your support, we successfully expanded our sensitization program to reach an additional 4500 girls. In addition, at Fada's two largest high schools, BARKA constructed the first two "MHM cabins" in the eastern region (these are among the first in all of Burkina Faso), providing crucial resources for girls to address their menstrual needs with safety, privacy, security, and dignity.
This would not have been possible without our Global Giving Donor Community which has supported this project from the time it was conceived.
Our next step is to develop an even more comprehensive training program for girls AND women on issues of sexual and reproductive health and rights. Another key component of this new phase will be to implement Burkina Faso's first program ever to introduce menstrual cups to girls and women. Here's how you can be a part of it:
Today on Giving Tuesday (starting at midnight), Global Giving will be giving away $500,000 to the projects which receive the most donations, and Bonus Prizes to the projects which receive more than 20 donations today.
If you'd like to continue your support as we raise funds for the project's next phase, today would be a great day to make a donation! Our goal is to receive 20 donations to be eligible for a Bonus Prize! Please help us reach our goal.
Thank you for your support on all levels. We wish you a Happy Holiday season and blessings for the new year.