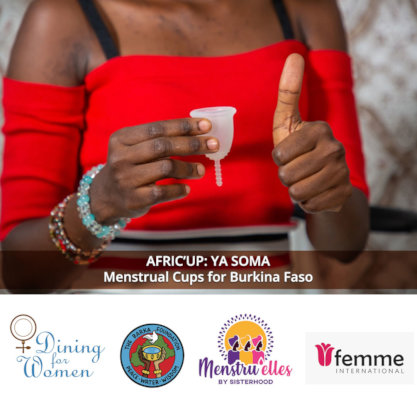 Dear Supporter of Girls and Women in Burkina Faso,
Happy new year. Thanks to all who supported BARKA's year end fundraising and new recurring donation campaigns.We couldn't do the important work we do without your generous support!
2021 is off to a strong start for BARKA Foundation. We received a $35,000 grant from Dining for Women for our new menstrual cup project, and expect to hear from another grantor in just a few days. This means that before the end of the first quarter, we expect to begin our project!
It's called Afric'up: Ya Soma. Afric'cup is a play on words: Africa, cups, and up, as in the increase of self-confidence that many women experience when they begin using the cup. Ya Soma is a popular expression in Burkina that means "it's good" or "cool".
We created a short film about the project that we're really proud of (link below). It's narrated by some of the women who will actually lead this project. Please check it out as you will meet the dynamic female leaders BARKA has the privilege to work with, get introduced to our amazing project partners, and also better understand how revolutionary and impactful this project is- we are making history (or herstory as the case may be).
We're excited to get started, and equally excited to have you with us on this journey. You help to make it possible.
PS- As BARKA's menstrual health program is now focusing on women as well as girls, we will update the GlobalGiving project description accordingly.
Links:
Dear Clean Water Supporter,
Greetings and happy new year! Special thanks to all who contributed to BARKA's year end, Giving Tuesday, and recurring donor campaigns. We would not have the impact we have for thousands of people in Burkina Faso without you!
2021 is going to be an exciting year for BARKA Foundation. Right now, we are raising funds with local rotary clubs around the US to reach a goal of almost $300,000. This will enable us to drill 20 wells in the eastern region, which is being extremely affected by the world's fastest growing jihadist insurgency. Threats and acts of terrorism have forced more than 1M people to flee their homes resulting in one of the world's largest humanitarian crises of Internally Displaced Persons (IDPs).
The people who are being displaced are overcrowding the city of Fada and putting even more pressure on a water infrastructure that was already inadequate even in the best of times. Therefore, BARKA will focus on increasing water access primarily in the city of Fada N'Gourma, where the terrorist threat is also much lower than in rural regions.
Fundraising will take some time. We hope to have all funds secured and begin implementation before the end of this year. We will keep you up to date. Meanwhile, we welcome your financial support of this important project which will directly benefit over 20,000 people.
Just like every drop leads to the ability to fill an entire bucket, so too does every dollar count and contribute to our overall goal. Thank you for your consideration. Barka!
Dear Supporters of BARKA Foundation,
Since we were last in touch, BARKA's staff on the ground has been working diligently to help our 9 rural village partners to combat the novel coronavirus. We've done this in a series of innovative methods including:
Massive handwashing sensitization
Distribution of locally-made soap (most often villagers do not use soap to wash hands because they can't afford it)
Distribution of locally-produced masks made from traditional cloth ("Faso dan Fani") made of cotton grown in Burkina Faso
You can read BARKA's press release about these actions and local news coverage in the links below.
Although BARKA was compelled to address the immediate concerns of COVID-19, we want you to know that we are currently developing and fundraising for the largest well-drilling project in our organization's history. This project is partnered with rotary clubs and The Rotary Foundation and will drill 20 wells in the areas of greatest need within the eastern region. With your help, BARKA will increase access to clean drinking water to more than 20,000 people.
GlobalGiving is offering a wonderful way to help support this new project today through Friday in its LittlexLittle campaign. Right now, and until midnight on Friday, 9/18, GlobalGiving will make a 50% match for ALL donations up to $50. You give $50, and GlovalGiving will put in $25.
Every drop of water is precious, and every donation helps us to reach our ambitious goals.
Thank you for being part of the BARKA family that is having such an outsized impact in Burkina Faso. Together, we are changing the world.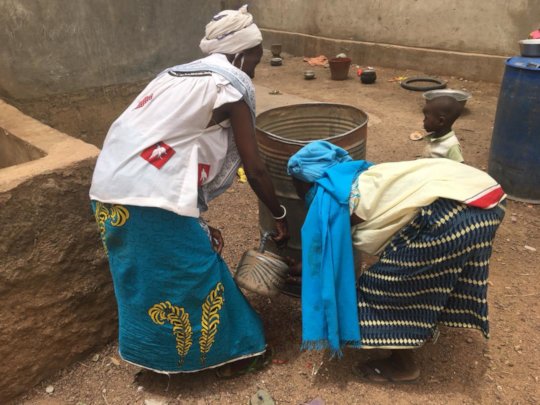 Links:
WARNING: Javascript is currently disabled or is not available in your browser. GlobalGiving makes extensive use of Javascript and will not function properly with Javascript disabled.
Please enable Javascript
and refresh this page.