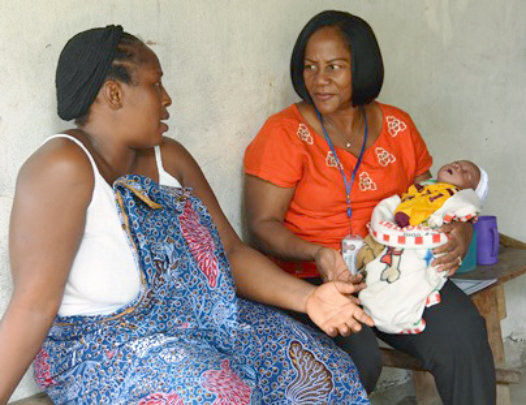 "I live in Voinjama, Lofa County. I am a professional nurse. I came in contact with the Ebola Virus Disease (EVD) in July 2014 when my husband came home from work one day feeling sick. He showed some symptoms of Malaria."
This is the account of a 40-year old woman named (M.K.D.)
She and others are being identified by their initials in order to protect their identities.
M.K.D.'s source of transmission is not unique to her alone. At least two other female survivors, including 43 year old B.T. and 37 year old B.K., have similar source, too.
M.K.D., a professional nurse, took her husband to the hospital and had his lab tests done. He was given treatment for Malaria and Typhoid. But M.K.D's husband's condition did not improve.
"I started getting worried. I asked him if he had come in contact with anyone, who had Ebola. He denied. After the treatment at the hospital, his condition did not improve. He got so weak. I decided to hang a bag of IV solution on him so that he would gain some energy," she said. "In the process of starting the IV line, his blood flashed all over my arm. I washed it with soap and chlorine solution after I had com-pleted hanging the drip. That is how I got infected with the Ebola virus."
Sadly, her husband died two days later at the Foya Ebola Treatment Unit (ETU). After his death, M.K.D. became sick and was diagnosed with Ebola. "I survived because I reported myself early to the ETU", she said.
Unlike the other two survi-vors, 37-year old (B.K.), from the New Georgia Community in Monrovia, was two-months pregnant when she contracted the virus from her late husband. At least three of her seven children, also got the virus from their father. She and her children survived the disease. They were released from the ETU with certificates on September 30, 2014.
B.K. later gave birth to her eighth child (a boy) on May 12, 2015, at the St. Joseph's Catholic Hospital in Monrovia. "I am happy that my baby and I survived the bad sickness", she said.
B.K. like 43-year-old B.T., face common challenges of nearly all the female survivors. Their landlords have asked them to leave their rented houses. House owners ignorantly fear that as survivors, they could likely spread the disease further to others in their homes.
With no husbands to put bread on the table, and no financial security, they are worried that they and their children would be thrown out into the streets.
As for B.T., she has 12 children for which to care for. Six of the kids are her own biological children while four are from a mate. The other two are children of a relative.