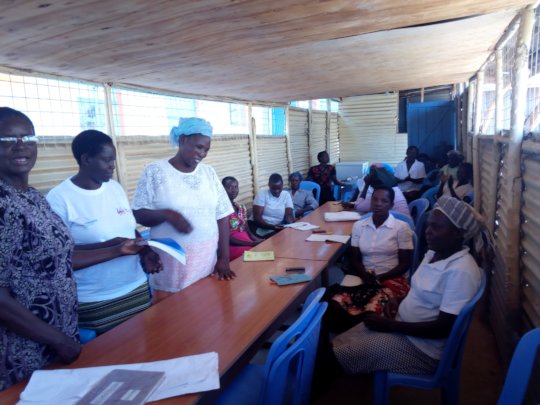 Empowerment Training Report for Group D
(Nyikadika Women Group)
Dates of Training: 9th to 12th April, 2018
Location and Group Name: Nyikadika Women Group
Lead Facilitator: Millicent Adhiambo Joash
Support Person: Marion Olang'
Number of attendees: 27
Total Expenses: 908.2 USD
1.0 INTRODUCTION
This is a report of the training that we conducted at Migori for disenfranchised women on the 9th to 12th April, 2018 for a period of four days. The members of this group also got recruited as a result of seeing the outcomes on the previous participants and their groups. They got interested and approached us to train them. This request was brought to us as early as December 2017 but due to so many of such requests, we could only book them for a training in the month of April, 2018. We also do a lot of assessment before accepting to conduct such a workshop to a group. We must assess the need and the seriousness of the group. They mobilized 30 participants but only 27 women turned up and managed to attend the empowerment workshop consistently for the four days.
This group was very grateful after the training and they are now out there working towards their new conceived visions. They have taken a totally different path from the previous one they used to follow. They realised that they have been using a pathological approach to issues. they have chosen to focus on possibilities in both their individual and communal endeavours. They were very grateful for the workshop as it opened their eyes.
2.0 TARGET GROUP
This training focused on the disenfranchised women drawn from across Wuoth ogik village of Suna West constituency.
3.0 TRAINING OBJECTIVES
These were two-fold:
To examine the peculiar reasons for the women's disenfranchisement;
To take the said women through the empowerment training model with the aim of helping the overcome their growing edges.
4.0 THE PROCESS
This entailed taking the participants over the seven life areas as prescribed by the empowerment methodology. The entire model was packaged as follows:
Day 1: Personal Growth Foundation
Day 2: Personal power, Emotions and Relationships
Day 3: Sexuality and the Body
Day 4: Money, work and Spirituality
5.0 CHALLENGES
Two women could only listen to Dholuo and there were also three who couldn't get dholuo. I had to use the Kiswahili and Dholuo interchangeably in order to reach out to all the participants a like.
Some of the women had commitments elsewhere as it is not possible to really get time that is convenient to everyone invited. We therefore could not get everyone invited on board. We ended up with 23 participants out of the 30 invited.
6.0 ACHIEVEMENTS
Sustaining 27 disenfranchised women, who work for daily wages to put food on the table, to attend a workshop continuously for four days is worth celebrating. This level o commitment meant that the women really trusted the facilitators and the process as well.
Managing to use two different languages at the same time was a real achievement. It was an experience of its own kind.
When the wellbeing survey form was administered, each of them had a chance to look at their lives and evaluate it on the scale that was provided. Most of the participants were doing this for the first time in their lives. They had never taken a break anytime to really look at where and how they were doing in their general lives. This activity served to awaken them to the reality of their lives and they were very happy to learn this in good time. They approached the workshop with enthusiasm wanting to learn how they can correct areas that needed correction and see themselves moving up the ladder.
Each of the women developed vision in different areas of life. As they work in the areas they committed to work on we expect to see a happier, healthier and energized group of women.
The women were introduced and helped to start table banking as an activity. This is to help them implement some of the learnings done concerning money and work.
Women were also trained on how to make liquid soap. Some of them decided that they are taking up the liquid soap making as a business where they make it for sale. Such women now have something to celebrate because their business is doing well.
7.0 CONCLUSION
The training was successful because it met the objectives that had been set. We thank 100MHL for making this possible.
8.0 RECOMMENDATIONS
The participants need to be followed up in order to assess their respective growths over time. The assessment tools include wellbeing survey forms, among others.
Peer support and consultation is highly encouraged in order to sustain the application of the knowledge imparted and the skills given. The table banking activity introduced in the group could provide the motivation for the support group to keep meeting as we aspire to achieve optimum personal growth.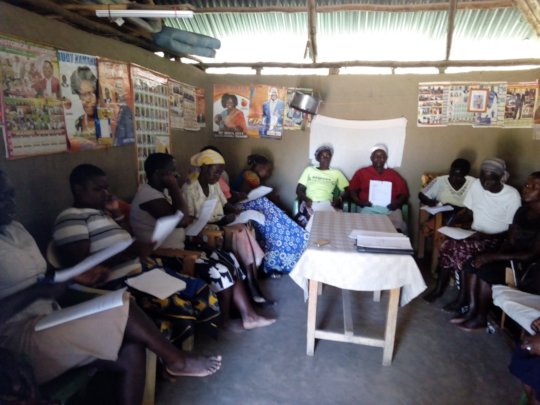 Attachments: