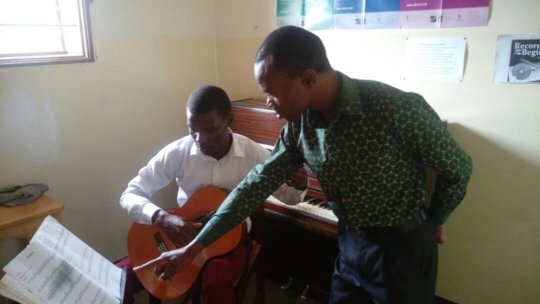 Thank you to everyone who has supported our appeal. Through your generosity we have been able to consider a number of students to be supported for the scheme, and they were able to start lessons in September. We would like to give you an update on several of the students we introduced you to in our last report.
Edison
Edison hails from Seeta, Mukono. He is dedicated and self-driven and has shown great potential of being a good Pianist. He has encountered some personal and logistical issues with lesson attendance and practice, but is working to improve these. He is working on building up his base technique to a level that will enable him to attempt Grade 4 ABRSM Practical exams next year, 2018 and Theory Grade 5 with the objective of doing the latter exam in October of 2018.
Despite having challenges with transport for lessons and also to come into practice because of other life commitments, he is committed to trying to get regular practice. He has a keyboard at home, but power has meant he has struggled to be regular with practice. Despite the challenges, his teacher is encouraged by his progress.
Edison would like to extend his heartfelt thanks and appreciation to all those who have sponsored his lessons through Kampala Music School, giving him the opportunity of receiving a music study bursary to enhance his music career and transform the community through music. He said:
"I pledge that as God is my guide, I will make use of this special privilege to enable me and the music school achieve the individual and institutional goals and objectives even to higher grounds."
Kristen
Kristen is a 13 year old Ugandan girl, third born in a family of 4 and is currently in grade 8 at Bethel School. She hasn't had as many lessons as hoped, as her regular school schedule makes it difficult. However, she and the family are looking to ways to adjust this so she can attend more regularly. She is working on perfecting her gestures of playing and sitting postures and has been working given exercises by her teacher.
She is really really keen and always wants to play her pieces very quickly due to excitement but is currently working on improving her patience to learn things correctly. Also, with more time during her holidays, she can have more lessons to catch up.
She said: "I would like to thank my sponsors for choosing me and I know that I can benefit from this programme because I love to play."
John Paul
John Paul, aged 24 years, lives in Makerere, Kikoni in Kampala. His lessons are going really well and he recently sat for his ABRSM Theory Grade 5 exam in October 2017 and scored 84/100, a Merit and is currently working towards, ABRSM Grade 6 Practical Exams due in May-June 2018. He has started working on 2 pieces and perfecting his first piece specifically in speed and fingering. He has also looked at and worked on 14 scales on his own while consulting his teacher with 14 scales so far. The areas that need perfection/improvement are sight reading and emphasis is now being put on improving this.
As John Paul has decided to make music his profession he has started experimenting with other instruments to round up his experience. He hopes to become proficient in these as well, and learns from fellow students as much as he can, often spending the whole day at the music school, even though that may mean he will go without lunch.
He said: "My ultimate goal is to learn as much about music generally as the more I cover more grades and my ultimate goal is to study and attain a Degree of Music from the Royal College of Music"
"I thank my sponsors for being generous and sacrificing part of what they have for my education and my fellow Bursary students. I promise not to let them down and to work hard beyond their expectations. I also promise to give back freely at some point of my life. May God Bless you abundantly."
As you can see, they all remain keen to learn, and to try and overcome some of the many challenges they are experiencing. Thank you for your continued support to Kampala Music School – the centre of excellence in Uganda for classical and jazz music