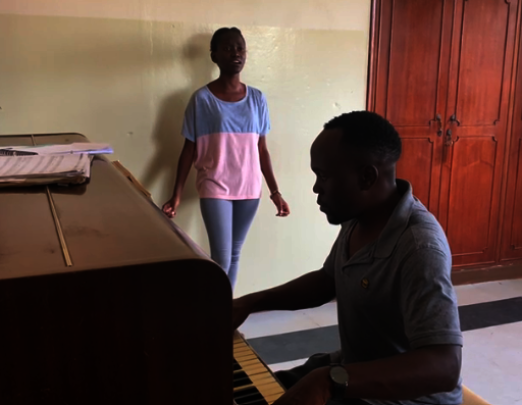 Kampala Music School was finally able to reopen on the 5th of January and this brought much joy. The staff were happy to be working at least some more of the time in the office. COVID-19 SOPs bring a different flavour to it all with some of the school not able to be used for lessons due to social distancing requirements.
"I cannot wait for us to reopen and start learning again. I have not been able to play on a real piano in this period" Benjamin, one of the bursary students, had been quoted as saying.
About 100 students out of the 400 we had previously, have returned to learning with 70 of these on-site. Teachers are now able to do some ensemble work with their students, something almost impossible to do on the online forums. The pandemic still ongoing and it will be a little while before Kampala Music School will be fully functional as before.
Lessons now happen both online for those that can manage it and now on site. Capacity is still low and some students are still worried about coming on-site and don't have the capability of studying remotely. However, those studying, are really enjoying the experience of live music-making again. Some of the ensembles have even started to meet again, in restricted numbers but great to make music together again.
For the administrative staff, "we had forgotten what it feels like to work, surrounded by the sounds of music. This is so much better, I feel like I'm working in a music school again."
COVID 19 had some unintended consequences like a sharp increase in travel costs by public means which has created a block for some of the bursary students, and with our restrictions in funding at the moment, we are not able to immediately assist.
Outreach schools are still not open and this is affecting the learning of our students out there as access to lessons is still problematic as we try and work to get solutions to this.
The future, though, for the first time in months, has a bit of a positive outlook about it, but we continue to pray and also thank you all for your support thus far and hope that you continue to walk this journey. More is needed to get back to teaching levels as before and to reach more students, and continue to develop talents, and change lives.