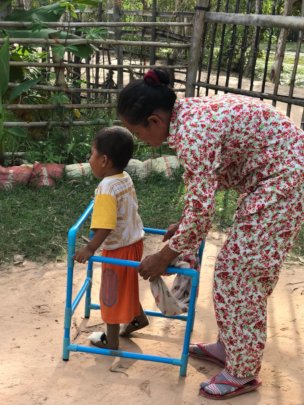 Hi
We hope this email finds you well. This is just a short note to tell you more about the sort of work that your support of our ABLE GlobalGiving campaign makes happen.
Your money is helping children with disabilities and chronic health issues grow up in loving families. We partner with these families to learn about what they can do to care for these children. The needs of children with disabilities and chronic health issues who are being supported through the ABLE Project are diverse. They require a broad array of therapy and medical services. Through it all, home-based therapy support with family education to equip caregivers to care for the children has been the foundation of the ABLE Project. These two areas continue to be a key component of our work.
The generous contributions we have received through GlobalGiving are helping to provide salaries and resources for our dedicated staff who provide regular therapy visits to children with delayed motor development. Through play-focused developmental exercises and activities, children are able to achieve new developmental milestones. Of the 47 children served by the ABLE Project there are currently 10 children who have significant neurologically based motor delays due to conditions such as cerebral palsy. Through consistent therapeutic intervention, along with family follow-through, children with significant developmental delays have been making great gains.
One little boy had been unable to pull himself up to stand at the age of three. Now at age five and a half, with help from leg braces and a walker created by our staff from PVC pipe, he is walking independently and beaming from ear to ear about it. Another little boy was not able to move himself at all, when we first received him into care at age five. He had had no therapeutic intervention up until that point and could not even roll by himself. Now, just over a year later, he is able to control his body enough to sit up without support! He is very interested in what is going on around him, taking advantage of the view from his new vantage point.
Every child's development is unique, but almost all children have the capacity to make functional gains given the right assistance. This means they can be more active members of their family and in community life and it can also help to make it easier on those caring for them.
An article in a local Cambodian newspaper highlights the current challenges for the physical therapy profession in Cambodia. According to the president of the Cambodian Physical Therapy Association, Cambodia currently has one physiotherapist for every 10,000 people, while countries like Singapore or Japan have one per 1,000. The ABLE Project is extremely fortunate to have a capable physiotherapist at the helm who provides direct client care. Srey Ny (link) also trains and equips our three community rehabilitation team members in providing therapeutic care under her supervision, extending our capacity to meet the therapy needs of the children in CIF's care.
The funds from the GlobalGiving campaign are also going towards finding another physiotherapist for the team. You can see our advertisement here. We look forward to being able to introduce you to our new team member soon.
Thank you again for your generosity and your support to help children with disabilities in Cambodia, grow up in loving families, where they belong
Yours faithfully
Lisa and the rest of the ABLE team