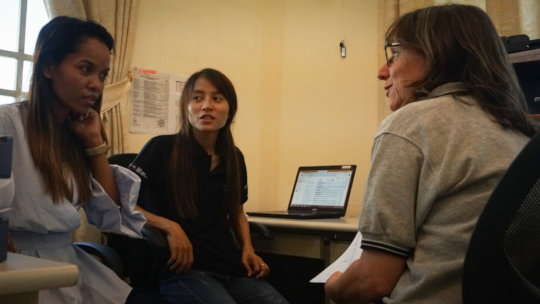 The ABLE team would like to take a moment to say a special thanks for your continued support and update you on the progress of our team and families over these last few months.
An Expanding Team
To expand on our previous report, our team has welcomed an additional physiotherapist, Chet, and she has been a perfect addition to the team. She is busy already supporting families with medical appointments, in home therapy sessions, and providing additional coaching to our provincial staff around physical therapy interventions.
We are also happy to welcome Bridget to the team! She is an educational psychologist who will spend the rest of the year volunteering with our team to research, prepare and provide training regarding behavior management skills to our staff and families. Her experience in autism is especially valuable to our team as we seek to provide comprehensive supports to children with autism at school, home, and in the community.
Expanding Services
As the ABLE team expands in both expertise and staffing we look to increase the frequency and quality of our services. Previously our project manager, SreyNy Sorn, was wearing many hats as project coordinator and lead physiotherapist. As the team expands we are excited to free up time to increase staff training, home visits, and program development. We look to expand services not only to the families supported by ABLE but also to partner organizations. As staff numbers have increased, we have been able to provide consultation and training to two partner organizations around feeding, nutrition, adaptive education, and community inclusiveness. We look forward to expanding these partnerships so that many more children and families can receive the support they need to grow and thrive.
Expanding Confidence and Independence
For one young boy a supportive home environment has made all the difference in his confidence and independence at home and in the community. Before entering the project, he struggled to walk short distances without having breathing difficulties due to his chronic health issues. ABLE is happy to report that with family support, continued training, medical management, and home adaptation he is now running and playing with his sister around the family home. He loves to walk around the community with his family and welcome his sister home from school.
ABLE is happy to see that as our team expands, our expertise increases. It effects real life change in the families that we serve. ABLE has become convinced that children belong in families, and with the right support they can grow and thrive as valuable members of their communities.