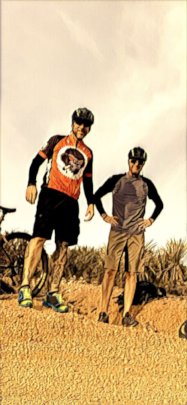 Pedaling against poaching has been pushing hard to raise awareness about the current illicit wild life trade issues around the world.
My personal miles year to date 3602 as of 9-1-19, and the Pedaling Against Poaching Strava club has a cumulative mileage total of a whopping 138,580 miles and growing!
I am happy to report that I am now officially partnered with
helpingrhinos.org
and we are going to work together to grow our presence here in the US!
This means that we will have more horsepower to spread the word, and more importantly support, and foster the relationships with the most incredible organizations in South Africa.
Other great news: The Pedaling Against Poaching on line store is now up and running. All sales through my site will become a donation through this GlobalGiving site!
New T-Shirt designs are in the works and will be posted very soon.
Stay tuned for more updates!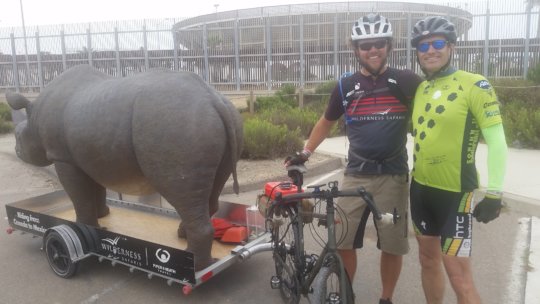 Greetings all,
Thanks to you, we continue to help people across Southern California learn that they can help rhino conservation by helping to reduce the consumption of rhino horn here in the US. We have given over a half-dozen presentations around SoCal to school groups, public presentations, and teacher groups over the last few months. We emphasize that we in the US are likely the third largest consumer of rhino horn in the world, behind only China and Vietnam.
Americans must continue to speak out against the consumption of rhino horn – and elephant tusks, tiger parts, pangolin scales, totoaba fish swim bladders, and other animal parts – as part of Traditional Asian Medicine (TAM) and related consumption practices. The animal parts component of TAM has led to the extinction and rapid depletion of many species, including all five rhino species.
To this end, we are going to take this show on the road to get this message out across the entire country! In early 2020, we are planning to tow a life-sized rhino model on a wheeled platform across the country and use it as part of a series of school assembly presentations. We will continue to encourage the teachers to adopt and frequently use our Rhinocation education curriculum as a tie-in to the assembly presentations.
We are confident, based on our searching of the research literature, that this will be a great way to get the message out broadly.
Stay tuned as we develop this over the next few months!
Yours in Rhinocation,
James
We are excited to be able to expand this project even more than it was already! We have hired a really skilled, creative, and innovative conservation educator who has been involved at the highest levels of these kinds of campaigns!
Ms. Pletcher will be working with Helping Rhinos USA to expand this project in fall of 2019, and will be amazing. She has already started reaching out to teachers and principals across San Diego, Orance, LA, and Riverside counties to try to visit as many as 20 additional schools this fall.
These counties are where the majority of possible rhino horn consumers live, and where the majority of the confiscations of smuggled rhino horn have occurred. The children in these communities are already advocates for conservation. Our rhinocation efforts will build their abilities and knowledge to be passionate advocates for rhino conservation!
Welcome to the Rhinocation Team Ms. Pletcher!
WARNING: Javascript is currently disabled or is not available in your browser. GlobalGiving makes extensive use of Javascript and will not function properly with Javascript disabled.
Please enable Javascript
and refresh this page.