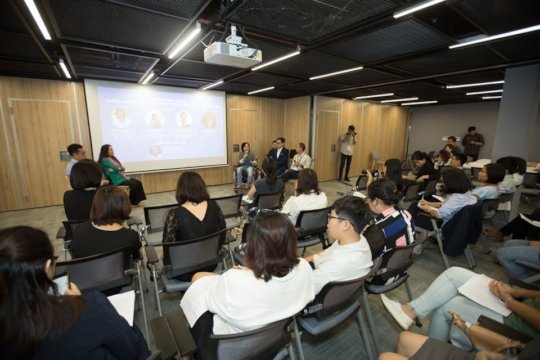 Dear friends,
We hope 2020 is off to a great start for you!
LIN Center ended 2019 on a high note with many memorable activities and impact that we are very excited to share with you.
On November 21st, we successfully organized our Cross-Sector Partnership Workshop, "Transformation of Community Development in Vietnam."
The event welcomed more than 60 attendees, ranging from leaders in business, non-profit, and media organizations. The event's success exceeded our expectations. It once again confirmed our strong belief in the importance of each individual's role in creating long-lasting impact in our communities - socially, economically, and environmentally. The sharing session led to energetic interaction between attendees, especially the in-depth exchange with each speaker, which was positively received by all.
One partnership forged from this workshop between SAITEX and Hear Us Now. SAITEX has just hired new deaf employees, and look to Hear Us Now to provide language, writing, and IT skills training to grow its company. Hear Us Now is a non-profit partner of LIN Center, and a great fit to support this project. We also shared that SAITEX was invited to Blanc, a restaurant in District 1 of Saigon that only employes deaf or hard of hearing individuals, another beneficiary of the Hear Us Now project.
"It was beautiful to see them successfully working and being integrated into their environment. The two team members introduced us to their projects and gave us more background on the issue of deaf people in Vietnam and their struggles. They were delighted to hear about SAITEX 's work and gave us several tips. They also shared with us the dictionary that they developed, currently the most detailed in Vietnam. The team at SAITEX is now using it to make posters that will benefit deaf people and those working with them at SAITEX.", Ms. Virginia of SAITEX told us.
On December 27th, LIN Center organized Mandala Night & NPO Networking 2019: "A Journey for All: SPRING STATION." Through this event, we expressed appreciation to our non-profit partners, volunteers, and supporters, who have accompanied us on the journey to building a stronger community in Vietnam.
"The "SPRING STATION" event marks ten years of LIN Center's presence with the mission of connecting and promoting community philanthropy in Vietnam. The very first event was organized with 20 participants. After ten years, LIN was very pleased to welcome 120 people to meet, connect, and share last night. In 2019, a positive highlight of the non-profit community is the participation of young people in social activities.
Vietnamese and foreign enterprises have also actively participated in activities that bring about long-term social impacts through CSR - CSV program, which has led to the change of many organizations in the development of more sustainable mission and operations.
Being aware of the rapid changes in the world and Vietnam, the non-profit community also adopts new tools. Many organizations have taken advantage of the latest social media network, applied crowd fundraising platforms, and design thinking approach, PRA, business model canvas to the design its operations, etc.
Hopefully, in 2020, the non-profits and individual and organizational philanthropists will have a wonderful year of connecting and building an increasingly kind and prosperous community." Excerpted from the message from Mr. Son - LIN Director of NPO Partnerships.
Thank you again for your support and partnership throughout 2019. We couldn't have gone this far without your generous support and donations. On behalf of the LIN team, may I wish your 2020 will be a meaningful and successful year! We will be in touch with more updates in our next report. If you love what we are doing, please consider continuing to support us on GlobalGiving at https://www.GlobalGiving.org/projects/journeyofaphilanthropist/ or help us spread our messages.
Sincerely,
Kelly Vo, Head of Corporate Partnerships & Fundraising
Links: