Our Project Train 100 girls its important to note that the the teen mothers have shown consistence and keenness in the learning process and work so far.
The instructor has also highlighted there are at times she has allowed them to offer some services to customers directly to monitor their learning progress which has brought forth promising results. Their self-esteem, self-awareness and confidence has improved impeccably in the long ran. In addition, they have improved their communications skills and expertise in hairdressing. One of the teen mothers said "I have become so good in cornrows braiding skill, these is just enough for me to supply to the local hair salons and beauty shops and earn a living for myself and my child".
One of the teen mothers however went for a maternity leave and she developed complications during delivery and had to undergo caesarean section. She gave birth to a baby boy who in 1 months' time develop hydrocephalus and unfortunately the infant died after being referred to several hospitals and the condition couldn't be treated.
Indeed the 100girls program is working and bringing hope to teenage mothers.
We require your donations especially as we go into the festive season so that we can best plan fo 2020 as we plan to enroll new teenage mothers in the programme.
Dear Friend
Thank you for your support this 2019.The girls this year have worked hard to learn skills and have improvised.We still require supplies for our skills project . Please pick an equipment and donate towards it.We require your support. Please help us purchase supplies.
Majority of the teenage mothers joined the training with no experience in this field and only of the them had a talent in braiding but had no professional training on hair dressing. At the orientation sessions the young women had very low self esteem and lacked confidence and self-awareness. There was need to enhance their self esteem and confidence within themselves by encouraging group discussions to share their experiences and challenges as teen mothers.
The training session begins at 9am to 5pm from Monday to Saturday and the hairdressing skills to learn include
Customer care
Etiquette
Service pricing
Wash and set
Weaving
Dread locks
Cornrows braiding
Plaiting
Hair Treatment and Retouch
The following equipment is very important and are ugently required in impoving the impact of our work.

3 Hairdryers - $700.00
IT Equipment - $2,00.000 (2 Desktops, 1 Laptop, 2 Printers, 1 Scanner, 2 Cameras, and 1 Cellular Phone)
1 Big Cooker - $700.00
1 Big Fridge - $600.00
5 Tailoring Machines - $1,650.00
5 Blow Dryers - $200.00
1 Big Washing Machine - $1,200.00
10 Dummies - $300.00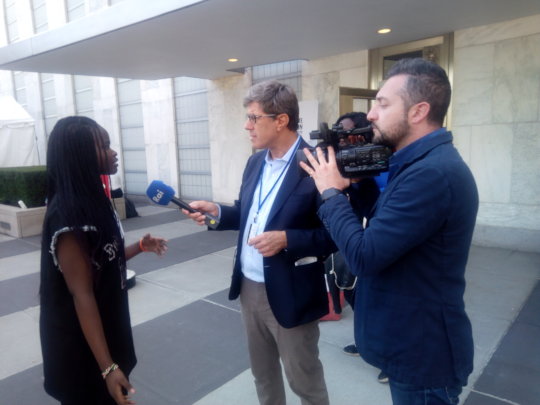 This September Our organisation was represented in the first ever climate change by young Neema Neema uses the arts to speak and advocate for actions to mitigate climate change and she did her piece with the title :Let My Tears speak If Only They could Create an Ocean" .
She represented CFG, Her peers , Kenya and Africa at the summit and intends to forge efforts to plant trees and flowers in Kajiado and many other counties of Kenya.
Shantel Has been able to mobilise her peers and they are planning to be hosting fundraisers to raise money to purchase trees that will be distributed to schools , churches , homes, for planting.
Support our project by Donating this will also help further our cause as we support the ideas of the young people.
DONATE!
( I Have the permission of the parents and Neema herself to write the report and post the photos)
WARNING: Javascript is currently disabled or is not available in your browser. GlobalGiving makes extensive use of Javascript and will not function properly with Javascript disabled.
Please enable Javascript
and refresh this page.