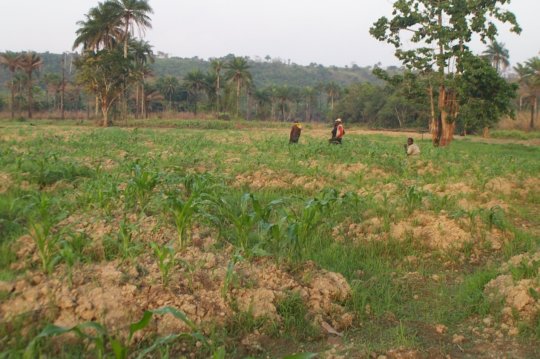 High crop yield, Kapri Turay visits project area.
Your donations facilitated us to buy seeds, fertilizers and other tools to harvest 60-80% higher crop yield on the 10 Hectares maize area. Recently, in february 2017, Kapri Turay visited the rural families: They showed their gratitude, because they harvested more staple foods and so are able to generate a higher income through the project. All "Seeds loans" have been repaid and an exhanced group of 50 farmers have already begun next seasons project, in march 2017.
On the way to 100 Farmers, help wanted!
Since we started in June 2016, lots of work has been done; the first harvest, project expansion to 25 ha and interest from the Siera Leonean government. Further growth is difficult without reinforcement of people who help us volunteering with newsletters, communication, campaigns, manage new website, finance, and more... Interested? Mail us: info@seedsforgrowth.nl
Seeds promotion on Radio Apeldoorn.
Saturday morning, June 17th, the local Radio station "RTV Apeldoorn" showed interest in Seeds for Growth ambition to expand to 500 farmers by the year 2020.
Radio presenter Gert Mulder interviewed Ben Bolland, chairman of SFG about the reasons to start the foundation, our ambitions and the newly started funding campaign.
RTV Apeldoorn is the local Radio and TV broadcasting organi-zation for the municipality of Apeldoorn, a city in the centre of the Netherlands with about 170,000 inhabitants.
Update funding campaign per June 21st, 2017
We are very grateful to all of you, our donors: Thank you for giving, and sharing our cause, you made our small fund grow USD 2500 within the first 9 days!
We hope this progress will continue in the next 8 days until the closing of the campaign on June 30th.
Thank you for supporting this initiative
Ben Bolland & Kapri Turay
Sharing this email and attachement will be highly appreciated!
Attachments: