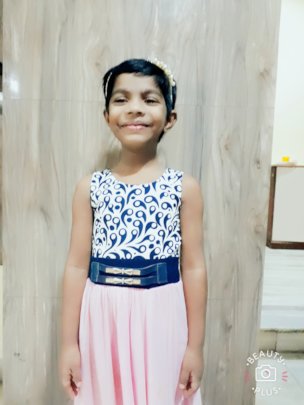 SUCCESS STORY OF SHRAVANI
The baby girl, Shravani 6 years old , was born in Raigarh District of Maharashtra.Her parents were HIV and she lost both of them at an early stage. After death of parents the grand mother tried to take care of both Shravani as well as her elder sister [ HIV child].
Some of close relatives suggested her grand mother to search for orphanage as she was unable to do their works. Both sisters were brought to DESIRE Society care home . She and her sister were admitted two years back. In absence of proper diet and medication they were suffering with opportunistic infections. Her elder sister expired after getting admitted with us. Shravani with a lot of care survived and is gaining weight.
Her health status has improved with proper diet and medication in time.She accommodates with other inmates in care home.She being a quick learner is trained to fight against odds of this disease at such a small age.
The diet and medication in time is monitored every day.She is cooperative in terms of food intake and ART drug adherence. She has improved upon health grounds and taken up for private schooling[ admitted in senior KG grade] this year. It is English medium school and she likes to study there.She is pet of all her teachers in school.She want to become a teacher.
Hope to fulfill her dreams with help of Global Giving contributors. We wish DESIRE as a family to have access to basic core needs of such children in future too.
SUCCESS STORY OF BABYANJALI[ anonymous name selected in place of correct name]
Baby Anjali[ real name not disclosed] , belongs to a socio-economically poor back ground family. Her both parents used to work as agriculture laborers. She lost both the parents due to HIV/AIDS. After death of parents, her uncle started caring baby Anjali. Later, one day he took baby Anjali for HIV screening, but unfortunately it was found that the baby is HIV+.
Her Uncle was unable to give extra care because of her health care which he felt expensive and very attentive. Hence, he started searching for her shelter facility outside the home.The DESIRE Society Hyderabad outreach worker came in contact with them. Thus, the baby got admitted at DESIRE Society.
At the time of admission, she was physically and mentally very week. After admission in care home , the nutritious diet was maintained strictly while focusing on treating her infections by our medical team.The CD4 count got increased drastically after few months. The surprised and positive results of baby's health growth has encouraged our team and her uncle's family too.
The physical and health status improvement shows way for her progression. She is noticed well-disciplined among all the inmates. Right now, she is studying at"in campus" schooling within care home facility. But focus is to get her entered into the quality and formal schooling in the community along with other inmates. The RIGHT TO EDUCATION is path adapted for her and it will impact her future course of leading life pattern like any other normal child in community. Hoping that helping hand from " GLOBALGIVING " community can help DESIRE Society raising this baby to realize of her dream of becoming a TEACHER in the community.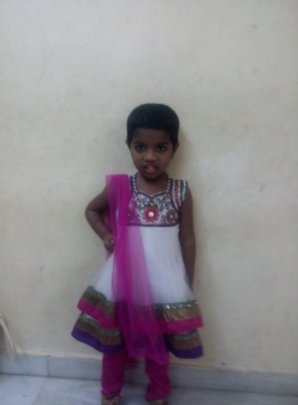 BABY SHRAVANI
Baby Shravaniis 6years old and her family belongs to Raigad District in Maharashtra, India. Her father used to work as a peon in a commercial factory. When her father found himself being a HIV positive patient, he did not disclose his status to anyone except his wife.His wife was already pregnant by that time and later tested to be HIV positive.
Due to fear of discrimination from the community, Shravani's father made his wife also not to disclose their status to anyone in the village.This fear has made him to get delivery of his wife at village home itself.
The ignorance and fear of this dreadful disease made him not to take advantage of medical care available in Government Hospital. It is referred to as "prevention of mother to child transmission of HIV disease". Thus, the implication arose for being the child, Shravani, to be born with HIV infection.
After demise of her parents there was no one to take the responsibility of the child. It was not just loss of parent but Shravani's health condition was also completely neglected. The villagers with gap of 2-3 months use to get medicines for Shravani from Mumbai City at Sion Government Hospital. Shravani developed skin disease all over her body due to poor health as well as lack of nutrition facilities.
One of villagers came to know about DESIRE Society at Government hospital. They came with this reference to us. The child was in malnutrition condition.After admission at DESIRE Society, our team gave her special attention towards treatment of opportunistic infections and highnutritious diet in her food schedule. Within 3 months span she had recovered well with lot of special" love and care" rendered by team DESIRE.
Now baby Shravani is very pretty and cheerful girl among all the inmates. She is admitted in " Sr.K.G. at Maharashtra English medium School" at Goregaon (W) close to our care home.She wants to study well and become a teacher. DESIRE Society would strive to keep the dream of baby come true through contributions and support from GLOBAL GIVING that we hope to receive.
WARNING: Javascript is currently disabled or is not available in your browser. GlobalGiving makes extensive use of Javascript and will not function properly with Javascript disabled.
Please enable Javascript
and refresh this page.