Thanks to all of our donors, The Chelly Foundation is expanding its reach in providing more scholarships to young women this year. The promise we made to our GlobalGiving donors was that we would fund two scholarships for young women in the 2017-2018 school year, and two in the 2018-2019 school year. Last year, we exceeded our goals by providing three scholarships to young women, and this year we intend to match that number!
While we await the results of this year's National exam for 12th graders (coming out around September 10), we can report that one young woman in particular has impressed us during the past year: her name is Jakkrya (pictures below including with her family). Jakkrya comes from a family in poverty. She is without a father, and her mom works long hours as a farmer to make ends meet. Jakkrya does very well in English in school, and wishes to be either a teacher or even a banker (if she gets to go to university). Earlier this Summer, Jakkrya inteviewed for a place at the Harpswell school in Phnom Penh, and she is the only girl from Chumkuri District who passed the first round interview and exam. Whether or not she receives an invite to attend Harpswell, The Chelly Foundation will provide her with a full scholarship to university in Phnom Penh starting this Fall.
When the National Exam test results come back, we will invite at least two more young women to become Chelly Scholars.
In addition to pictures of Jakkrya, abve is a picture of some of our existng group of Chelly Scholars, taken on a day that they returned to their local high school in Chumkuri to help with a special celebration at their school sponsored by our Foundation. Every Chelly Scholar pledges to do their best in school and to be a role model for younger children currently in school in Chumkuri. We are proud of every Chelly Scholar for being such shining lights and we know they will continue to inspire.....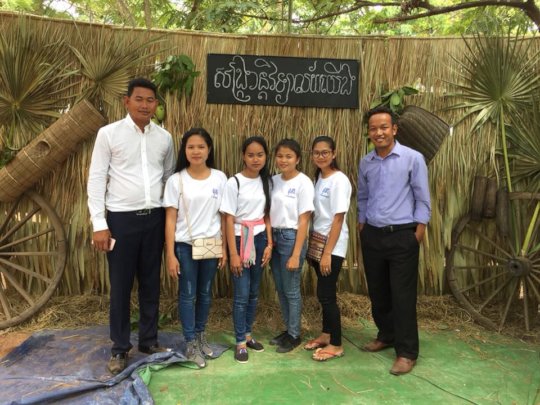 In March 2018 I was privileged to make a second trip to Chumkuri in Cambodia, including getting to spend time with all of our Chelly Scholars. Please see my "Letter from Cambodia" at The Chelly Foundation's main web page, www.thechellyfoundation.org
As promised, we all took a trip to Sihanhoukville, as a weekend holiday away from studying. Everyone at a terrific time at the beach, and simply hanging out.
Our 10 Chelly Scholars all signed a pledge in 2018 to attempt to to their best academically, as well as to be role models for younger siblings and cousins. They are all doing just that, including occasionally making the near 3 hour one-way trip back to the village to participate in Chelly Foundation activities.
We have arranged for the first time that a new group of 5 high school girls with strong leadership schools also apply for a Harpswell scholarship...a highly selective program that only takes the best and brightest young minds each year from around Cambodia to have an immersive experience at university in Phnom Penh. I will report back next time if any of our interviewees were successful in getting in, but we have a Plan B in place for some or all of these girls should Harpswell prove too selective. This will include ensuring that funds from GlobalGiving support at least two newly picked Chelly scholars in the Fall of 2018.
We promised to add a minimum or two more scholarships this Fall from contributions from GlobalGiving, and remain on track to do just that. But it is our goal to give out a total of at least 4 new four-year scholarships to selected young women from the two local high schools in Chumkuri.
We thank our donors for changing the lives of children from Chumkuri....The effect over the next decade will be immeasurable....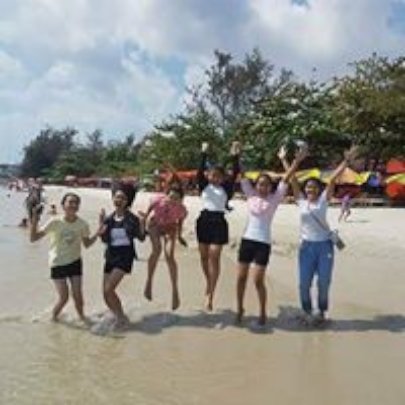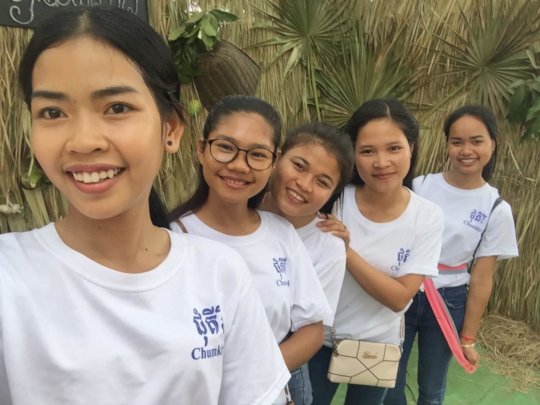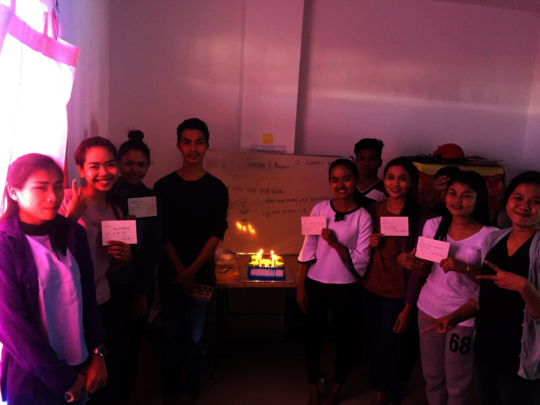 Dear Donors To The Chelly Foundation:
I can report that all ten of our Chelly Scholars, including the two young women being sponsored under the GlobalGiving campaign, are all flourishing at their respective universities in Phnom Penh. I was happily surprised in January when they sent the nicest of birthday cards to me, along with their thanks for everything that The Chelly Foundation has done to change their lives. See the pictures accompanying this report.
I can also report that I will soon be joining Nan Nop and her brother Ess when I go to Cambodia for the second time -- this time I will be staying for about 10 days. All of our scholarship students have said yes to taking a two-day weekend 'holiday' trip to Sihonoukville, where there is a beach, and we will all be travelling by van together. I will also be fully involved in other projects we are sponsoring back in the students' home village, including dedicating the new Library expansion (outdoor seating on two sides for students to study), taking part in a bread feast for hundreds and hundreds of primary school children, and participating in our new dental health program, started by a Peace Corps volunteer who has joined with The Chelly Foundation in bringing health services to Chumkuri District.
And later this year, we will be making our selections for at least two additional young women to join their older fellow Chumkuri students in receiving full scholarships to university, sponsored by donations to GlobalGiving. (We are actually planning for two young women and one young man to be awarded the next round of scholarships.)
I expect to take lots of pictures and will come back with stories to share with all of our generous donors in my next newsletter. Please "like us" on Facebook and thank you to everyone who is making a difference in the lives of children in this remote part of the world.
Cheers
Jason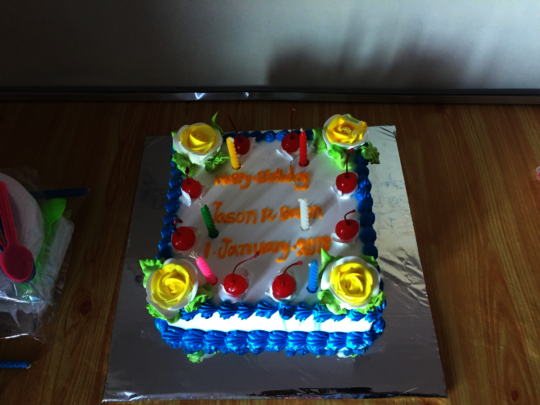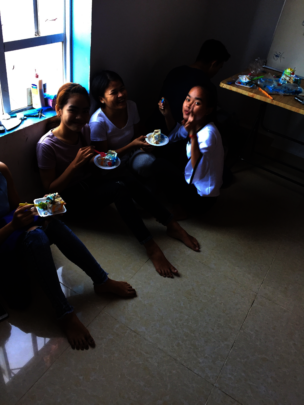 Links:
WARNING: Javascript is currently disabled or is not available in your browser. GlobalGiving makes extensive use of Javascript and will not function properly with Javascript disabled.
Please enable Javascript
and refresh this page.