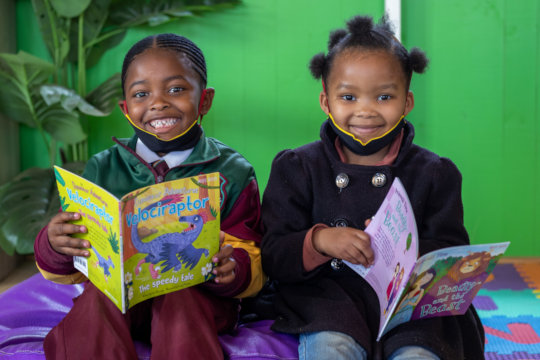 2020 was the most difficult year in Masinyusane's 12-year lifetime. We lack adequate words to describe the violence it inflicted upon our families and communities. The lives lost. The hunger felt. The stress of unprecedented job losses.
Yet we are deeply proud of our team for stepping up during such a difficult time. We led one of the biggest feeding projects in the city, continued to pay all of our staff (including all 60 youth jobs), and managed to run our libraries and literacy centres while schools were opened.
This pandemic presented unprecedented challenges and devastated our communitiesin many ways. While we have no intention of downplaying this devastation, in this report, we will try to focus on the projects and their accomplishments.
The Mission & Goals
We will hit all of our major project goals, including the launch of a new school, the creation of over 60 community jobs, the launch of more ECD projects, and the expansion of the project at our partner schools. The loss of 4-5 months of the year has shattered our hopes of major academic improvements and tens of thousands of literacy hours. However, our children still did excellent relative to the control group (see report attached). And we still managed to get thousands of books into the hands of children throughout the year.
Our project mission remains two-fold:
(a) to provide opportunities for children in the Eastern Cape to get a high quality education, discover and develop talents, and to grow towards their potential.
(b) to empower the community to uplift itself by creating local jobs for previously unemployed youth to work in their own community's schools and ECDCs.
Given the circumstances, we would say we succeeded with both of those.
Covid-19 Response
In April, we repurposed our entire team to assist with our emergency covid assistance project. Our staff helped feed over 75,000 people across 80 schools. It was the biggest feeding programme in the city.
At the same time, we created, launched and rolled out a children's television show (with two partner NGOs) that aired every day. This allowed us to engage our youth, reach our children while schools were closed, and flex our adaptive muscles as an organisation All of this was accomplished within a month of the pandemic striking and it made an enormous difference in the lives of our children and families.
The Path Forward
Despite the pandemic, Masinyusane built two beautiful, huge literacy centres and libraries at primary schools. We also built two literacy centres at preschools and are in the process of building a third.
These projects brought hope to our communities as they served as a reminder that this will one day be over, the future still holds bright things and that there's something to look forward to. Everyday South Africans aren't expected to receive the vaccine until mid-2022, so we will be living with Covid-19 for a while.

But educating our children cannot wait and we intend on running at full capacity in the new year. With your support, we will continue to create jobs, empower schools and educate children.
Thank you for being so generous and supportive during this incredibly difficult year. Together, we made a huge difference.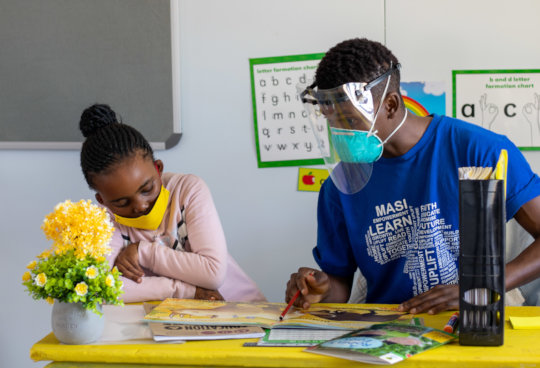 Links:
Attachments: