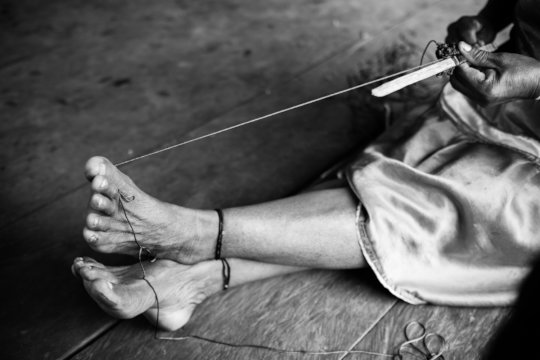 The past year has been filled with sad news for the planet, especially in Amazonia. Harrowing stories describe the fires that are devastating millions of acres of Brazil's rainforest. And as always, Amazonia's other forest destroyers are still at work: nonindigenous settlers, loggers and miners, oil-palm plantations, cattle ranchers, and transnational petroleum companies. The reason that Cofan territory has not suffered to the same extent as other parts of Amazonia is because of the dedicated activism of the Ecuadorian arm of the Cofan Survival Fund (CSF), the Fundación para la Sobrevivencia de los Cofanes (FSC) and the broader Cofan Nation.
Earlier this year, the FSC helped the residents of the Cofan community of Zábalo secure an unprecedented victory: permanent acquisition of official, legal control of over 345,750 acres of pristine forests and rivers along Ecuador's borders with Peru and Colombia. This area is larger than the Rocky Mountain National Park. For centuries, the Cofan have been using this land for hunting, fishing, gathering, and building settlements. It's home to many of the most beautiful and endangered animals of the Amazon: giant river otters, freshwater dolphins, manatees, macaws, and jaguars. In addition, Zábalo is the permanent home of FSC Executive Director Randy Borman and CSF board members Hugo Lucitante and Felipe Borman
While making this territorial victory possible, your donations to the CSF are also supporting Cofan people's efforts to repopulate the lakes and rivers of their territory with two species of endangered river turtles. In Brazil, the fires have killed thousands, if not millions, of these animals. CSF board member Felipe Borman is working hard to send turtle hatchlings to Brazil to make sure that Amazonian river turtles continue to exist throughout their traditional habitat
In Ecuador's capital city of Quito, the FSC is engaged in many other battles for the welfare of Cofan people and their territory. FSC staff are working with the Ecuadorian government to create long-term financial support for conservation initiatives in the community of Sinangoe through Ecuador's Socio Bosque program. The FSC is also engaging government allies to protect long-held Cofan territories in the Cuyabeno Wildlife Reserve from the encroachment of non-Cofan settlers. And the FSC is working to secure new protected areas that border legalized Cofan land—an effort that will create a buffer zone against the forces that seek to exploit the natural resources of the Cofan homeland.
Although 2019 has been filled with important Cofan accomplishments, many challenges remain. The CSF has yet to raise enough money to restart the Cofan Park Guard Program, whose work throughout Cofan territory ensured a rate of zero deforestation for more than a decade. The CSF is submitting grants to kick-start this project, but the funding landscape is becoming more and more uncertain. We are seeking other sources of long-term granting support, but we never know if our applications will be successful. After all, the CSF board consists entirely of volunteers who have many other claims on their time and energy.
Ultimately, saving the Cofan's forest is not just about the Cofan, it's about all of us. Their vast homeland is essential to carbon sequestration, global climate patterns, and a steady supply of freshwater resources for millions of people. The FSC is ready to do the work, but it needs YOUR help to make it possible.