No person is an island. I think we'd all like to believe that we can do it all ourselves and that we're self-sufficient, but the truth is it takes a village. We are all shaped and formed by our relationships with others, for better or for worse. No one feels this truth more deeply than incarcerated youth and the dogs in their care at Project POOCH.
Humans and canines alike come to the kennel with baggage - broken and abusive relationships with humans that have taught them not to trust, and that no one else is looking out for them. They've developed bad habits and behaviors as coping mechanisms and a need to survive. Or for some, they've completely disengaged from the world. They've given up on trying, completely defeated.
That's how Manotas came to us, at least. When I first saw a photo of Manotas, a Border Collie-Great Pyrenees mix, my heart sank. He looked so broken and sad. He was coming to us from an overcrowded shelter in California. They said he had been there a while and was having a hard time getting adopted because he was really shy and refused to interact with people who came to visit.
Unfortunately, not much was different for him when he first came to the POOCH kennel. He didn't have an appetite and was refusing to interact with anyone. He had shut down completely, and we were worried that he wouldn't open up. A vet found multiple healed scars on Manotas' head under all his fur, and his coat was incredibly unhealthy. He was underweight and suffering from an ear infection. Many of the POOCH dogs love playing with sticks, but when Manotas was presented with one, he flinched, indicating he had probably been beaten.
Someone did change one thing for him though. His handler, Kade*, changed his name to Oreo because of his black and white markings. I think this name was also a bit of foresight into the dog he could be. While he might have had a rough protective exterior, Kade saw through it to the sweetness at his core.
Kade was the perfect match for Oreo. Kade is gentle and soft-spoken, giving each dog he works with an enormous amount of respect and space to learn. It wasn't hard for Kade to empathize and imagine what Oreo must be experiencing - Kade had a past of trauma too. He knew about baggage. It was because of this knowledge that Kade was able to show Oreo patience and kindness as he overcame the trauma of his past.
Then, along came Ruth who, together with Kade, changed Oreo's life.
Ruth volunteers at the kennel, and I was able to talk to her recently about meeting Oreo for the first time. She met Oreo when he was still in quarantine, about a week or so after he first arrived at POOCH. When Kade took Ruth to meet him, Oreo was curled up on the cement floor of his kennel. He turned his head to look at her and then turned back, laid his head down and closed his eyes, defeated. He wouldn't take a treat from her so she left it on the kennel floor and he took it. Then they took him to the play yard. He walked around, but whenever either of them approached him, he would walk away quickly.
Eventually, after multiple similar interactions and a lot of patience, Oreo started to open up. He bonded with the youth and kennel staff, and the regular volunteers, including Ruth. There was a glimmer of hope forming as he learned to trust humans again.
Ruth knew Oreo needed a real home and offered him her home. So she took him with her for the 4th of July, and never brought him back. While he was nothing like that defeated dog, resigned to the cement floor of his kennel, he still had some challenges. A forever home for Oreo meant a lot of novel and intimidating milestones. He was lifted into her car every trip for the first week because he was unable to jump in. It's likely he had never lived in a house before. He was not house trained, and every appliance frightened him - the toilet flushing, the shower, the washer/dryer, and the vacuum. When Ruth introduced Oreo to her grandkids, he was scared of them as well.
But slowly and surely, Oreo relaxed and adjusted. It wasn't all at once, but rather in small, nearly indiscernible steps, like the sun rising in the morning. When Ruth watches him now, she can't believe he is the same dog. He has gained weight and has a thick, soft, gorgeous coat. He's much more confident around kids and even lets them pet him at the park. When he gets tired, he moves away to another spot, but never growls or shows any form of aggression. He has two fur-siblings, a cat named Indigo and another Border Collie mix named Luna. He and Luna play non-stop, and he wags his tail like a helicopter when he interacts with her in the yard. He also makes sure to check on her every single night before he goes to sleep. Ruth's favorite moments are when he asks for cuddles. "Sometimes Oreo leans himself against me for love," she says. "He'll come up and lay his head in my lap to snuggle with Luna and me. He loves when I scratch his back."
Oreo's story isn't a short and simple one. No single person was able to fly in and save the day for Oreo, nor could he do it himself. His story is a long one, of continuous support, commitment, and empathy. There are many important characters in his story – the rescue who reached out for someone to help him, the staff at Project POOCH who gave him a chance when he had no options, Kade, who gave him kindness, respect, and trust, and Ruth, who gave him a home and unconditional love and support. Healing takes a village. It's not something that we can do by ourselves, and we don't have to.
I am so grateful for you: our village. For all the selfless people, like Ruth and Kade, who stepped up to help when they could. Your support, which comes in many different ways, makes healing possible each and every day for the youth and dogs in our program. Thank you.
With gratitude,
Rena
*Names in this story have been changed for privacy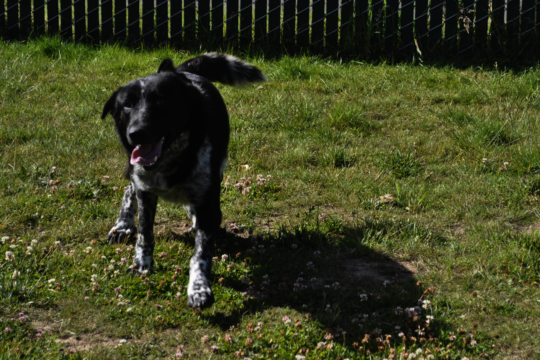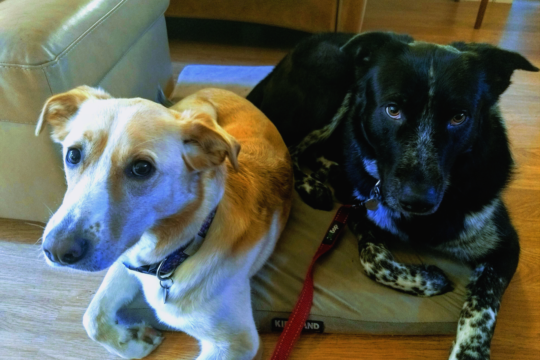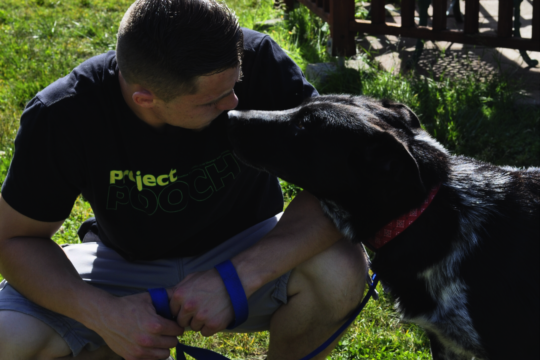 Links: