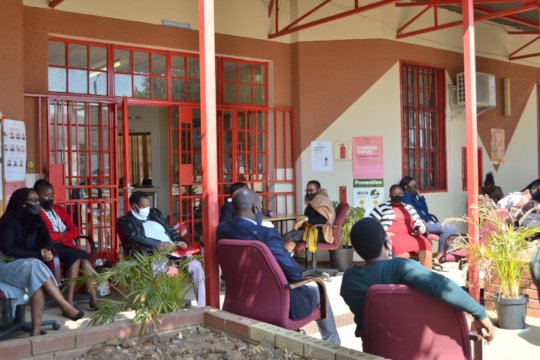 GBV & PSYCHOSOCIAL SERVICES
As part of our effort to combat the ill-effects of Covid-19 in our communities SSI teamed up with the Department of Gender Affairs in Mochudi to hold multiple weekend training sessions on Gender-Based Violence Prevention [GBV]. These sessions were targeted towards grannies, who are often the primary caregivers for vulnerable children throughout the country. And we all know, grannies are the best at giving the most sound advice! So who better than grannies to learn about different ways they can influence the prevention of GBV.


As we know, The COVID19 virus has impacted more than just our social lives but mental health as well. During this time, SSI had the opportunity to provide psycho-social support to Form 3 students and their teachers at our partner school; Bakgatle Junior Secondary School. We heard from participants about what challenges they're facing as a result of the pandemic and worked with them on coping skills to manage their stress.


We took psychosocial support an even bigger step forward through our partnership with other NGOs to provide counseling services through WhatsApp! As part of our ongoing 'Freedom From Fear' initiative, we are doing our part to make it easy for GBV survivors and others to report abuse and access services through one simple, quick link!
SOCIAL SUPPORT DAY
In partnership with Angels at Work, we hosted a "Social Support Day" inclusive of mental health services for our beneficiaries following a recent national lockdown. We prepared a soup kitchen and distributed food to participants while holding debriefing sessions to discuss the impact the Covid-19 virus as had on their lives. The event was well-attended (but socially distant!).
Whew! We sure have been busy, but there is still more work to do! We continue to see increasing demand for counseling support services, food and other basic items. We've expanded our services and access points, but there are still many unmet needs, sadly we've had to turn people away. Help us double our impact this month through GlobalGiving's Little by Little campaign so no child or family gets left behind. For five days straight (Sept. 14-18), online donations up to $50 will be matched at 50%, and matching funds will not run out! This is a great opportunity to double your good and to share our project with others. As always, thanks for your support, we'll see you next time!