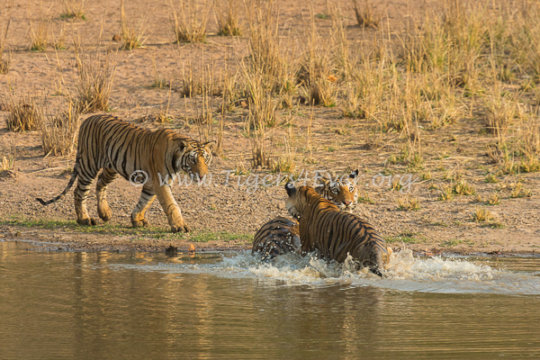 It may seem a little strange that two months into the monsoon period, when 99.9% of all the annual rainfall in Bandhavgarh occurs, we are talking about preparing for the next drought. Well, our experience over the last four years tells us that it is essential that we do so. In fact, we are nine weeks into the monsoon period and so far there has been just 760mm (just under 30 inches) of rainfall which is less than half of that which is expected across the 13 week period with only four more weeks to go. So we need to prepare ourselves just in case, like in 2018, there is no rainfall again in September.
Right now, rivers and streams are replenished; but they are not overflowing or bursting their banks, as has recently been seen here in the UK! It is a different story, however, for the lakes, ponds and other waterholes which are yet to reach full capacity, save for those waterholes with a solar borehole pump like the Tigers4Ever waterholes at Rajbehra, Sukhi Patiha and Arharia, which are full right now. We are grateful for the help of all our supporters without whom we couldn't have made these waterholes possible. Waterholes like ours continue to be invaluable for tigers and other wildlife especially following poor monsoon rainfall.
If the September monsoon rains are poor, we would expect to see natural water sources such as rivers, streams and small ponds beginning to run dry before the end of this year. Wild animals, including tigers, will then start to feel the impact of the drought from January onwards. Secure in the knowledge that, thanks to your help, up to 33 tigers, (including cubs) and their prey will benefit from water in the seven waterholes serviced by our borehole pumps in Tala (2 large and 2 smaller waterholes); and in Magdhi (1 large and 2 small – medium waterholes). Now though, we must consider the other 70 plus tigers, their cubs and their prey and how they will be impacted by the next drought.
We have identified a location at the crossroads of the territories of 3 alpha male tigers where we know that there are two females each with 3 cubs and another female who is expecting cubs, plus four other tigers which would benefit from the provision of a permanent year round supply of water. There is currently a large natural waterhole and a smaller man-made waterhole near to the site. Both of these are currently filled by water tankers throughout the dry season. The problem with this is if the 16 plus tigers become habitualised to the tankers, and lose their instinctive fear of human vehicles, something which would ultimately make them more vulnerable to poaching. We are currently trying to establish the suitability of this site for a solar powered borehole pump to remove the need for these tankers. If the underground water table isn't close enough to the surface we will look at an alternative location close by which will also mean that we will need to construct a new waterhole too. Please help us to make this possible by donating now at: https://goto.gg/34315, thank you.
We have also been asked to help provide a solar powered borehole pump system at another large waterhole currently used by 11 plus tigers including cubs. Again this waterhole is filled by water tankers as the natural sources dry up. To install solar powered borehole pump systems at these two waterholes will cost us up to £18750 (US$25125) dependent on the depth of the bore-well. If we need to construct a new waterhole, in addition, the cost of the combined project rises to £21625 (US$28980), so we have quite some way to go before we can help to protect another 23 plus tigers with the provision of permanent year-round water. We have also identified two further locations, where there is currently neither a natural water source nor man-made waterholes, where we would like to build future waterholes for wild tigers. It is our long term objective to ensure that every wild tiger in Bandhavgarh will have access to permanent year round water.
In an ideal world, we would commence work on our next major waterhole project at the beginning of October 2019, but we are someway short of our fundraising target to do this so we will be actively fundraising for this project during Daan Utsav (the Indian equivalent of Giving Tuesday) at the beginning of October, and throughout the period leading up to this. If you can help by donating anything at all it would be much appreciated: https://goto.gg/34315 remember that every £20 (US$26) donated will help us to drill 2 metres (79 inches) of bore-well to help us reach the underground water table.
There has also been a nineties themed concert/disco arranged in Porthcawl on the 08 November 2019 to raise funds for Tigers4Ever's waterhole and anti-poaching patrol projects, so we are hoping that this will be well attended by our supporters in South Wales. Tickets are priced at £10 each plus the booking fee and are available here: https://www.eventbrite.co.uk/e/back-to-the-90s-dance-party-tickets-69630166703 if anyone wishes to purchase one or more and go along.
Since we launched our campaign to provide permanent water resources for tigers and other wildlife fourteen months ago we've managed to raise £1770 ($2372) of our £10,560 ($14,000) target. Our existing waterholes are providing year-round permanent water for just under a third of the wild tigers in Bandhavgarhplus countless other wildlife but we would still like to ensure that every wild tiger in Bandhavgarh has access to safe drinking water year round. At present our focus is on providing the next waterhole in a critical need area to help more than 16 tigers including cubs, and to bring the total number of tigers helped to close to fifty. If we are to ensure that the wild tigers have water before the onset of the drought season then we need to construct the next waterhole before the end of 2019; for this to happen we need to raise sufficient funds before the end of October which means that we need another £8790 (US$11628) in the next eight weeks to make this possible.
Climate change is impacting Bandhavgarh every year now, with shorter drier monsoon periods and longer extreme drought conditions being just two of the annual events seen over the last five years. The unseen consequences of climate change include the impact on tigers and their prey when natural water sources dry up. Herbivores (the main prey of tigers) can delay breeding because the conditions to support new-borns are not ideal, which over time impacts prey numbers thus reducing the availability of food for a growing tiger population and ultimately leading to increased human-tiger and tiger-tiger conflict. Thus, permanent water resources for wildlife are fundamental in the fight to reduce human-animal conflict. Without this, prey animals enter the villages in search of water and, whilst there, consume precious crops. Tigers and leopards naturally follow their prey into the villages as they hunt for food, but when the prey runs, the tigers kill domestic livestock, which doesn't run. Once tigers find easy prey such as livestock, they have a tendency to return to the village over and over again in search of easy meals…. Human-tiger conflict results and the tigers (and their cubs) are at increased risk of retaliatory poisoning, from disgruntled farmers, who seek to prevent this recurring.
Since the 2019 monsoon began we have already seen 3 tigers die in Bandhavgarh as a result of tiger-tiger conflict: an intruding male attacked the cubs of another male in order to mate with their mother, however, the tigress returned to the scene as the male was attacking the second cub defending it with her life. The tigress and the first cub died almost immediately, but the second cub survived for a few weeks and received assistance from the vet but sadly died from his injuries just a week later. This was just the latest in a series of battles to keep the cubs alive that this tigress had had, and sadly due to limited water sources in her territory she came into frequent conflict with other tigers…..
You have probably seen the recent tiger census results in the international press and media, with India's wild tiger population up by a third. Good news indeed, conservation efforts are working, however, this increase needs to be sustained and even extended if wild tigers are to have a genuine chance of a wild future. The quieter side of the story didn't make as many headlines; sadly, in the same four years in which the wild tiger population has grown there has also been a four percent loss of wild tiger habitat. The result is that tigers have lost more than 94% of their native habitat in the last 100 years!
Now we face a new challenge in protecting the increasing wild tiger population in Bandhavgarh; we need to ensure that there is sufficient water year round to sustain the growing tiger population and its prey base. Our waterholes continue to be of critical importance in reducing human-animal conflict, but now they must also help to reduce tiger-tiger conflict before the hot dry season arrives https://goto.gg/34315.
With the lives of 32 wild tigers including cubs already being saved by the permanent wildlife waterholes we funded, with your help, between February 2018 and June 2019, we now have the opportunity to increase this number to 47 tigers saved. This would be amazing as it is almost half the current number of tigers in Bandhavgarh. We have already identified the potential site for our next waterhole project, where there are limited natural water sources and an abundance of tigers. Providing such a permanent wildlife waterhole could save the lives of 16 plus wild tigers in addition to countless other wild animals which form their prey base and share their forest home. Tiger numbers in Bandhavgarh are on the increase, but as mentioned in our previous reports, territorial space is at a premium and tiger-tiger conflict is becoming more frequent. It means that we need to act now to ensure that adequate water is available to sustain an appropriate prey-base without the need for tigers to increase the size of their territories in search of food. We're also looking at other ways to reduce human-animal conflict through projects to restore depleted tiger habitat, including tree planting which will complement our current waterhole project: https://goto.gg/34315. These projects will need time to help to stabilise prey numbers and lead to future young tigers needing smaller territories. So for now, we are focussing on what we can do to make the most difference this year.
We hope we can build upon the success we've already seen with our existing waterholes by funding at least one more waterhole before the end of 2019, but we cannot do this without your help. We need to raise £8790 (US$11628) in the next eight weeks to make this possible. We will look again at offline fundraising activities to boost funds too but hope that some of you will sign up to donate monthly and help us at: https://www.globalgiving.org/projects/water-for-bandhavgarhs-tigers/?show=recurring. Even if you can only afford a single donation, why not donate now, and if you are a UK taxpayer you can make your donation worth 25% more to Tigers4Ever at no extra cost to you by adding Gift Aid at: https://goto.gg/34315.
If you feel able to help to make a difference for these precious wild tigers: £20/US$26 could help us to drill 2 metres (79 inches) of borehole, whilst £75/US$107 can help to pay wages to clear a site in preparation for a new waterhole to be constructed. All donations, however large or small, will help us to reduce human-animal conflict and the risk of wild tigers perishing at the hands of humans.
I would like to thank you on behalf of the wild tigers, which we are keeping safe; and on behalf of the wider tiger community in Bandhavgarh, which benefits from providing equipment and labour for our waterhole projects; we couldn't do this without you.
Links: