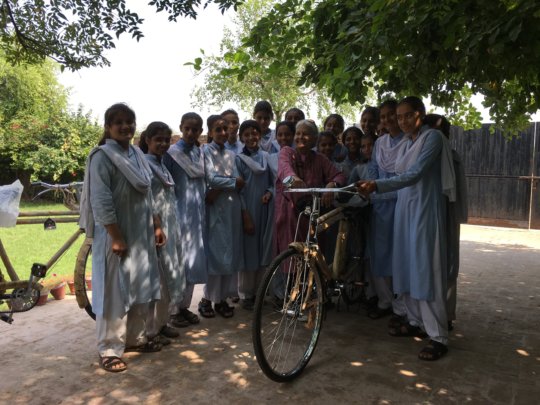 The girls at Khoj School for Community Education were in a state of euphoria. I had never seen them so excited, energized and happy before. It was a day of personal freedom that could open and augment countless opportunities for self-actualization.
On 27th September 2017, Khoj-Society for People's Education made a humble beginning by making two bicycles available to the girls of Khoj School for Community Education situated in village Thathi Bhanguaan in the province of Punjab in Pakistan. Girls come from eight villages to the school whose mobility is restricted and there are many girls who wish to study but cannot do that because there is nobody to pick and drop them from their homes to schools and back.
The bicycle project also aims at improving girls' self-image and self-belief that they are capable of doing everything which boys can do and they can also perform even better if they strive to do that.
The project was inaugurated by the once national champion of table tennis Asma who is a great source of inspiration, especially for girls.
The girls were asked to try and master the art of cycling. They were told there is nothing wrong in faltering and falling but if one has self-belief one will emerge victorious overcoming all the hurdles. It was great fun watching struggling, failing, trying, helping each other, improving, anxiously waiting for another turn. Not all girls got the permission to cycle in the villages but there was no bar on them to learn how to cycle.
They are expected to be the road in a week's time and we are very confident that this would open countless avenues of fulfilling their dreams of 'if I were a sparrow……..'- a story they wrote recently. Each story was full of boundless imagination and dreams that also reflected the restrictions they live with.
Offering a vehicle of empowerment, self-dependence and self-actualization was our dream at Khoj. We are so grateful to our supporters and donors who are helping us making our dreams a reality. For this initiative, we are grateful especially to Shoes by Shaherazad at www.shaherazad.com.
We know just two cycles are not enough but we are confident that your continued support will help us achieve many milestones.