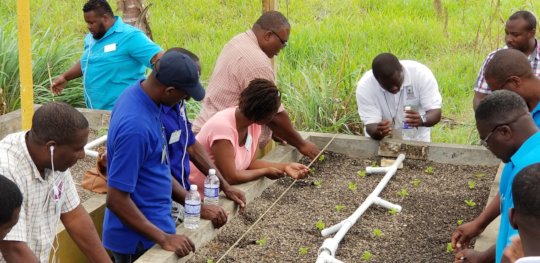 Since our last update, we've had many exciting developments. Our IACA program was featured at the 2018 Cracking the Nut Conference in Antigua, Guatemala, where INMED was among the top innovators in climate-change adaptation approaches. The Jamaica Observer also ran a 2-page feature and editorial endorsement of our IACA program.
Train-the-Trainer Sessions
INMED Caribbean has held a second train-the-trainer workshop for Rural Agriculture Development Authority (RADA) extension agents, who will provide ongoing technical assistance to farmers participating in INMED's Increasing Access to Climate-Smart Agriculture (IACA) program in Jamaica. The first class of farmers completed their online prequalification course, participated in an intensive training workshop, and are now receiving technical assistance to learn how to construct, operate and maintain their own commercial aquaponics systems.
Farmer Training Commences
Marcus was one of 20 farmers to participate in INMED Caribbean's first three-day training workshop in mid-July. The training, delivered by INMED aquaponics experts, included two days of classroom lectures and one day of hands-on participatory education at an INMED aquaponics system at the Knockalva Agricultural School. He discovered aquaponics on YouTube and has been experimenting with a home system for two years. When he learned of INMED's IACA program in Jamaica, he was eager to register.
"My expectation of the program was to gain more in-depth knowledge about aquaponics and how I can scale my home system into a commercial system that can meet the demands of restaurants, caterers, and hotels," says Marcus. After completing INMED's online training, h joined other fledgling and traditional farmers for a deeper, hands-on dive into the innovative farming technique. "This training has opened my mind to the next level of how I can create a commercial system for myself as a startup business."
Another important aspect of the training is connecting farmers who are in different stages of entrepreneurship. "As I've gone through the INMED program, I've met like-minded people and have started to network with them to share information," says Marcus. The farmers have formed a Whatsapp group to encourage each other and share best practices.
Next Steps
INMED has been working with the Development Bank of Jamaica and local financial institutions to provide IACA program participants access to affordable financing to start aquaponics enterprises and facilitate loan repayment. Farmers are now working with INMED agribusiness consultants to polish their business plans, complete loan applications and create presentations for their meetings with loan officers.
Soon, INMED Caribbean also will have a new venue for participatory training. The College of Agriculture, Science and Education recently broke ground on a commercial INMED aquaponics system on its campus in Port Antonio, Portland, Jamaica. The new system will be used for IACA training as well as for CASE's adaptive agriculture program.
In the meantime, the INMED Aquaponics Whatsapp group is abuzz with spirited exchanges, like this one from farmer named Norman: "INMD has shown us the way… It is now our job to till the soil, may it be gravel, clay or dirt. Our job right now is to get the right pH balance and oxygenate our mission forward by feeding and teaching our nation what we have learned."
Their enthusiasm is contagious! A big THANK YOU to all our donors and supporters who are helping us transform lives in Jamaica! Please help us promote this program by sharing our Global Giving link and updates on social media.
Links for More Information
Be sure to visit https://inmedcaribbean.org for more updates.
Click here to follow our farmers!
Follow us on Facebook.
Read the latest article on IACA in the Jamaica Observer!
Click here to read a big enedorsement of IACA!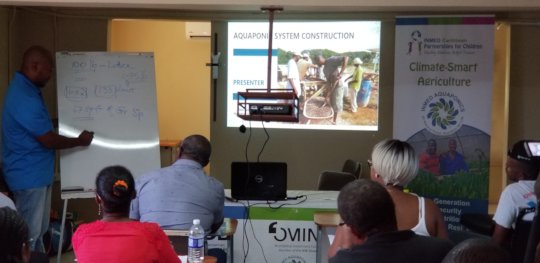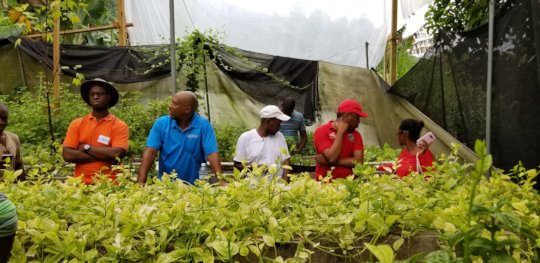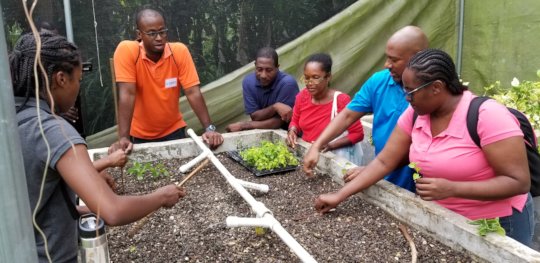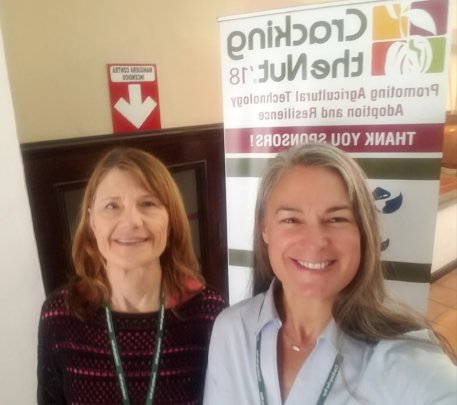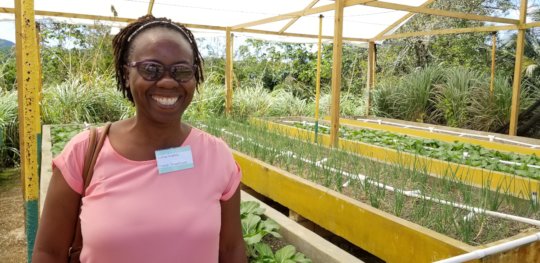 Attachments: