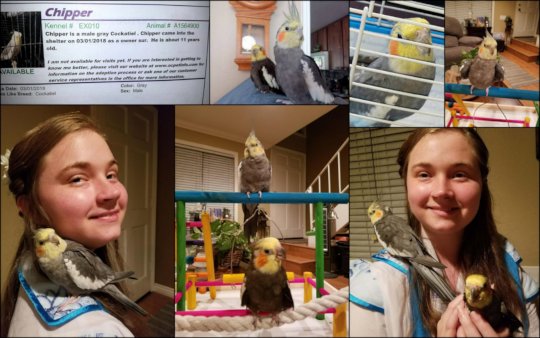 We have been very busy recently helping needy parrots ranging from petite parakeets to magnificent macaws and cheeky cockatoos. Some of these birds came into our care because their owners were no longer able to care for them and asked us to find a good home for their beloved bird. Others ended up in animal shelters because they were relinquished by their owners or were escapees that were picked up as strays by animal control agencies. While we make every effort to locate the owners of birds picked up as strays, this is often a futile endeavor resulting in us needing to find a good home for the bird. We have made excellent progress towards our goal of becoming a registered adoption/rescue partner with local animal control agencies and will continue our efforts in this regard.
As you can see in the photos, many of the birds we receive have significant injuries or health issues that require extensive veterinary care and medications. Your generous donations to our cause have allowed us to be able to meet the medical needs of many, many birds that have come in with serious illnesses and/or injuries. We will be very grateful for your continuing financial support, and thank you in advance for your help!
We would like to share with you some information about each of these birds and the people who love them.
Chipper and Meeko: Chipper and Meeko are both male cockatiels. Meeko came into our care a little over a year ago from the animal shelter in Wildomar CA. Meeko was in very poor health when we got him. He was extremely malnourished and had problems with his legs and feet. The malnourishment was quickly and easily rectified but the issues with his legs and feet cannot be corrected or even improved upon at this point. Chipper was an owner surrender at the animal shelter in Orange CA. He is perfectly healthy and is a very well socialized bird. His people gave him up because they felt they no longer had time for him. That's extremely sad because at one time, they did have time for him or he wouldn't be such a wonderful feathered companion. The young lady you see in the photos with Chipper and Meeko is autistic. While she may have some difficulty relating to people and in communicating with people, she has an amazing bond and very a strong connection with these two birds.
Pikachu and Sadie: Pikachu is a male cockatiel that was brought to us to find a new and wonderful home. He had been very well loved and very well cared for. Sadly, his people felt he needed to be in a household where there was more time for him. Sadie was a stray picked up by the animal control agency in Orange CA. As you can see, Sadie had a massive injury to her head. Sadie was at the animal shelter for over two weeks and then with us for an additional four weeks while she received veterinary care and while her wound healed. Pikachu and Sadie went to different homes, but you can see from the photos that the love for each of them and the sheer joy of having a new feathered friend is the same.
Luna: Luna had also ended up at the animal shelter in Orange CA. She had significant wounds to her head, her neck, and under her wings. Once Luna had healed in our care, she was adopted by a wonderful lady and her family and now "rules the roost" in her new home.
Valentine: Valentine was an owner surrender to the animal shelter in Wildomar CA. Valentine is approximately 15 years old and was never given a name by her original owner. How sad! Valentine had not been particularly well cared for nor well socialized. She is, however, quite a little traveler. Valentine went from the shelter in Wildomar to the home of one of our directors in Yorba Linda CA and from there to Mammoth Lakes CA where she was picked up by her new family and taken home to Citrus Heights CA. Valentine is thriving in her new home, and as you can see from one of the photos is quite the little princess!
Buttercup: Sigh .. Buttercup was also an owner surrender to the shelter in Wildomar CA. Buttercup is approximately 19 years of age and had been living in a garage and surviving on an inappropriate and inadequate diet. Turns out Buttercup is a love bug and caused just about the quickest foster fail we've ever seen! The person who picked Buttercup up from the shelter and who was going to foster her for us fell in love with her almost instantly. Buttercup is now in a wonderful, forever home.
Paquito: Paquito was picked up as a stray and ended up at the Burbank CA animal shelter. He had a badly broken leg and was treated at the shelter and had a pin placed in the broken leg as shown in the x-ray photo. Paquito was in the shelter for more than three months before we were able to get him out. We had the pin removed from his leg, and he was found a wonderful home with people who adore him.
If you are still here and reading this very lengthy report, we thank you for your time, for your love of these birds, and for your support of our efforts.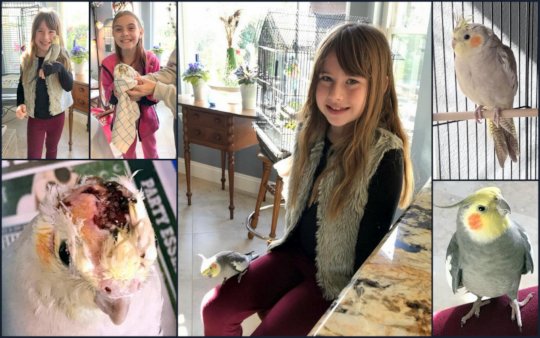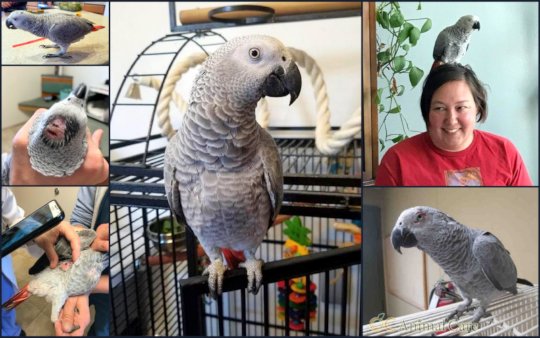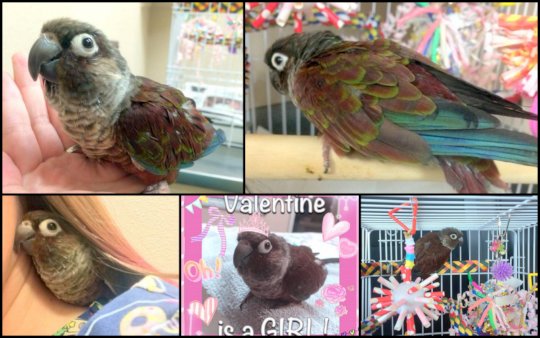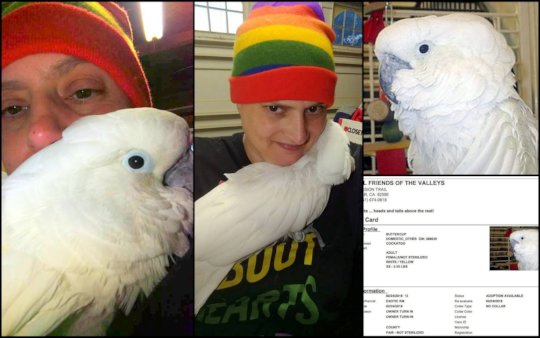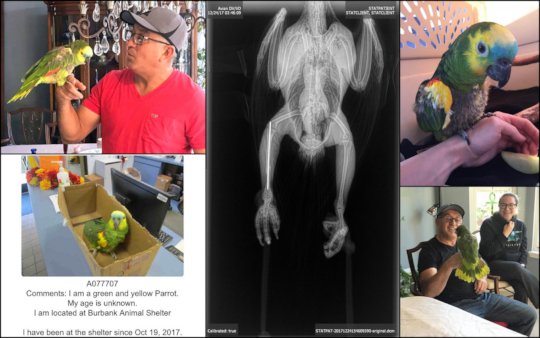 Links: