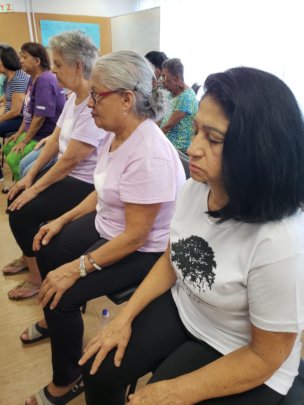 For Senior citizens, meditation and mindfulness is a way to calm the mind and body. At the Heliopolis Elderly Center, Seniors have started receiving mindfulness lessons. It requires that they sit and relax and pay little attention to thoughts as they drift in an out of their mind. "It can be viewed as an antidote to the fight-or-flight response," says their teacher Barbara Borges. "When you meditate, in general, the breath slows down, heart rate slows, blood pressure decreases, stress decreases, digestive function improves and the sense of tension in the body decreases."
The practice comes in many forms and classes have touched on different forms of meditation, for example, transcendental meditation focuses on a word or sound (also known as a mantra) that they repeat over and over (such as "peace" or "love").
Mindfulness classes concentrate on the present moment without judging it. We also practice guided imagery, focusing on mental images, such as a beach or a calming environment. Seniors especially enjoy doing the body scan meditation which includes concentrating on one body part at a time and investigating its sensations, such as how it feels where it touches the floor or bed, whether it's cold or hot and whether there is pain or tingling in the body.
Another type of meditation is a little different. Mind-body exercises such as tai chi, qigong or yoga which combine focused breathing with either slow physical movements or static poses. These techniques have a meditative quality. The Heliopolis Elderly Center also offers regular yoga classes.
Our Seniors benefit greatly from meditation because it is associated with many psychological and physical benefits. "In general, it's been shown to decrease blood pressure and inflammation. And there's some data around improving coronary artery disease outcomes and helping with post-traumatic stress disorder, chronic pain and headaches," Borges says.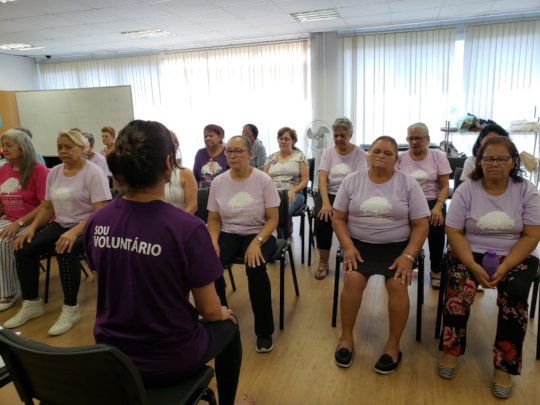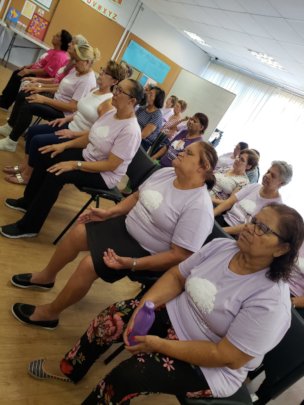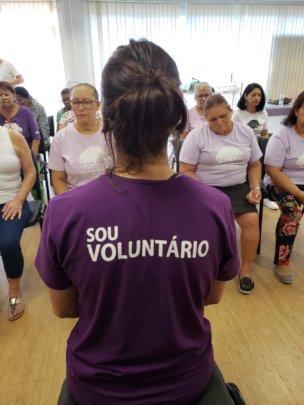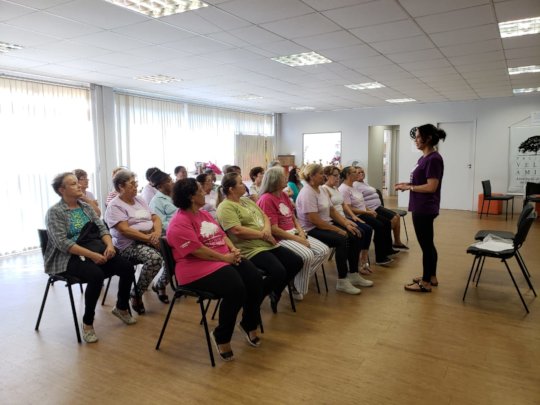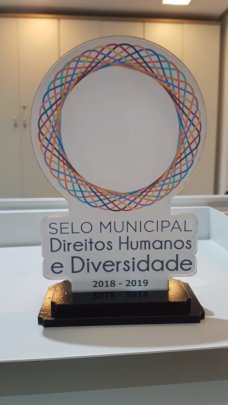 Thanks to our literacy program for senior citizens at the Heliopolis Senior Center the older persons in our community have an opportunity to learn how to read and write. We have found that older learners sometimes lack confidence in the classroom. This may be due to past failures at school or feeling uncomfortable and embarrassed about learning how to read at an older age. Our teachers assist students in keeping anxiety at bay by setting attainable goals. They help learners build confidence and increase self-esteem by recognizing them for their efforts. Just making the decision to take part in these lessons means they are already on the path to success. At the Heliopolis Senior Center, we provide plenty of positive feedback and praise students for their achievements, no matter how small.
A step-by-step approach with lessons three times a week means that adults have the opportunity to repeat units of learning until the material is mastered. This is especially helpful in studying phonics in order to sound out words. Senior citizens like being in control. Allowing them to set the pace of learning empowers them. Self-directed learning also means they can continue providing for their families and learning how to read during their free time. Many of our students can now read and write with their grandchildren something they couldn't do before.
If you can read and understand what I am writing now it is because you were given a guaranteed right that was denied to them when they were growing up. The literacy lessons for the older persons of Heliopolis rescues this right. These senior citizens can now feel included again in a society that usually forgets about them. They have learned that they are still a part of society and that their citizenship does not die with time. Our adult students had a dream to learn how to read and write and to have autonomy over their own life and thanks to Projeto Velho Amigo and the Heliopolis Senior Center this dream is coming true!
Projeto Velho Amigo and the Heliopolis Senior Center is proud of its accomplishments in inclusion & diversity for older persons, our literacy lessons exemplify how we set the bar for senior citizens in Brazil and have done so for two decades. Our Literacy program has won the 2018 Municipal Seal for Human Rights and Diversity (please see photo below).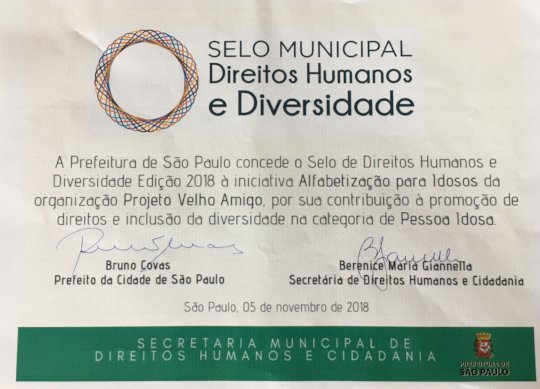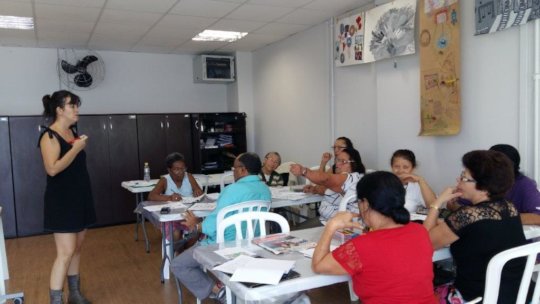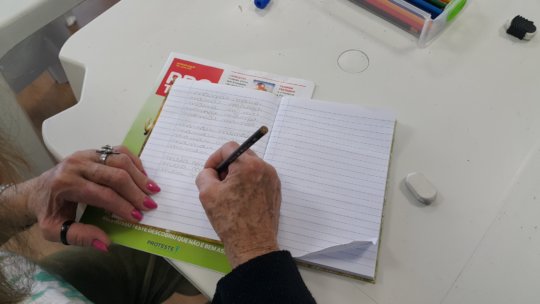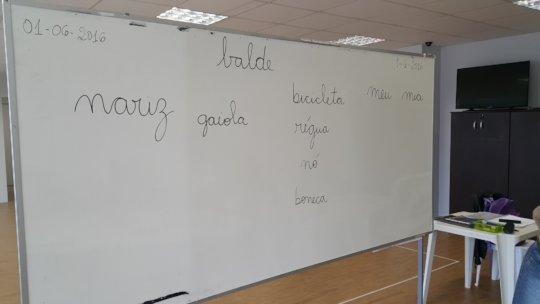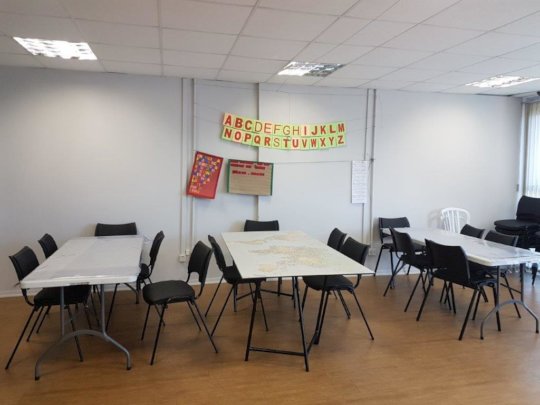 Links: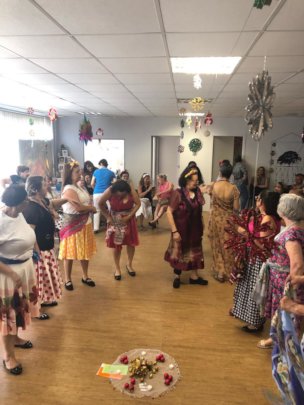 December's theme was of course 'Happy Holidays!' and the month was full of different events at the Heliopolis Elderly Center all with a Holiday theme. Everything from circular dancing, to a performing choir, and a magical musical dance performance by the dance group, a Christmas tree decorated by the literacy group and beautiful Christmas cards were created by the Seniors during their ICT lessons! This is just to name a few of the events enjoyed by our participants during the holiday festivities.
The choir prepared three holiday songs to sing at the celebration. For these senior singers, the desire to perform was the least significant motivator. Instead, a majority said that being a member of the group, having artistic and emotional experiences, and forming social contacts in the choir were most valuable. Improving self-confidence, developing singing skills, and increasing their knowledge of music also played a role. At the Heliópolis Elderly Center seniors have two singing lessons a week.
Circular dancing classes and dance classes are offered twice a week for seniors at the Heliópolis Elderly Center. Research findings support the use of circular dance as an alternative of physical activity for older seniors, bringing benefits in cardiorespiratory capacity and lower limb muscle strength. In addition to the physical benefits, dance also brings to its practitioners gains in the form of social interaction. They performed beautifully, and it was amazing to see the progress they have made throughout the year.
Seniors also enjoyed making Holiday cards in the ICT lab to hang on the Christmas tree. Through their ICT and literacy lessons twice a week Seniors have been able to bridge the digital divide by engaging in various online activities. Research findings show that digital seniors are developing new practices and routines around their ICT use as well as creating new practices, where they seamlessly combine traditional habits with new ones emerging from ICT use.
It was so wonderful to see how seniors were able to use what they learned throughout the year during their holiday party.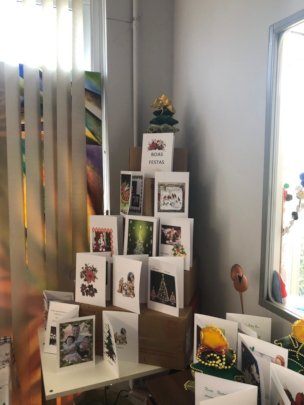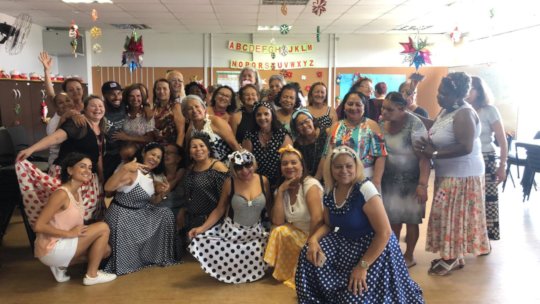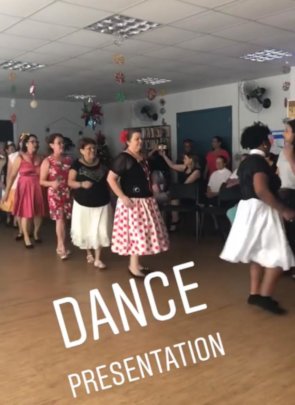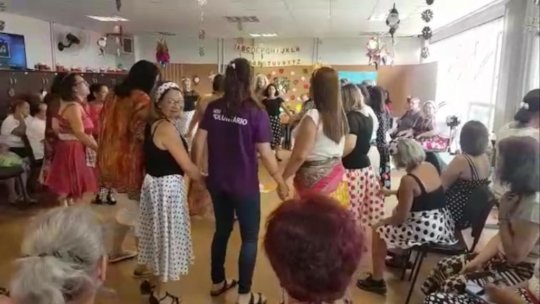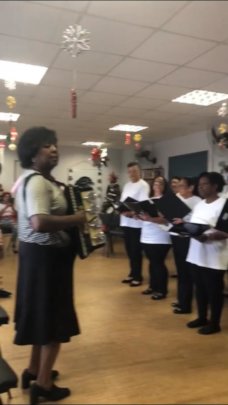 WARNING: Javascript is currently disabled or is not available in your browser. GlobalGiving makes extensive use of Javascript and will not function properly with Javascript disabled.
Please enable Javascript
and refresh this page.