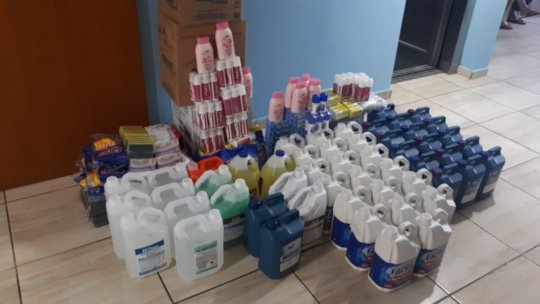 The Velho Amigo Institute promotes actions and activities inside the Heliopolis Elderly Center that stimulate the appreciation and participation of elderly people in socially vulnerable situations in order to foster a culture of inclusion for the elderly, ensuring their rights and inspiring a society that is aware of the causes of aging and longevity.
Throughout our 21-year trajectory, our values and principles are based on our commitment to the cause and our humility in knowing that together we are stronger. Through our empathy to offer more and more humanized projects and services, with respect, transparency, and perseverance. Nevertheless, in the past two decades, we have never faced a global pandemic such as this.
In order to fulfill our mission during the pandemic, we created a protective space for our senior citizens that live in situations of social vulnerability. The Emergency Work Plan of the Velho Amigo Institute aims to ensure the integrity of the mental and physical health of our Seniors during this difficult period of social isolation in order to maintain healthy aging for the elderly who are served by our organization. In this sense, we aim to uphold these three pillars;
Food Security
Physical and mental health
Protecting Life
Food security; we promote the daily feeding of the elderly in their homes by ensuring food for 100 elderly people in vulnerable situations in the community of Heliópolis. More than100 food baskets were distributed (see photos) and a total of 370 nursing homes also benefited from the distribution of these food baskets that helped promote healthy eating and boost their immunity in the face of the current COVID-19 situation.
Promoting Physical and Mental Health; by promoting safe spaces in order to guarantee the physical health of the elderly, by sponsoring online social activities that can minimize the impacts of our seniors living in total isolation. Our online classes help promote mental health and quality of life (given that they are the most high-risk group that needs our special care). We also presented our dear Seniors with personal hygiene and home cleaning kits (for over 500 elderly people).
Protecting Life; offering personal protective equipment (PPE) and health monitoring equipment for the elderly is indispensable during this pandemic. Your donations at GlobalGiving made possible the improvement and safety of our day-to-day work inside the nursing homes, with the purchase of more than 5,000 items of personal protective equipment (PPE), such as masks, foot, and eye protection, disposable body gowns, gloves, thermometers, and oximeters.
It became a priority for us to ensure that the living spaces within nursing homes were safe and clean. So another area that we invested in was the maintenance and administration of each nursing home by dividing each sector within the house to ensure that COVID-19 did not enter or spread within the homes by creating a customized system to track infections and implement preventive measures in a systematic way. We also developed a schedule for regular cleaning and disinfection of shared equipment, frequently touched surfaces in resident rooms and common areas. We also created a plan for how roommates, other residents, and HCP who may have been exposed to an individual with COVID-19 would be handled (e.g., monitor closely, avoid placing unexposed residents into a shared space with them).
We believe that everyone regardless of age has the right to dream, this is our focus and we also believe that being a bridge to offer our seniors a higher quality life is only possible when we have partnerships like this one at GLOBAL GIVING that not only impacts the number of people we help but also makes it possible to create moments and spaces that drive healthy aging.