The end of the school year is here and it's time to celebrate our students and plan for next year. Thank you notes from the students have been pouring into our office. Tristan, a 1st grader wrote "Thank you for everything. My favorite experiment was when we used the toothpick and marshmallow. I learned very amazing stuff."
Another student, Jahanara, drew a picture of her favorite teacher and wrote about the many experiments she loved.
It was another amazing, inspiring year for bringing hands-on science to our local schools!
This summer we'll work on:
Refreshing our curriculum

Analyzing student assessments

Finalizing schools for next year

And much more!
Thank you for your support this school year, we couldn't have done it without you!
Attachments:
Spring has (almost) arrived in the Bay Area. Our third graders are learning about simple machines: inclined planes, levers, pulleys, and more. The thing simple machines have in common is that they reduce the force needed to movbe objects. How do they do that? What is the mathematical relationship that is common to all of them? Ask one of our third graders!
Our second graders just finished a unit on water - a very unique liquid! How can water move against gravity (capillary action)? Why does water bead up? What is it about the particles (molecules) of water that enable this? Ask one of our second graders!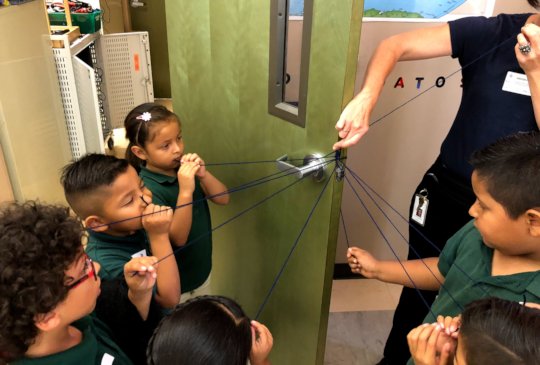 This fall we started working at two schools in Oakland: Acorn Woodland and Cox Academy. We are working with the schools' youngest students: Transitional Kindergarten (TK), Kindergarten, and First Grade!
TK students are learning about gravity ("gravity pulls everything down") and explore what happens when we let go of objects, when we throw them up, and when they roll down a ramp.
Kindergarteners play Simon Says Forces as they learn that forces have a size and a direction. They explore ways of using forces to change the speed of an object or its direction of motion.
First graders explore how different materials interact with light (opaque, transparent, translucent, reflective) and that in order for us to see an object, it must reflect light. The picture shows students modeling how light rays might reflect off a door and into our eyes so we can see the door.
WARNING: Javascript is currently disabled or is not available in your browser. GlobalGiving makes extensive use of Javascript and will not function properly with Javascript disabled.
Please enable Javascript
and refresh this page.