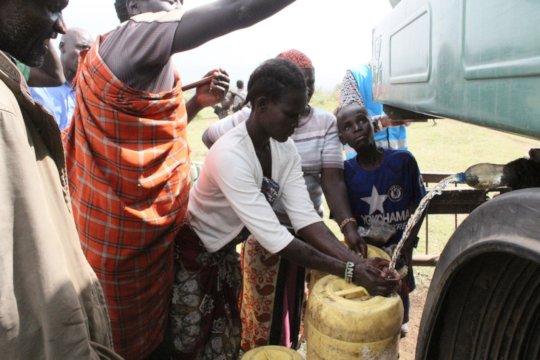 Kambi ya Turkana Pad Drive Initiative is a partnership between Life Bloom Services International and Red Cross Naivasha Branch, that is set to run for a period of three years. The project will be ongoing and is envisioned to address not only menstrual hygiene, women empowerment, community resilience and sustainability but also teenage pregnancy/motherhood, Sexual Gender Based Violence and gender equity within the society.
For the 3rd quarter running, Life Bloom and Red Cross joined the community of more than 500 persons are squarters and live on a piece of ranch land that quit operations in the 90s. The community, elderly parents who worked at the ranch and their mainly offsprings, have no school, medical center, water, electricity and even adequate latrines.
The first visit by Life Bloom and Red Cross happened in June 2020, second visit for sanitary hygiene packs distribution was in Oct 2020. The third one with a water tank (to harvest clean rain water), sanitary hygiene packs for 100 girls and young women was on March 8th 2021. It was a great celebration as the water tank arrived, it was placed safely on the raised concrete stand that the community had prepared, and the water bowzer poured water into the tank, and the community members turned on the tap to draw water! For the first time they had water in the neighbourhood. The community members committed to making monetary savings and contributing towards the bowzer (water tank lorry) delivering clean water for the community. After being capacity built by Life Bloom staff, the women have formed and registered two saving groups to initiate businesses, and look forward to accessing affirmatative funds for business growth from the government of Kenya, which are only accessed by registered groups.
Thank you all for your generous donation which has made this possible. We look forward for more donations from our partners towards supporting this communit in the next quarter visit (May 2021). Together we support Kambi Turkana towards social-economic growth and sustainability.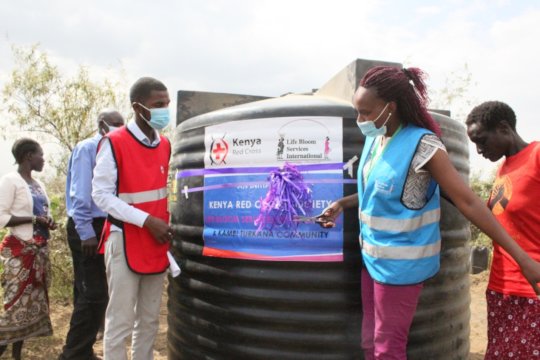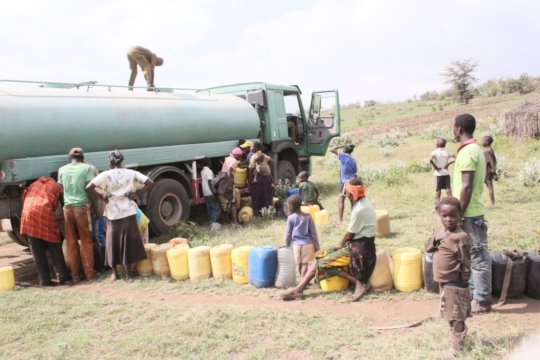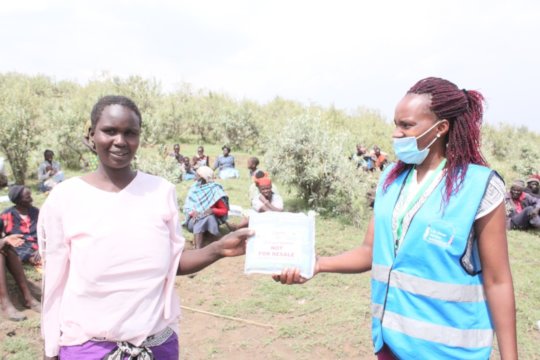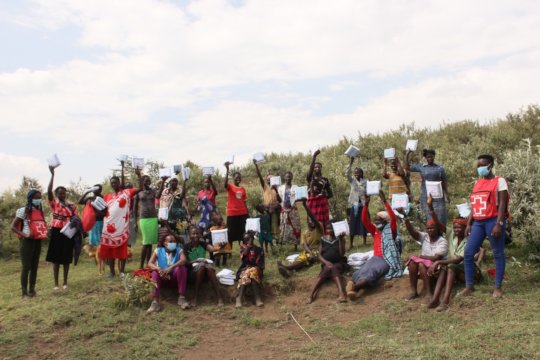 Links:
Life Bloom Services International initiated a pad drive that targeted girls and women from urban poor settings. We partnered with Red Cross. The first pad drive during this Covid 19 pandemic was towards a marginalized community in Suswa called Kambi Turkana, of Naivasha Sub County, Nakuru County (Kenya), where a community of 500 people live. It's a marginalized community that has been neglected and do not have access to services like water, electricity, schools and hospitals.
Through the GlobalGiving platform, Life Bloom distributed the dignity packets to 96 beneficiaries. 1Pack (12 packets sanitary towels and 4 panties) to 37 beneficiaries while the other 59 were issued 1 Pack (4 packets sanitary towel and 2 panties). The girls were educated on Menstrual Hygiene Management (MHM); how to wear sanitary towels, the duration to stay with a pad before changing, how to dispose to avoid environmental pollution and hygiene measures during menstruation. They were also educated on children rights and sensitized on building their leadership capacities to rise above their vulnerabilities to forms of sexual exploitation specifically being gifted sanitary towels in exchange of sexual favors.
The girls and women at large were extremely happy and overwhelmed that there is an organization that considered them since they hardly get visitors. Attached is a video that clearly narrates how some of the beneficiaries did not know of sanitary towels and explained how some could use reusable clothes, mattresses pieces (which they even share), others could sit in caves during menstruation.
WE THANK YOU FOR YOUR GENEROUS DONATION, FROM HALF A DOLLAR TO MANY MANY DOLLARS! EVERY PENNY MAKES A DIFFERENCE, JUST HALF A DOLLAR WILL MAKE ONE GIRL FEEL PROUD OF HER WOMANHOOD!
Links:
WARNING: Javascript is currently disabled or is not available in your browser. GlobalGiving makes extensive use of Javascript and will not function properly with Javascript disabled.
Please enable Javascript
and refresh this page.