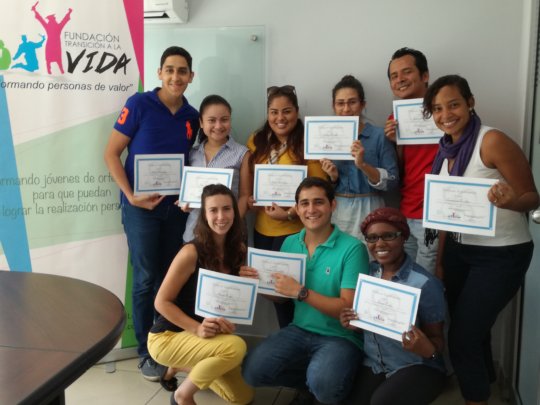 "Incredible how child trauma affects your whole life" commented Kathy, one of the facilitators on our seminar Train the Trainer. We spent a whole day teaching why the girls we work with, have so many issues with self-esteem and low resilience, why are they afraid to open up and trust, why are they so shy but most important, tecniques how to approach, work with them and what to expect.
In previous years our experiences showed that participants connect better with younger facilitators so we formed a group of facilitators age range 25-33 years old. All of them have experience in facilitating, coaching, social work and last but not the least important, high motivation to help our participants in their personal development.
Our program started in January as individual sessions with each participant where we started to create connections, understand them, get to know their fears, hopes and aspirations. We used this as a guidance to prioritize their area of developement, individual work plan for the mentoring program and to make a match with their future mentors which they will start to work with from March.
Group workshops started with get to know each other activities where we showed, through interactive games, how to work in a team, why good communication and honesty is important and how much our program can help them, if they open up and participate proactively.
So far we covered subjects as how to manage their own finances, how to open and manage a bank account, write a CV and motivational letter. Since they started university in January we also covered subjects as effective learning, understanding learning styles and how to make the transition from school, small classrooms for girls to an environment where they are souranded with many students, different background and gender.
One of the most crucial periods where the girls meet biggest challenges are happining right now. For the first time they are exposed to a life where decisions are not made for them, where no one knows their name neither their past so they cannot play the role of victim in difficult situations, they have to face problems and be resilient.
So far all the five girls that started university passed the first subject and enrolled in the second one. The other girls that are in their last year of school are preparing their mindset for studying harder and for making a big decision they will have to take; where to go after leaving the orphanage and what to choose as their future profession.
Even though this might be one of the most difficult phases it is one of the most beautiful also, and we have the chance to witness it and to participate in the transformation where these girls start becoming women and where they actually meet real life, real challenges and the satisfacion of overcoming them.
Thank you for contributing to this beautiful transition.
All the best from Lucija and Patricia.