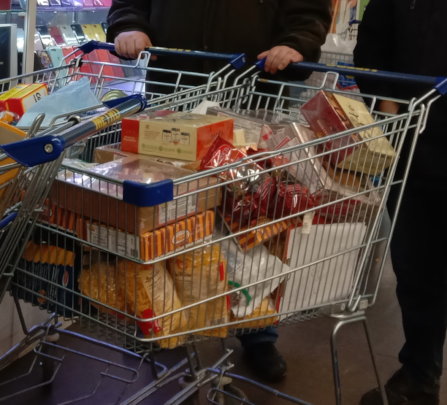 COVID-19 pandemic negatively impacted mentally ill participants of Russia House rehabilitation program. The quarantine last March 17 to July 20 and Russia House continued to support program participants via Skype, e-mail and telephone calls. One of the important work during the quarantine time was delivering food to participants' flats. Most of participants of the our rehabilitation program are in the high risk group – psychiatric deceases are often accompanied by diabetes and weak immune system. Many of them were frightened by the epidemic and did not venture to leave their flats even to go to the nearest food store. Many of them live together with their elderly parents whose average age is about 73. In a number of families not one but two members suffer mental illness… So most of the families are at Covid-19 risk. That is why Russia House started purchasing food stuff and and hygine necessities and deliver them to the flats of the rehabilitation program participants. Totally, we boght and delivered 1,030 Kg of food products and necessities. They were not simply food and necessities – they were 1,030 Kg of goodness and happiness! It was a real support both in financial and emotional terms. People with severe mental illness did not feel alone and neglected. Instead, everybody felt that they were a part of a strong community. Community that will support them in any challenging situation. We would like to express our deep gratitude to all people who donated Russia House rehabilitation program. Your generous donations give us a fantastic opportunity to help people with severe mental illness in these challenging times!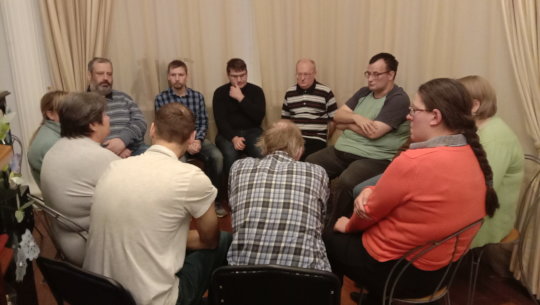 Russia House started communication skills trainings for the Clubhouse members. Strong communication skills are very important for reaching the goals of social inclusion, employment and education. That is why Russia House has decided to provide participants of the rehabilitation program with a course of trainings to improve these skills. A Board member Tatiana Lukina, a professional trainer, leads the trainings which are very popular among Clubhouse members. A lot of very important subjects has been discussed. What is a private space? How to respect individual boundarie? How to respect one's privacy? How to communicate at job placement with one's colleagues and boss? How to say 'no'? What does "be independant" mean? And lots of other matters very important for people with mental health problems. All participants gave a very positive feedback. Some of them believe that their relationships with coleagues at work place have been normalized. Some of them started changing toxic relationaships with family members. Taking into consideration this feedback Russia House plans to continue trainings and make them regular.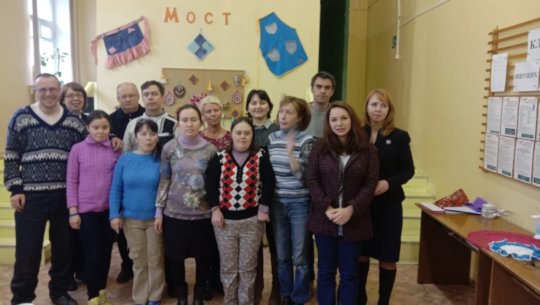 The last 2 months were rather active at Russia House and the central event was starting a new Clubhouse rehabilitation program in the European North of Russia: in a town of Arkhangelsk that is located near the coast of the White Sea. The local partner of Russia House is a small charity Most (Bridge) that has been running a rehabilitation center for adults with severe mental illness for about 19 years already. Both staff and participants of the rehabilitation program are open to innovations and committed to further development of their rehabilitation center for the benefits of people with mental disabilities in their town Arkhangelsk. That is why when they learned about the Clubhouse program and Russia House they contacted us and asked to help to start them the Clubhouse program at Most. In September a group of 5 people from Russia House (a Clubhouse participant Andrew, a social worker Lisa, 2 members of the Advisory Board Tatiana and Valentina, director of Russia House Tatiana) visited Arkhangelsk. It was a 4-day visit and what we managed to do. First, we held a 1-day conference on the Clubhouse rehabilitation model for local professionals working in the mental health field and presented this approach to them. Second, we had a meeting with families of people with mental health problems who are served at Most. They support the idea to start a Clubhouse and their respond was very touching. Third, we spent 3 days working side by side with Most participants and staff discussing the International Standards for the Clubhouse and showing how they are applied in everyday Clubhouse work. They were very busy days but really rewarding! In November a team of 5 people from Most, including 2 program participants, 2 staff and director, will come to Russia House for introduction training in the Clubhouse program. We hope that it will contribute to their better understanding the program and help Most move towards building a real Clubhouse working in accordance with all the Standards.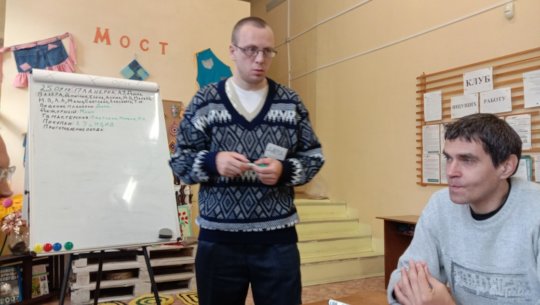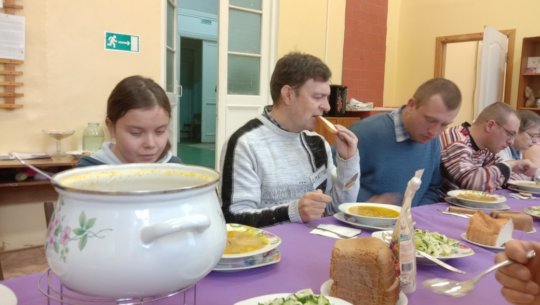 WARNING: Javascript is currently disabled or is not available in your browser. GlobalGiving makes extensive use of Javascript and will not function properly with Javascript disabled.
Please enable Javascript
and refresh this page.