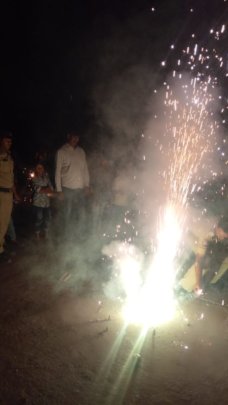 **No Lastnames has been referenced as per GG policies**
Dear Donors,
BRESH schools has another rewarding quarter with all the support from generous donors, Volunteers, Administration staff and Teaching staff.
'BRESH Schools' has been consciously investing all its resources towards the welfare of the special children development. It was such a festive and joyful quarter with loads of activities planned for children apart from their routine Educational activities.
In Sep:
Few great personalities visited to BRESH and had provided motivational speech. Dynamic Police officer Ex-Joint Director of CBI...Mr.V.V.Lakshminarayana garu Rtd.IPS & Local Visitors or Donors have visited and Distributed Sweets & Fruits to the Bresh Special School Students,Bhadrachalam.
CWC (Child Welfare Committee) Bhadradri Kothagudem,Khammam Districts ., Inspection Committee Members (Mrs.Rajeswari., Shiva Kumari.,Hari kumari.,Mr.Vinod & Venkat) have visited for regular BRESH school inspection as per regular routine. All details about the differently-abled students has been reviewed. CWC team have appreciated BRESH Management & Staff for diligent work and welfare.
Mr & Mrs.B.Gopala Krishna (Constable of Town Police Station, Bhadrachalam) & Shiva Leela Garu arranged Meals and distributed Sweets & Fruits to the Bresh children in the celebration of their daughter Chi:"B.PRASHVITHA SRI"s birthday. Few local officials, Sri. Satyanarayana Reddy,C.I garu & Sri. Mahesh, S.I garu Police Dept of Bhadrachalam participated in the celebrations.
In Oct:
Mr & Mrs.Syam Prasad, Kiranmai garu (Itc,pspd Sarapaka) have visited and distributed Cake, Biscuits,Chocolates & Donated two ceiling fans to the Bresh Children in the celebration of their daughter "NIHAARIKA" Birthday.
In Nov:
"DIWALI" (Festival of lights) grand celebrations at BRESH wouldn't be possible without the generous donors. To name few, Mr. Thallapudi Ramu (Rajini Top Dresses & President of Chiranjeevi Seva Samithi Bhadrachalam) garu & Mr. Tadepalli Suryanarayana garu ITC., Rotary Club in Bhadra & Rotaract in Bhadra Members are key members who donated Crackers and Sweets to the children of BRESH.
All Children are doing great with their academics. It was one of the strong year(2018) and please continue to provide lot of blessing to BRESH School kids.
Thank you again for continuous support. If you love being part of this project please send it to a friend who can love supporting it too!!!