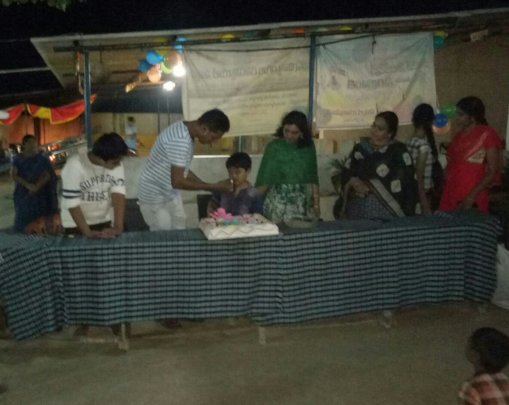 **To adhere to GlobalGiving policies, No last names are made available in this report **
Dear Donors,
This is the first report in 2018 year. Happy New year,2018!! to all our donors and well-wishers.
Rotaract club of Bhadra, Sarapaka team have visited & distributed Snacks,Stationaries to BRESH students on occasion of New Year 2018. Thanks for the continuous generosity from Rotaract club for considering 'BRESH school' for their giving back activity on new year day.
'Bresh School' kids performed various cultural program in Bhadrachalam and they delivered wonderful performances.
Cultural performance to highlights:
Jan 21st,2018: BRESH special children(Hearing Impairment) performed dance for Event conducted by "Baalothsav Children Cultural Society" in Bhadradri Kothagudem Dt,Telangana State.
Jan 26th,2018: BRESH differently-abled children participated in Cultural activities for Republic Day event. BRESH students received mementos and Certificates from Sub Collector of Bhadrachalam.
Jan28th,2018: BRESH school differently-abled students performed dance in "Telangana Vibbhinna Prathibhavanthula Sangham ( TVPS )" at Bhadradri Kothagudem Club,Bhadradri Kothagudem Dt.
Thanks to all who came and celebrated their special events with Special kids at BRESH school.
We are attaching fabulous pictures of the cultural performances and other events.

Thank you for all you have done for 'BRESH Foundation'!