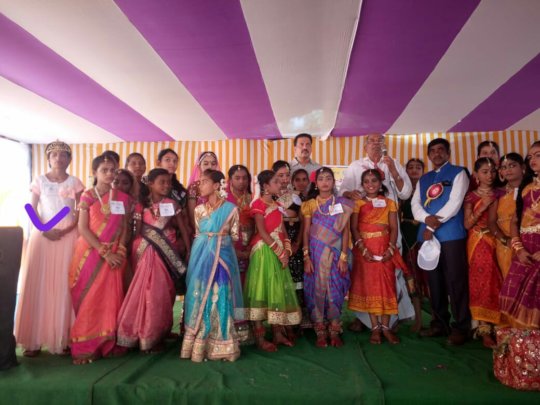 **No Last Names has been referenced as per GG policies**
BRESH Foundation Nov 2019 Report
Dear Donors,
BRESH schools has another rewarding quarter with all the support from generous donors, Volunteers, Administration staff and Teaching staff.
'BRESH Schools' has been consciously investing all its resources towards the welfare of the special children development. It was such a festive and joyful quarter with loads of activities planned for children apart from their routine Educational activities.
Few great personalities visited BRESH schools . Dynamic Police officer Ex-Joint Director of CBI...Mr.V.V.Lakshminarayana garu Rtd.IPS & Local Visitors or Donors have visited and Distributed Sweets & Fruits to the Bresh Special School Students,Bhadrachalam.
The 'children day celebrations' planned at grand scale. BRESH School children participated in various cultural activities conducted by 'Bhadradri Balotsavam (http://bhadradribalotsavam.com/)' which was supported & sponsored by 'Thalluri Panchaksharya Charitable Trust, TANA, Govt. Of Telangana, ITC Limited' i) Dance competition by group of BRESH School children ii) student (G.Poojitha - 8th class) participated in "Fancy Dresses Competition" iii) N.Vikas- 7th class & A.Banni-8th class participated in Drawing Competition. K. iv) Praveen (partially Visually Impaired,7th class) & Ch.Saraiah (totally Deaf & Dumb,10th class) participated in clay moulding Competition.
Thanks to various generous donors came forward for showing their random act of kindness. Just to quote few, Mechanical work shop team of ITC,Sarapaka have visited & distributed various groceries items to cover day to day needs. Cookies & Chocolates to the BRESH Children on occasion of "Children's Day". Rotary Club of In Bhadra team ( Sri.P.V.Rama Rao,Sree Rama Raju, Chengala Rao and Shyam Prasad garu), Sarapaka have visited & distributed Mattresses (20) to the BRESH differently-abled children.
This is not possible without the support from hard working staff at ground level. Mr.Ch.Sri Rama Raju garu, President of Rotary Club of In Bhadra - Sarapaka has appreciated "BRESH Management & Staff" during their recent visit.
Thank you again for continuous support. If you love being part of this project please send it to a friend who can love supporting it too!!!