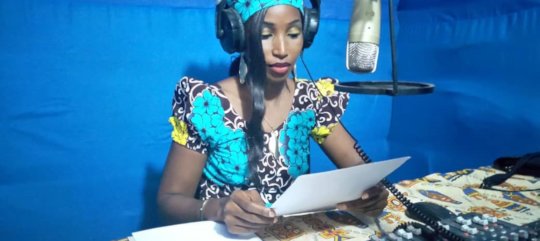 On behalf of Internews, we would like to thank you for your generous support towards our COVID-19 Rapid Response Fund. Contributions from donors like you are helping communities around the globe access the information they need to know how to protect themselves, how their local government is responding, and how to safely acquire food, health care, and other services.
Since the launch of our Information Saves Lives Rapid Response Fund back in March, Internews has been providing financial and technical assistance to over 80 journalists and media partners around the world, enabling them to provide timely information on COVID-19 to underserved populations. We are in the process of supporting an additional 90 partners globally so that they can offer relevant and reliable COVID-19 related information to keep their communities informed, safe and resilient.
One local partner, Abdullahi, works with Radio Gargaar, a radio station that reaches around 200,000 residents in Garissa County in Kenya. With the help of Internews, Abdullahi is able to extend his radio program from twenty minutes to an hour and provide in-depth information about COVID-19 related topics, such as demystifying rumors, translating health and scientific information from the WHO and government for residents in the Dadaab refugee camp, and holding call-in radio shows to answer questions from concerned people in Garissa County. Aside from his exuberant work with COVID response, Abdullahi also makes sure to incorporate dramas and entertainment into radio programming as a distraction for camp residents facing fearful conditions.
In Ecuador, journalist and editor, Isabel, works with GK, a media outlet she co-founded to raise awareness about women's rights, the environment, and indigenous rights. Since the rise of the pandemic, she has been using GK to highlight the increased incidence of domestic violence against women to ensure that women facing abuse in their households are still getting help despite the shift in attention to COVID-19. Isabel is creating a WhatsApp group chat that will provide victims of domestic violence access to resources that can help them escape these abusive situations. Aside from Isabel's dedicated work with women, she is crafting social media content and newsletters filled with useful resources on COVID, for example, preventative measures to care of oneself and rumor tracking to dispel misinformation around the novel virus (such as, unproven remedies).
If you would like to read more about some of our other local partners and their work, click here.
In Southeast Asia, Internews has created a website for all things related to COVID-19, such as blog posts, news from around the globe, and social media bulletins. The bulletins focus on key trends in social media posts collected in target language groups and aim to provide tools and resources to support journalists and community workers response to misinformation, thus helping to reduce the spread of rumors and misinformation in social media.For the bulletins, data is being collected in eight languages across Asia, including Simplified Chinese, Tagalog, Vietnamese, Thai, Bahasa Indonesian, Hindi, Khmer, and Urdu. The analysis is based on thousands of rumors collected primarily on Facebook, Twitter, and other social media platforms. If you would like to read more about our work in Asia, click here.
Again, thank you for your support towards our mission to keep communities informed during this crucial time as people need accurate information to stay informed and access needed service. If you have any questions or would like to know more about our COVID response work, please do not hesitate to reach out.
We look forward to sharing more of our projects with you in the future.